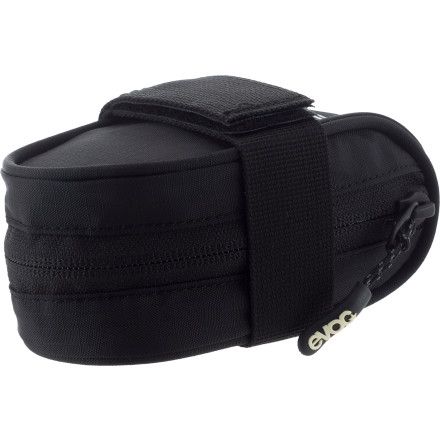 Colors

Detail Images
Streamline your gear.
When being streamlined is paramount, use the Evoc Saddle Bag Race to hold all of your ride or race day essentials. The durable, ripstop-nylon bag weighs a mere 40 grams, with a volume of 0.3 liters. It affixes beneath your saddle with a hook-and-loop fastener and features a reflective zipper pull for low-light visibility.
The Evoc Saddle Bag Race comes in one size and in the color Black.
Fits the essentials
Familiarity:

I've put it through the wringer
Contents of my saddle bag: 1 tube, 2 CO2 cartridges, inflater, and tire levers. BOOM! I love how small and sleek this bag is, and the velcro strap keeps everything snug as a bug with no rattling around.
Cam Christensen
It does the job
Familiarity:

I've put it through the wringer
A little small to carry a cellphone like a Nexus 5, but it will do fine with basic tools and spares.
Carlos M
Nicely Fits Spare Tube And Levers
I missed the second detail image and was a bit surprised by the big striped logo on one side. This is nonetheless exactly what I was looking for to use with my road bike. It nicely fits a spare tube and levers.
Than Volk
Good size, works with dropper
Familiarity:

I've used it several times
I use for my mtb and carry a 29" tube, multitool, link and 2 tire levers. It's tight but fits. Couldn't get CO2 in there so I use a frame mount pump that uses my bottle cage bolts. I like that it does not attach to the post so I can use it with my dropper post - I added a Voile strap for extra sense of security and to keep it away from the post seal and this seems to be working really well.
James Bleuer
Right size for the job, no fail-safe
Familiarity:

I've used it several times
I use this for both road and mountain biking. I bought it because I wanted the absolute smallest seatpack I could find, and this seemed to be it. It's light, it hugs the rails of my saddle, and it doesn't interfere with pedaling. And it keeps several things out of my jersey pockets that I prefer not have to carry on my back.

For road biking, I can fit a small multi-tool, tube, small C02 inflator (Portland Shiny Object) w/ a cartridge, and my ID in the bag. For mountain biking, I sub in a slightly larger multi-tool and strap the tube to my frame (don't think you could get much else in there if you tried to fit a MTB tube in). I can also fit my phone in there if I want, but I have an older, smaller phone. Don't think you'd be able to get a smart phone in there. I could be wrong, but at best you'd be limiting what else you could fit in there if you did.

My only gripe is that I wish there were something that would act as a fail-safe against the velcro coming undone. To be fair, this hasn't been an issue yet after about 10 rides--it straps securely and hasn't moved on me so far. But if you're putting essentials and valuables in there you want to make sure you're not going to lose them. My solution to this has been to run a zip tie through the sewn loop in the strap and around my saddle rails. To this point that's felt like overkill because, as I said, the velcro seems to work fine. But it does provide peace of mind, and at some point it may become a more necessary step as the velcro starts to wear out.
Dustin H.
Size DOES Matter
Familiarity:

I've put it through the wringer
At first I was a little skeptical I would be able to fit all my road bike rescue necessities into this saddlebag. But, low and behold, it fits everything. I currently carry a tube, two levers (medium size), one CO2 cartridge, and a CO2 head with room to spare for another cartridge or a small multi tool. My girlfriend tells me that size matters and I am passing this info to everyone (in regards to saddlebags).
Mitch Creer
Really great size, nothing extra
Familiarity:

I've used it several times
I loath a big saddle bag. The only thing I loathe more is breaking down 40 miles from home in the mountains with no tools/tube. This bag works on my 29er MTB. It barely fits these contents- but does: 29" tube, 16g Co2, 20g Co2, tire lever (cut down) mini Co2 head.

In the past I had a problem with velcro wearing out, so I use a Voile strap around the seatrails and bag to keep it in place. I also suggest that strap incase of an emergency of other sorts; that's why it's called "backcountry duct tape".
Noah Singer
Will an iphone 6 fit in this bag?
Tim P.
yes if you have the standard 6 and not the S
Kyle Br
Best Answer
And by S he means "Plus". The S is not yet out. Kyle, do you work at Foxconn in Taiwan and are you leaking information?
Noah Singer