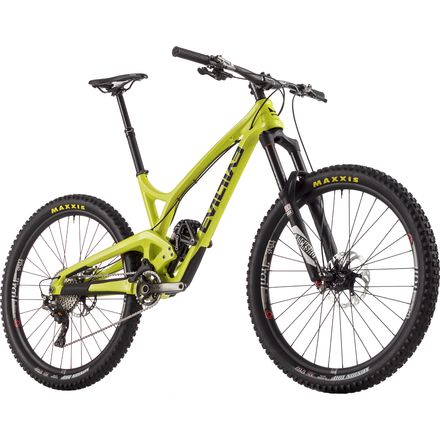 Detail Images
In its element.
Borne in mystery and shrouded in whispered rumors of daredevil development, the 2016 Evil Bikes Insurgent XTR Complete Mountain Bike transcends deductive reasoning as a highly technological machine that's roaring to party and draws inspiration from its long, low-slung, six-inch travel cousins. Dressed up with Shimano's top-end XTR componentry and shod with Industry Nine's Trail 245 hoops, The Insurgent's approach to all-mountain terrain is every bit as subtle as a phosphorescent, predatory canine seen prowling the moors under the moonlight. Which is to say it's not subtle at all. The trail game's afoot, and The irreverently playful Insurgent is the chief antagonist.
Putting the linkage under the magnifying glass reveals flip chips that alter the bottom bracket height and head tube angle. When dropped to the XLow setting, the bottom bracket reposes a mere 13in above the ground, and the head tube slacks out to as low as 65.2 degrees. You'll be excused if you'd only expect to see angles like that on bikes with more travel. We are of the same mind—or rather, we were until the insurrectionists at Evil staged this irreverent coup. The cumulative effect of the bike's 17in chainstays, long, low posture, and aggressive tilt conspire to drive the bike through corners, all but daring the tires to shuffle off.
In contrast to more complicated, multiple-pivot suspensions lurking on the market, Evil uses it's own linkage driven single pivot suspension design, conspicuously titled Dave's Extra Legitimate Travel Apparatus (DELTA). When put to the test in the real-world conditions, the enigmatic DELTA is alarmingly capable. Our own laboratory technician describes the experience thusly: "blistering rolling speed, poised cornering, big-hit management, lively pop, and pedaling efficiency." In the subsequent field report, that impressive catalogue earns The Insurgent the title of "the best suspended trail bike" we've had the privilege of pedaling in a state of elevated ire.
The DELTA suspension design was originally a platform meant for testing different suspension curves, and it's most basic, defining property is virtually limitless mutability. Given this evidence, the astute observer might posit that The Insurgent's shock tune is far more important than on a non-DELTA carriage, and Evil includes a built-in sag measurement system to facilitate tuning without the need of an erudite machinist. One simply resets the dial, mounts the machine, and adjusts as appropriate to achieve the recommended metric of 30%. Once tuned, DELTA presents a devilish conundrum: travel initiates with light input, maintains a constant stream of generous trail feedback through the mid stroke, and ramps up in a manner fit for park shenanigans and shuttle laps.
Such intricately laid suspension plans would be for naught without an equally meticulous frame construction process. For this latest generation of carbon insurgency, Evil has invested in building new molds in a new factory that also happens to service most of the high-end manufacturers on the market. Given the logistics of carbon construction, this wasn't a simple process; however, anyone familiar with Evil's history will agree that it was necessary, and the frames we've handled definitely occupy the sharp end of the industry's quality curve.
Each frame is laid-up with a targeted blend of T700 and T800 carbon, which are both high-modulus, unidirectional fibers from Toray. Toray is a name that we'd expect to see associated with a lightweight climber's road frame, not a brutally aggressive trail ogre that refuses to die. The same is true for these moduli. The insistence on using this material tells a story that's kind of at odds with the approach that Evil takes to itself. It's not what you'd expect from a goofy, fly-by-night operation.
Despite that, Evil really is as lightheartedly goofy as it makes itself out to be, and it really doesn't take itself too seriously. But the brand takes playing in the dirt very, very seriously, so it requires uncompromisingly capable toys. Every frame's life begins with EPS and silicone molds. The black stuff is laid up around these and then compacted from inside and out, resulting in uniform wall thickness and eliminating excess resin pooling and the kind of imperfections and structural weaknesses that impertinent trail gremlins exploit to cause frame failures.
Evil's playful enduro machine exceeds expectations
A responsive pedaling platform with 6in of DELTA travel
Long, slack geometry for shredding big lines
Revamped carbon construction process for lightweight reliability
Evil Bikes brings a high-tech party to the trails
Bleed.
Familiarity:

I've put it through the wringer
The insurgent is currently Evil's longest travel 27.5 bike, and it is a blast. I mostly rode it at the bike park during the time that I had it, and it ripped. Like Jeff said, I would add a spacer into the shock, because I found the O-ring off the end of the shock at the end of a long descents, but other than that it was pretty spot on. It does not climb as well as some other offerings, but it makes up for it by being super fun on the way back down. I ran it in X-Low at the bike park, and Low for the rest of my riding, and it was amazingly fun to throw it into a berm and feeling it hook up and rocket forwards.

The suspension is pretty progressive, which gives it a good trail feel, but it feels good when you have to eventually come back down to earth a little harder than you anticipated. Towards the middle of its travel it did feel a little harsher, but I would imagine with a little more tuning that would be remedied.

If you value fun over beating your buddy to the top of the hill, and breaking Mach 7 on the way down, with your bars dragging in the dirt while you corner, this is your machine.
Come to the Dark Side.
Braydn Tanner