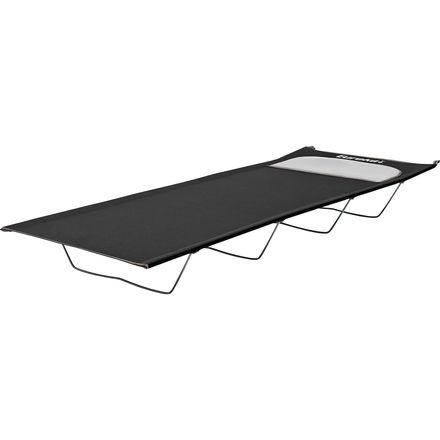 Colors

Detail Images
The great outdoors just got greater.
Sleeping on the ground is fine when you're backpacking, but if you're on a simple car camping trip, why not crank up the comfort with the Eureka Compact Cot? The spring-tensioned steel frame is easy to assemble and provides cradling support so you can truly sleep like a baby. A combination foam and mesh pillow pad provides extra support and cushioning for your head, and an included carry bag makes it easy to transport.
Spring-tensioned silver powder-coated steel frame
Foam and mesh pillow pad
Carry bag included
The Wife: we've recently upgraded to car camping and this is just what seals it. Sleeping on this cot is like sleeping in your bed at home.
Wayne Christoffersen
This cot is great for car camping its sturdy, and comfortable
MoN!c@
use it all the time
Familiarity:

I've put it through the wringer
This is great for car camping or house guests. Once you figure out how to set it up, it isn't too difficult, and doesn't take long. My girlfriend is pretty tiny and struggles putting it together and breaking it down so make sure you are someone who can put a little weight into it.
Tyson Purkey
Very compact indeed
Familiarity:

I returned this product before using it
The sizing of the mesh is off, does not fit properly.
Alice Y.
Ascension Sales
Good cot if modified
Familiarity:

I've used it once or twice and have initial impressions
I had one very similar for many years. It finally failed because the side rods that go end to end were simply to tight and finally tore through the end of the material.
This cot has the same issue. It is extremely difficult to push the side bars into the side slot. To avoid all this hassle and prevent future damage the fix is easy.
Take it to you shop or garage, take off the rubber protective end caps and with your hack saw, saw off about an inch on each end of both rods. Be sure to knock the burrs off with a file and replace the rubber end caps.
There is no need for it to be banjo string tight from top to bottom. The spring legs provide plenty of tension to hold the cot in a nice tight position.
Note to Eureka Engineers: Don't over think the design. Make the support rods a length that will easily slip into the side sleeves. Not need to be so tight you need a gorilla to install and it won't split the fabric in a year or so.
Ray
Slow to set up, comfortable once it is
Familiarity:

I've used it once or twice and have initial impressions
I bought two of these for car camping, after several years of leaky air mattresses. They are very comfortable once they are st up and ready to rock, although the set up is a little slower than I'd like (individual stand bars need to be inserted each time the cot is set up). This is not something that pops into place once the initial set up is complete.
Meg Keller
Good balance of quality and price…
Familiarity:

I've used it once or twice and have initial impressions
It's just one more thing to setup when you get to camp, but well worth the little extra effort to get off the ground. No more worrying that the floor of the tent is a muddy mess.
Dean W.
Seemed comfortable. Was a little hard to put together. It broke at 3am the first night camping. What a way to wake up. I'm about 165lbs. Had to spend the rest of the trip on the ground. Returning it. Maybe I got a bad one. Waste of time and money.
Barb T.
It'll surprise you
Familiarity:

I've put it through the wringer
We picked up a pair of these "just in case" and they turned out to be one of the most fought after sleeping setups of a 4 week van camping trip to Canada. They pack up quite small, go together quickly once you do it once, and don't take up much space once they're set up (some cots require basically a bed's worth of space). I loaned two of them to some friends while their house was under construction and they went and purchased a set for their kids as full-time napping setups. Crazy, eh?
jason sager
Got Cot?
Familiarity:

I've put it through the wringer
I just wanted to spoil myself a little. Well, this thing has been fun to use when needed. It is compact and pretty light.Especially for car camping climbing and biking trips and river trips where you have rafts for your gear. I put my paco pad on this and its super comfy. Easy to set up. I find it nice when you want to sit down too. and sort your gear :).
marla bailey
How would this be backpacking with? is the...
How would this be backpacking with? is the carrying case small enough to tie to my ruck? Although 10 ls is pretty heavy for a backcountry cot. Any thoughts?
Alexander
Best Answer
Alexander,

A lightweight cot sounds a little like an oxymoron. They will be lighter than other cots on the market, but you still feel funny calling them light. Nonetheless the Eureka compact cot is smaller and lighter than most when folded up ( 40" x 8.5" x 3") and provides pretty decent real estate when fully assembled (79" x 31" x 9"). At 10lbs this cot isn't what I would call a lightweight item in backpacking terms but when it is folded up and strapped to your pack it will be manageable, if a little unwieldy.



If you are still sifting through options at this point I would also recommend the Byer of Maine Allagash Plus Cot which weighs in at 8lbs and folds to 38.5" x 7" x 2.5".
Mike D Hilverda
FYI... Thermarest makes a cot (I think it's called the "Luxury Lite") which weighs in under three pounds... and not all that much more expensive than this one. Packs small too. Worth a look



FWIW though, I think you can get a more comfortable sleeping setup (and more comfort on your back!) if you give up the idea of a cot for backpacking. I don't think I've ever heard of a backpacker carrying a cot! A really luxurious sleeping pad will be more comfortable, more versatile, and a heckuvalot lighter to tote around. Warmer too.
David Thiel