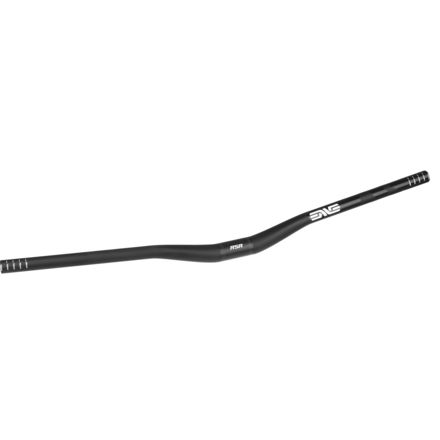 Colors

Detail Images
Rise and be heard.
ENVE nails the sweet spot between 759 and 761mm with the RSR Handlebar, which clocks in as a race-ready package that also boasts the durability to handle big hits and deep roll overs. Since that iconic branding first began to grace race wheels, ENVE's been setting the standard for carbon fiber design. This bar raises the expectations to a whole new level.
The RSR Bar was developed by riders for riders. Informed by extensive feedback from the trail, its design represents a perfect equilibrium between weight and strength. A mere 194g of impeccable carbon, the Riser Bar is light enough for big climbs yet durable enough for catching big air. At the same time, the wide 760mm stance provides flexible comfort in the dirt, and the nine-degree sweep keeps your wrists in a relaxed, neutral position.
A lightweight bar designed for all-mountain comfort and control
Slight backsweep for comfortable wrist positioning
Ample width allows just the right flex to absorb vibrations
Spreading those XC wings
Familiarity:

I've used it once or twice and have initial impressions
Bought these bars for my hardtail because I wasn't hitting enough trees on my favorite trails. Also, because going back and forth between 800mm "enduro bro" bars and old XC bars feels super weird; try it sometime. This design is just right: light, strong, perfect sweep, and wide without being too wide, plus the ENVE logo shaves 10sec off my Strava times...I may even cut down my wider bars to match. Or maybe go wider... I heard of a guy on the North Shore who runs 1200mm...
Rob Wykoff
Bad Ass!
Familiarity:

I've put it through the wringer
What can I say, ENVE is the best out there! My son and I use many of there products on all of our bikes.
Duncan Britt
Mr Good Bar
Familiarity:

I've used it several times
As usual, ENVE delivers very nice stuff.
Lucas W.
its easy on the hands...
Familiarity:

I've used it several times
I followed the 35mm trend for a couple seasons. It wasn't uncommon for my hands to hurt after long rides (I'm a xc/trail rider who occasionally rips a downhill course). At times I also wondered if my stiffer 35mm set-up caused the front end not to feel as plush as it could. Well, it looks I was right for once, lol! These bars fit perfect for general trail riding and provide the feel I hoped for..just enough flex! Obviously there's some subjectivity here but I'm supper happy!
Aaron Nease
Setting the bar
Familiarity:

I've put it through the wringer
Enve offers some of the best carbon products in the cycling industry. This bar is no exception. It is lightweight, stiff, and still compliant. This bar has enough flex which helps to reduce fatigue on long rough descents. The rise and sweep are perfect and help to create a responsive steering feel. At 760mm wide these are ideal for anyone riding singletrack, or racing enduro. Get one and you'll not regret it.
Dan Be
Nice bar
Familiarity:

I've used it several times
Needed a little more rise and decided to replace my aluminum bar with carbon. Nice bar with good feel and just the right amount of rise. Nicely marked for cutting as well.
David H.
Great Bar
Familiarity:

I've put it through the wringer
Been running this bar for the past 2 seasons and have loved it. Great width for my tail bike. The quality and performance is right on par with what you'd expect from something with the name Enve on it.
Chase Skidmore
Great set of bars!!
Familiarity:

I've put it through the wringer
Put these on my single speed, and couldn't be happier. ENVE engineers in just the right amount of flex, to make these bars super comfortable, and strong at the same time.
Plus, they're ENVE so you get the cool factor, and a crash discount if you ever manage to break 'em!!
Kevhogaz
Shot at the Bar.
Familiarity:

I've used it several times
Great bar. I'm not sure I have noticed a great deal of different "feel" in comparison with my stock AL bars. Maybe that will come later. What I do find awesome is the width of the bars. Totally the sweet spot. Not so wide that it feels like your knuckles are in danger, but wide enough that you get that extra leverage. I ride a longish travel 29er trail bike, and it is a great addition. I would recommend a bike specific torque wrench with this purchase. I had an automotive torque wrench that I thought would work, but was way off on lower torque specs.
Mark P.
Excellent handlebar
Familiarity:

I've used it several times
I paired the ENVE Riser bar with a 60mm megaforce 2 stem. Looks awesome. I previously rode a 740mm bar and 760 is way better. Doesn't ever feel too wide. I feel like my upper body weight is balanced, reach is good, and hands are where they need to be. Plenty of trees to negotiate on my local trails but 760 is just right. Definitely love this handlebar for looks and functionality. Understated yes, but still catches the eye.
Brian H.
Needed reprieve
Familiarity:

I've put it through the wringer
After running 35 clamp bars for 2 years, I needed a change. My hands were getting abused and going numb, and after one ride on these, the issue is resolved. Not enough flex to notice when things get hairy, but enough to keep your hands gripping the bars without fatigue.
Perry Hall
doubled up
Familiarity:

I've used it several times
I picked up a pair of these for my son and then had bar Enve so had to get a second one for myself. I cut one pair down to 750 for my XC bike and they have been solid. Total confidence in the enve products I've owned but these were the first bars. They have made a really nice ride, particularly if you are coming off of alloy bars. A good carbon handlebar, on any bike, is worth every penny and these are worth it.
Kyle Br
Bike bling
Familiarity:

I've used it several times
Very nice weight, 760mm is the perfect sweet spot for a trail bike in my opinion, and it is tuned with just enough flex to make it nice and comfy and reduce hand fatigue, without making the steering feel vague.
Luke Dordai
Light, Stiff but still Compliant
Familiarity:

I've put it through the wringer
This bar makes a great finishing piece on almost any bike. While plenty of manufacturers have light weight handlebars, Enve has a unique ride quality to them that definitely reduces fatigue over longer rides. I've had an Enve bar on my last 2 bikes and will have them on future bikes.
Peter N
Raise the bar!
Familiarity:

I've put it through the wringer
Got this handlebar with a new bike. A Yeti SB6c. The bar looks great, is very comfortable, and probably is a factor in that the bike is absolutely awesome.
Eric B.
Simply the best.
Familiarity:

I've put it through the wringer
I tend to write pretty positive reviews at this point in my life. That's because I've tried a lot of crap, found what works, and I try to stick with it.

ENVE is as good as it gets. These are, bar-none (pun intended), the best riser bars on the market. Wide enough to bridge small rivers, they can be cut to your preference or left alone for total control. Pair these with a short stem, and go destroy some personal records on the trail.

Perhaps the best thing about the ENVEs is that while they are incredibly durable, they are also shockingly good at dampening vibration and helping your hands have a fun day on the trail.

I recommend these without any reservations. They're simply the best bars out there.
Lawfarm