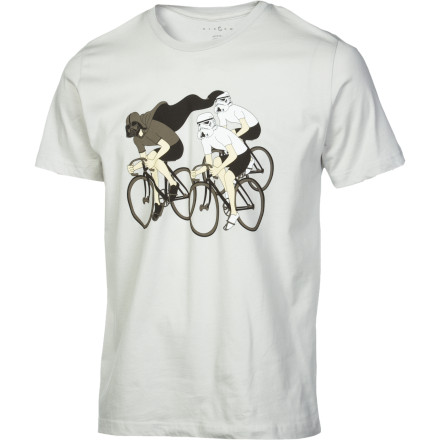 Colors

Detail Images
Sometimes it just isn't worth it.
No matter how heated the race, it's almost never a good idea to pass a guy with a cape, or a guy with a blue and red lightbar on his car. In the case of the race depicted on the Endurance Conspiracy Hyperspace T-Shirt, the guys in white are avoiding an unpleasant choking sensation by using a little good ol' fashioned horse-sense.

Endurance Conspiracy is owned and managed by passionate endurance sports enthusiasts who are in it for much more than a quick buck. EC is a company that has been built around the idea of an outdoor community. Its products are designed to be as Earth-friendly as possible in a fun-not-preachy way.

All Endurance Conspiracy T-Shirts are made with 100% organic cotton and adhere to Bluesign resource productivity, consumer safety, air emission, water emission, and occupational health and safety standards.

The Endurance Conspiracy Men's Hyperspace T-Shirt is available in sizes S through XXL and comes in Lava and Gloom.