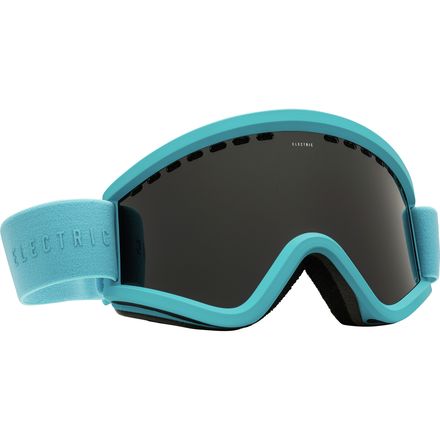 Colors
A new frame with retro-meets-modern style along with high-performance functionality.
Whether or not you're a long-haired, bearded, skinny jeans kind of guy who looks a bit like you popped out of your parents' photo album from the '70s, you love retro style as much as you hunger for fresh powder. If style's as important to you as function, you'll love the new Electric EGV Goggles with Bonus Lens, with their high-performance technical features and retro-meets-modern look that fits right in with your eye-catching mountain style.

These goggles maintain a clear field of vision thanks to dual lens construction, ventilation, and coatings that prevent fogging; an anti-scratch coating on the outside of the lens; and a pressure valve on the lens that eliminates optical distortion at higher elevations. An anti -reflection coating on the inside of the lens and Eye Black light absorbing paint on the inside of the frame reduce the snow's bright glare so you're not squinting your way down the hill or through the snow park, while 100% UVA/UVB protection guards your eyes against harmful rays. Triple-layer face foam lined with moisture-wicking polar fleece keeps the goggles comfortable and secure against your face when you're pushing through long runs or crazy tricks. You can adjust the goggles' articulating strap to fit your helmet as well as snug it down so you don't risk loosing your eye protection, and the goggles come with a bonus lens and a microfiber bag so you have another lens option as well as solid protection for your investment.
Proposition 65 Warning for California Consumers: This product contains chemicals known to the State of California to cause cancer and/or birth defects or other reproductive harm.
Flexible thermoplastic urethane frame
Ergonomic frame design with contoured, triple-layer face foam
Cylindrical, polycarbonate lens with 100% UVA/UVB protection
Anti-scratch, anti-fog, and anti reflection coatings on lens
Eye Black anti-glare treatment on inside of frame
Dual lens design, lens and frame ventilation, lens pressure valve
40mm articulating helmet-compatible strap with adjuster
Bonus lens and microfiber bag included
I got the Rose/blue chrome lens and bonus light green. The Rose is a great lens for overcast and partly sunny days. The green is a nice alternative to clear for night riding or stormy conditions. Gives a little more contrast. Fit and construction is top notch. So comfy on my face, good field of view and they don't fog up. Lens is also surprisingly easy to change even though it's not a modern quick style. Overall, could not be happier. Thinking about buying the Brose lens to try it out.
Aaron Rice
Electric delivers
Familiarity:

I've used it several times
This is my second pair of Electrics. My first pair has been holding up great for the past 3 years but they have yellowish lenses and I needed to add a darker pair for those bluebird days. I didn't want to break the bank but wanted to try something with more peripheral vision. These totally fit the bill. They are big but not ridiculously bug eye big, the padding is nice and soft and they fit my face great. My boyfriend liked mine so much that he ended up getting a pair also. Good thing they come in so many awesome colors. I have the Solid Berry with the Jet black lenses and love them. They worked out great on the slopes on a sunny day. Top of the mountain was ridiculously windy but they never budged and I had no air coming in. Vision stayed clear all day, even with some major shifts in temperature and working up a sweat they never fogged up. Awesome goggles!
Meerjungfrau
Sweet goggles
Familiarity:

I've used it several times
I love the EGV goggles! They fit my face well, the lenses are great, and they're wide enough that they don't restrict vision. I bought the black ones and they look awesome. They're helmet compatible and I'm a fan of the cylindrical lens. Replacement lens is a huge bonus too. Definitely will be able to get some good use out of these!
Adam Fuller
Unanswered Question
I bought black lens with light green lens, and i want to ask you, how to change lens, i don't want to scratch it or break it, so i ask you how to do it, thank you for answer.
Vojta
Electric EGV goggles
Familiarity:

I've used it several times
The EGV goggles are the shit! I have been using electric goggles for 10 years and they never seem to disappoint.
josh duddy
How do these do in the sun vs when it's cloudy?
Trevor M.
Hey Trevor,



The performance of the Electric EGV Goggles in different light conditions will depend on the lenses and the VLT (visible light transmission). The higher the VLT the more light gets in so you want a low VLT for sunny days and a mid-high VLT for cloudy days.



Feel free to contact me directly with any more questions about these Electric Goggles or lenses or if you are interested in setting up an order.
Kyle Livingston
Awesome fit and look
Familiarity:

I've used it several times
These goggles are awesome! I was a little nervous about them fitting my face but they look and feel awesome! The lens is wide so the periffrial vision is awesome and protects eyes from sun very well! I have sensitive eyes, especially around snow, but with these I have no worries. I bought this pair and the all black and couldn't be happier. I wear these + a helmet and they fit well together, frame is just big enough to look sick but not too big to where it would sit too high or too low on the face. I recommend these to everyone I know!
Jackie D.
Will these fit a women's face?
Andy
Hey Andy,



They will fit a women's face but might be on the larger size. The frame and lens measurements are:



Frame Width: 160 mm

Lens Height: 77 mm

Lens Width: 140 mm
Adam Saucedo
Best Goggles for your buck!
Familiarity:

I've put it through the wringer
Every season, goggles get bigger and more expensive. These are reasonably priced and are killer. Its all ya need. Do you really need to change lenses on the chair lift? In 20 years of riding I've never once needed to do that. Buy these! They're classics.
Christian Gericke
Azn face
Familiarity:

I've put it through the wringer
If you have an asian face or small nose these will fit like a glove on your face. Love the minimalist design, clean and functional A++++
Ryan Sue
They are goggles...and they are awesome
Familiarity:

I've put it through the wringer
These goggles are exactly what i look for, no fancy lens swap system, no fancy "technology", no annoying graphics, just a simple goggle that looks good and fits well. Simplicity is what i look for and these are as simple as it gets.



If your not looking for any fancy bells and whistles with your goggles and just want something that isn't going to fog and keep you looking good grab the EGV.
Rich Frogh
Fashion AND Function
Familiarity:

I've used it several times
Worn them about a dozen times this season and so far they're great. As already stated, these are so stylee! Love going back to the cylindrical lens from a spherical. (for reference, I was using Dye CLKs before this) I wear these with the strap under a Bern helmet and there is a tiny gap between goggle and helmet. For me, this is negated by the use of my ninja suit, so it's not an issue. Four stars because it could fit better with a helmet. Everything else is great!
Mark Seguin
FRE$H
Familiarity:

I've used it once or twice and have initial impressions
My first pair of electric goggles. I was stoked right out of the package. The real teal picture does not even give it justice. So down with electric! Found out they were designed inCali too! Right on Electic keep killin it!
Trevor Knapp
what color is the bonus lens?
what color is the bonus lens?


Joseph P K.
Trevor Knapp
Good Style and Performance
Familiarity:

I've used it several times
I just got a black pair of these and I really like going back to the flat lense. I used spherical lenses forever and feel as though the flat is just as clear but closer to the eyes making the field of view better. Check out the video below for the low down on these sick goggles!
John Ware
Backcountry Video