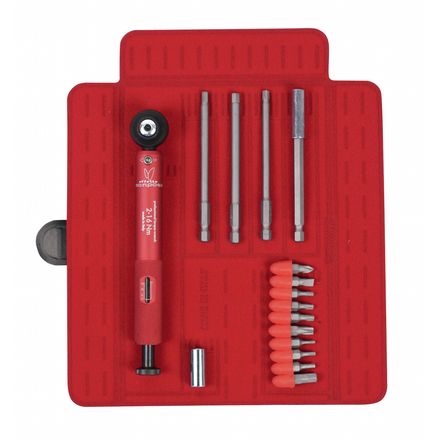 Colors

Detail Images
Display-worthy shop staple.
Torque specs are there for a reason, especially when you're wrenching on a $12,000 carbon fiber masterpiece. Get the build right, and the bike will ride perfectly. Get it wrong and components will break in the shop or fall off on the road. The Effetto Mariposa Giustaforza II 2-16 Pro Torque Wrench is the best tool for getting your build just right. When you're done with the build, you can place it on the mantelpiece with your other works of fine art.
The Effetto Mariposa Giustaforza II 2-16 Pro Torque Wrench is easier to use than it is to say. You just insert the appropriate bit and set the torque with the dial on the handle. When the correct torques has been reached, the wrench produces a loud click and allows three degrees of free movement.
2-26Nm capacity
Heads included: [10x25mm] HEX2, HEX2.5, HEX3, HEX6, T10, T15, T20, T30, -3/16, +PH1, [3x100mm] HEX4, HEX5, T25, [1x100mm] extension
Unanswered Question
How long is the wrench?

Jay
James V.
Does this thing have a ratcheting mechanism? Not a 'deal-breaker', but it would be nice.
Scoop
This does indeed have a ratchet! Please feel free to reach out if you'd like to discuss this tool... It's one of the best!
Kody Gubler
Work of art tool
Familiarity:

I've put it through the wringer
I had a torque wrench and bought this because it was just plain gorgeous. It turns out that it is also useful. I have the first version of this and the torque settings are spot-on. I am lucky to have a local machine shop that does high-precision work and had them check it. It came within 2%. The analog dial is also quite accurate. As a rule, and except for the crank components, I slightly under-torque most of my components like the seat post, bars, etc. I have never had anything slip.
Jim S.
Gorgeous precision torque wrench
Familiarity:

I've used it several times
Not cheap by any means but this tool is simply gorgeous and so well suited for work on a bike. Small enough to get practically anywhere and very precise. You pay for what you get and some people will say hey this is too expensive. Fine don't buy one. Some tools are just worth it and this one spoke to me. BTW, until they get the site correct on this, I got this from CC but through Amazon. It does not come in a tin like the picture (something of a bummber) but did come in a red plastic wrap up with velcro which is probably more practical when you think about it. NOTE THOUGH THE WRENCH DID COME WITH THE BITS SO YOU DON'T HAVE TO BUY THE SEPARATE SET CONTRARY TO WHAT IS SAID ABOVE.
barry hair