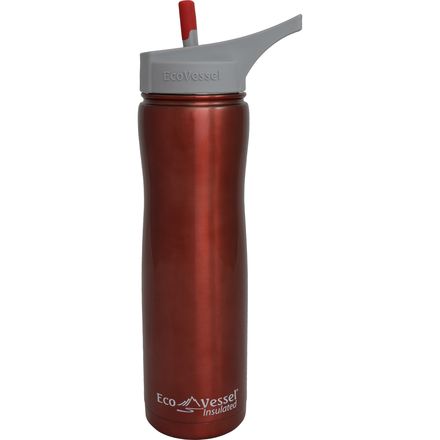 Colors
From alpine hikes to daily commutes, the Eco Vessel Summit Insulated Water Bottle keeps your drinks icy-cold for up to 36 hours. Its 24-ounce capacity is large enough for day hikes, and its ergonomic design and integrated carry handle make for easy travel. Additionally, you'll find this aluminum water bottle is BPA and phthalates-free for added peace of mind.

24-ounce capacity
Premium stainless steel
BPA, phthalates-free
Removable silicone spout
Integrated carry handle
Ergonomic design
Great bootle
Familiarity:

I've used it several times
Got this for my wife and she loves it. She lost her other bottle and wanted something that would keep her water cool and this was it. Said she likes the sip top and does a great job in keeping water cold.
jorge
Durabe Flip Top
Familiarity:

I've put it through the wringer
I have a few nice water bottles with a flip-up straw and the Eco Vessel Summit Insulated Water Bottle has one of the best. the hourglass pleases the eye and is easy to hold.
Mike Nelson
Easy sipper
Familiarity:

I gave it as a gift but have feedback to share
Got this for my grandma who has no teeth and she could sip water easily from it. This is another alternative to the bite valve on camelbaks bottle which she had a hard time with. This had a traditional straw feel/draw. And the insulation works great, keeps ice for hours.
Chris Hooten
Easy Sipping
Familiarity:

I've used it several times
This bottle works and looks great. My favorite feature is how easy it is to drink out of the flip-up straw. Some bottles require you to chomp down on the end of the straw. This bottle does not. A good amount of water flows through the straw with little effort.

Sometimes the bottle is a little difficult to carry when full of water and you're trying to run one finger through the handle.
Cameron C
Awesome water bottle
Familiarity:

I've put it through the wringer
Awesome insulation, and very light weight compared to others I've seen. The spout on the bottle is also a lot more durable than others I have had.
Gianmarco S.
Best Water Bottle Ever Owned
Familiarity:

I've put it through the wringer
I've have plenty of water bottles I would suggest, but this one is at the top of the list by far.

My favorite features to look for when shopping for a water bottle are: a retractable spout to eliminate the worry of the mouthpiece getting as dirty as the alternative mouthpieces sometimes can, an integrated carry handle so that while embarking on one adventure or another it's easily clipped onto something using a carabiner as to not have to either carry it by hand or have it take up space in a backpack, and most importantly, enough ounce capacity to eliminate having to refill more frequently than necessary.

Not only does this water bottle encompass all of those features, but after using it I found additional features that really hit my love for it out of the park!

It doesn't lie when it says it's insulated! I had forgotten it in my car after filling it with ice water one morning. At the end of a decently warm day (with the additional warmth of sitting in my car), the stainless steel was warm to the touch, but the ice I had filled it with several hours before was only partially melted!

Its stainless steel exterior also ensures its ability to be put through some tough conditions and still maintain it's usability.

All in all, you cant go wrong with this water bottle!
Siarra Miller
Engineers worked hard on this one
Familiarity:

I've used it several times
Bottle itself has a great ergonomic design that is conducive to easy grip and ability to hold well. The stainless is great for a reassurance that one does not get added ?Stuff? from the bottle.
Top/cap is well designed structurally so that it can be clipped with a carabiner, swung around and not break. Cap screws on easily and keeps the goods inside. No leaks thus far.
One nice thing about the top is the mouth piece is easily removable for cleaning off the lip balm, etc..
Mouth piece flips open fairly easily, but is stiff enough that you don?t have to worry about it coming open to create a problem with spills.
As to keeping things cold it is crazy good. In testing on hot liquids, for a 12hr period, the temp dropped only 3 degrees F, from 104-101 degrees F, it was amazing. Wouldn?t work well as a bed warmer.

Jack L
Great water bottle
Familiarity:

I've used it once or twice and have initial impressions
I've used this for soccer games and just hanging around the house when I need a glass of water. Keeps it nice and cold for a surprising amount of time. Even when laying in the grass under the hot sun.
No issues with the outside sweating or feeling too hot when coffee gets poured in. I filled this up with hot water from the tap and left it out over night for about 9 hours only to find it just as hot as when I left it.
If you're in need of a nice water bottle that has great insulation, this is it. If you're just needing something to carry around and drink from, there are cheaper options.
William Adjemian
Sleek and convenient
Familiarity:

I've used it once or twice and have initial impressions
This is a great water bottle. 100% insulated and keeps beverages cold (or hot) for a significant amount of time. You'll still have ice cubes floating around in there the day after.

The bottle has a 'sleek figure' to it and fits nicely in your hand. The straw inside is real flexible so it's doesn't get in the way of any ice when you're trying to close it. Very convenient!

I have the purple colored bottle and it's a little lighter than what is pictured on this site. Super cute!
Jaclyn Richards
Nice every day insulated bottle
Great shape and size, love the handle for a versatile bottle. This is after being used for a couple weeks several times. It did a great job being fully packed of ice for about four hours but after that it really lost most of its insulation. It kept my drink from being room temperature but not 'icy cold'. This is while being in the sun or even just waking up the next morning after the drink being sealed next to my bed. The mouth piece and straw cleans well and had no problem in the dishwasher. Which is a plus for me. This guy was taken to Zion where it was put through some testing. Drops and such with no dents or damage and didn't lose its insulation capabilities. Pretty impressive, still cute and purple. I'm pretty picky when it comes to my bottles. I love the lightest of the light or my hydroflask when weight isn't an issue and the vacuum seal is hard to beat. I was pretty pleased with these. They didn't stay as insulated as I wish they would have but are a good fit for versatile around town, every day work option.
Sarah