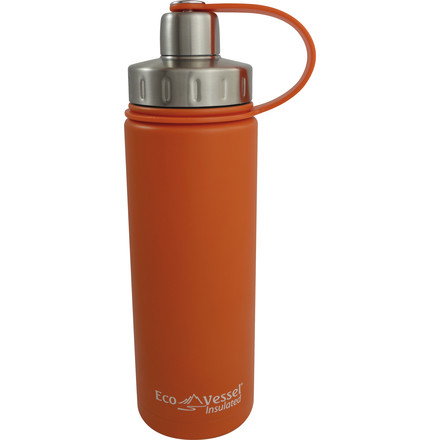 Colors
Eco Vessel's Boulder Triple Insulated Water Bottle is the right choice whether it's a brisk or warm day at the boulder fields. Vacuumed triple insulation keeps ice water cold or your hot tea warm for hours. The dual-use leak-proof top has a wide opening for easy filling and a small opening for easy drinking. Eco Vessel added a removable strainer for loose tea leaves, fruit, or ice.
Vacuum insulated stainless steel
Triple insulation
Removable strainer
Dual-use leak-proof top
Sturdy carry strap
One Minor Flaw But Still Great
Familiarity:

I've put it through the wringer
This bottle is awesome. Most thermos type water bottles only use two layers of stainless steal to insulate your beverage but Eco Vessel put a copper layer in between the two. You can expect your drinks to stay warmer/colder longer, without taking on any residual tastes. The inside strainer makes it easy to drink tea or other things with ice as the it stains out any unwanted ice/tea bags from hitting your teeth. I also love that you have the option to have a narrow nozzle as well as a wide mouth bottle. It allows you to drink on the go and customizes your drinking options. The only downside to the nozzle is that it can be difficult to take off at times. I do not want to say that it gets stripped on, because I can get it off. However, it seems like the metal around the plastic on my cap can spin freely. You have to have a strong grip on the bottle to make sure that you can open up the small nozzle.

Please give me a call at 801-204-4679 or shoot me an email at sarruabarrena@backcountry.com if you have any questions or concerns.
Sean Arruabarrena
Keepin' that drank cool
Familiarity:

I've put it through the wringer
Works superb. Keeps your drink cool/warm, and the ice strainer is definitely a plus!
Garrett Aland
Keepin' it Cool
Familiarity:

I've used it several times
Eco Vessel has done a great job on figuring out how to keep your drink cold for an extended period of time with their Triple Insulation Bottles. I have yet to try this bottle with a warm beverage but it does a great job at keeping my ice a little longer so I imagine it would be a great bottle for warm beverages as well. The only thing that would make the bottle better would be a lighter version. At times, it can be a pain packing it around, but overall Eco Vessel did a great job!
Casey Short
Not a bad bottle
Familiarity:

I've put it through the wringer
The insulation in these bottles are killer, keeps the drink cool or warm for a long period of time. The only down side to this is the weight of the bottle. Empty, these have some weight to them, so I probably wouldn't use it on any long distance treks though this would be absolutely suitable on some day adventures. Great bottle nonetheless
Garrett Aland