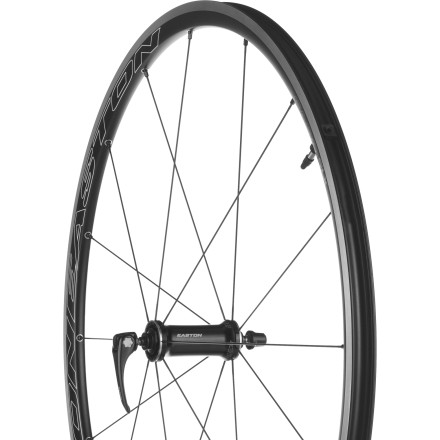 Colors
Train your heart out.
We're in a renaissance of sorts for the modern road bike, where performance and comfort are reaching unheard of levels. What once was a slippery slope that quickly tossed rider well being out the window in favor of speed and efficiency is being challenged by components like Easton's tubeless EA90 SLX Tubeless Wheel.
Now, due in part to the certified road tubeless clincher standard, the ability to roll smoothly over broken pavement and gravel does not hinder efficiency at all. In fact, road tubeless also boasts better puncture resistance. The SLX alloy rim is plenty wide, measuring 17.5 millimeters internally, and it's plenty stiff for defection-free turn-in with instant acceleration on tap.
The 25mm-deap rims are laced to durable Echo hubs with double-butted, straight pull spokes. They thread into dual-threaded nipples that are serviced just like standard nipples with no special tools necessary. For the front, 16 spokes are used and 20 are found at the rear durability where it's needed most.
The Easton Echo hubs roll on standard bearings and are easily serviced for long-term durability. The These are race wheels by all accounts, yet they're strong enough for training and cyclocross racing alike. The EA90 SLX Tubeless Wheel is available as a front or rear and uses standard road caliper brakes.
Can you use 700 X 25 tires on these rims?
Steve W.
Michael
Yes you can, I am running GrandPrix 4000sII 700X25 with no problems
rob
BAD VALUE! A DONT BUY!
Familiarity:

I've put it through the wringer
Horrible value! I am a light weight rider (130lbs) and after 6 months of solid use the eyelets started to pull out and cracks in the rim were appearing. A buddy who also got the wheels around the same time had the same problem and more cracks and broken spokes. On a $1200 wheelset should last more than 1 season with average riders. Bearing wore out quick but that's not as major as the rim/ spokes failing.

When we went to warranty easton was quick to get the warranty process but once they arrived my local shop told me it would take 6-8 weeks for the wheel service!! Not only is it taking forever but to me warranty means a replacement, 6 months old should be a fast, easton sends new wheel out with return label and I send the broken one back. Not im out of a wheel for 6-8 weeks because all of their wheels break and everyone needs them serviced.

I guess you can say that these wheels are not of value, and so is the company EASTON!
sma101630921-0
Great Wheels!
Familiarity:

I've put it through the wringer
UPDATED: 4/3/2017 - see below!

Picked up these wheels as a replacement to older EA90SL's that where destroyed in an unfortunate roof rack / bike / garage accident.

I like these wheels a lot. They spin great and are plenty stiff for me. They are not as aero looking as the previous generation of EA90's, but they appear to roll just as fast. The freehub is extremely quiet compared to previous generations.

The included tubeless valve stem cores are not removable (wtf easton!?) so if you plan on running tubeless with sealant, you'll need to buy some replacements.

A minor note that I had to look up, but may be common knowledge: If you plan to run shimano 10 speed, be sure to use the spacer included with the wheels AND the 1mm spacer included with the cassette.

UPDATE HERE:

Lowering my 5 star rating for a few reasons.

1) I recently had the rear rim crack and an eyelet started to pull out. I ride these wheels pretty hard, but at 150 lbs, I would expect more durability.

2) After finding the issue, I called Easton. I was out of warranty by 6 months, so I had to foot the bill for repair. They quoted me 220$ (plus shipping) for a repair / replace of the rim. 6 weeks later, my new wheel has finally arrived. They "forgot" to ship the wheel back to me after it had been repaired. They promised expedited shipping once they realized their mistake, yet it took another week to receive, so I'm guessing they forgot again.

Don't get me wrong, durability concerns aside, the wheels are fine and dandy. The customer service I received from them really sucked and I would caution others to think about that before they purchase any easton wheels.
Michael
Do you know if these wheels can be had in...
Do you know if these wheels can be had in a Campagnolo configuration? Thx.
HooSHR
Yes, you can get the Easton Echo cassette body for Campagnolo rear hub, part #8005966
Craig