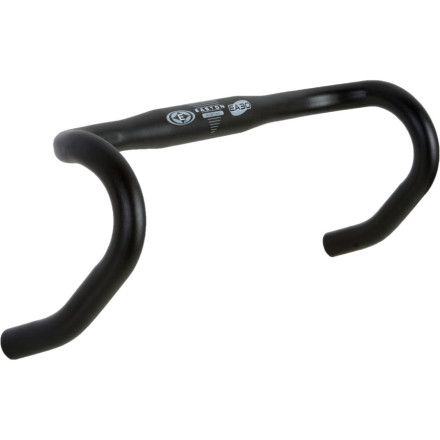 Colors

Detail Images
The bar's bar.
It may not be the lightest, the flashiest, or the carbon-iest bar on the market, but Easton's EA30 Ergo Handlebar does have one thing going for it: it's all but guaranteed to survive whatever abuse you can throw at it. That makes it ideal for life as a gravel bike bar or perched at the bow of a long-range touring bike. The ergonomic drops afford a more comfortable perch for hours spent tucked and pedaling as you chase your GPS map from checkpoint to checkpoint.
A handlebar for gravel and touring abuse
Reliable alloy construction isn't afraid of a ding or two
Ergonomic shape makes riding in the drops less punishing
You really can't go wrong with these bars. The drop is shallow and the reach isn't too deep making it so you can stay the drops without a pain in the neck. It doesn't absorb the bumps like carbon bars but with some thicker bar tape you can keep serious cash in the bank! I went with 46cm bars for added leverage and control.
Chase Skidmore
Probably worth double the price
Excellent quality and you can't beat the price. Kinda shallow on the drops but that's what I wanted. Pretty light but definitely not the lightest, probably best to buy this if you want to try a different width before buying it in carbon or an expensive set. The picture is the new bars beside my stock fuji transonic bars to show the drop angle
Chris R.
What is the bar clamp diameter?
Craig L
Craig L