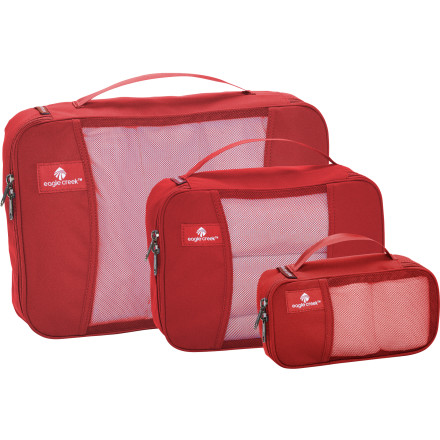 Colors
Separate your shirts and socks.
You don't like it when disparate foods on your plate mingle, and you apply the same principles to your clothes when you're traveling. The Eagle Creek Pack-It Cube Set offers three different discrete storage solutions to prevent inappropriate touching of socks, shirts and tablet cords. The Quarter Cube contains your cords, the Half Cube holds socks, and the Cube separates shirts and scarves from the rest of your stuff. All made from durable polyester micro-weave so you can throw all three in the wash when travel grime gets too much.
300D polyester micro-weave
Pack-It Quarter Cube
Pack-it Half Cube
Pack-It Cube
Quick-grab handle, washable
Eagle Creek organizers have changed the way I pack. They are durable and can be used for about anything. Game changer.
Ben Christensen
Must have for travel
Familiarity:

I've used it once or twice and have initial impressions
If I had known how happy these would make my wife (who loves some good organization), I would have purchased them much sooner. They have made travel/packing so much simpler and she loves how easily she can find things while on the go. Two thumbs up!
Cam Christensen
Bummed I didn't buy these sooner.
These are seriously a game-changer with traveling!! I'm so mad it took me this long to buy them. They keep everything so organized. I used these three inside a big backpack for traveling with my kids. I put toys in one, snacks in another, and toiletries in another. They are great.
JessicaS
exactly what I needed
Familiarity:

I've used it several times
Pre-trip I will neatly pack my bag and at the end of the trip everything is a cluster. The cubes have helped keep me organized and everything from spilling out, especially when I need to access something at the very bottom of my pack. Works equally well with a traditional suitcase
danielle kirk
Organization! yay!
Familiarity:

I've used it once or twice and have initial impressions
These were great with helping me stay organized for my traveling. It's nice to not have to dig around for everything and be able to keep the small stuff together! Very useful and seems to be a great product. So far so good!
Emily Noll
Very Useful
Familiarity:

I've put it through the wringer
I have been using these for years and just picked up this set because I wanted more. They really shine while traveling internationally and wanting to limit the amount that you take with you. These allow you to pack a lot of clothes in a small space and stay very organized. They make it easy to pack over a weeks worth of clothes/gear into a carry on size bag. I also like using them to store gear. The small one is great for a headlamp, batteries, chargers, etc. They even come in handy to organize some of my climbing gear. The material and zippers are high quality and have lasted years of heavy use.
Chris Ringel
pack em
Familiarity:

I've put it through the wringer
I bought 2 sets for my partner who is traveling internationally. She probably packed too many things so these bags really came in handy for keeping her belongings organized. The small bag fits her itty bitties and the 2 larger sizes are great for other clothing items. We got 2 colors to help differentiate clean vs dirty items.
Damon Miles
What's Not To Love?
Familiarity:

I've put it through the wringer
Pack-it cubes are pretty brainless when it comes to use and overall function as these from EAgle Creek are super solid. The only thing I ever worry about is the zipper strength and these hasve some of the better out there. The mesh window helps to organize and disseminate what the hell you actually put in there and as long as you do the over-folding or roll-up technique with your stuff you can fit a lot in. A great option and all those who travel a lot should have at least 2-3.
Wally Phillips
Bought these to travel with. The mesh windows are a great change of pace from all the other travel cubes, as they give you the freedom to pack something like a still damp swimsuit.
Adam
Great Pack Companion
Familiarity:

I've put it through the wringer
I purchased these to organize my Osprey Farpoint 40 pack. 1 set worked perfect and was a huge help in my Euro backpacking trip. I highly recommend.
Rich Wheeler
Love these little things!
Familiarity:

I've put it through the wringer
I'm crazy about efficient packing. I travel / change my base / relocate a lot, and my life had changed the moment I discovered PackIt.

My travel bag (NortFace Basecamp duffle) is pretty much all PackIts (and a few other brand packing solutions for other needs than just clothing) neatly packed and arranged for easy access and management.

I don't travel with a backpack moving from hostel to hostel, but I've had situations where I've used PackIts in my pack. They're equally useful and versatile then, as they are in big travel packing situations.

Can't live without it.
Sergei
Travel Must
Familiarity:

I've used it several times
Took these bad boys on my month long trip to Europe. Perfect thing for organizing my backpack. Durable and easy to wash.
KatieChambs
Packing Help
Familiarity:

I've used it several times
I needed additional packing cubes for upcoming trip and purchased this set. The two larger sizes were very useful to me. Large for shirts, shorts, etc. the medium size good for underwear, socks, swim suits, etc.. The small cube was not valuable to me as it was too small for any clothing. I guess it could be used for other miscellaneous small items that I didn't have a need for. I would have preferred two large cubes and one medium in the set. I love using the packing cubes for travel and the sizes I did use were perfect.
Kelly Smith