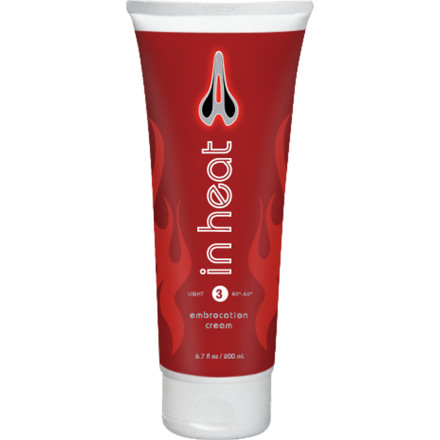 Colors
Turn up the heat and enjoy the ride
Who doesn't love a massage? DZ Nuts InHeat Embrocation Cream will quickly become the pre-race rub-down that you will enjoy. It has been formulated to be best used before rides or races where the weather isn't ideal. It warms and loosens the muscles so that you shouldn't suffer that creaky, sore-leg feeling those first ten minutes of a ride, no matter the weather. It also contains natural ingredients which create a protective barrier between the skin and any harsh cold or wet rain that may plague your day.
InHeat employs natural vasodilators to help supply needed blood flow to the skin and muscles. Vasodilatation essentially refers to a dilation of blood vessels which increases the flow of blood due to a decrease in vascular resistance. The increased blood flow will improve your efficiency while exercising and keeping warmer and looser will protect you from injuring yourself by forcing tight muscles.
Most of us have heard that our post-ride recovery relies heavily on how well we restore the glycogen in the muscles which has been depleted through exercise. But how many of us knew that glycogen is also depleted from the skin during the exertion caused by exercise and exposure to the elements? Using the DZ Nuts InHeat Embrocation Cream will introduce plant-based polymers which deliver bio-mimetic glycogen to the skin cells. Bio-mimetic simply means it is a human-made process which imitates nature. What it'll mean for you is your skin will not be sapped of its glycogen even on the coldest, hardest rides. And if you need further proof of the effectiveness, just look to the fact that Garmin and other professional cycling teams see the DZ Nuts InHeat Embrocation Cream as an essential tool for their training and racing. It is available in three various strengths — low, medium and high heat.
Unanswered Question
does this 'stain' cycling clothing?
Taylor Centauri
Worked well in the past
Familiarity:

I've used it once or twice and have initial impressions
I used some of the first DZNuts chammy cream and have always liked their products. I'll update specifically on the warming salve after the winter, I generally use it during cross races and much colder rides, just a bit (!) under the warmers/tights.
Zane Dordai
Huge Plus to my riding experience.
Familiarity:

I've used it once or twice and have initial impressions
I live on the central coast of California where we need tights and long sleeves almost 12 months out of the year. Even on nice days, a fog or the marine layer can rush in dropping the temp significantly. I hate tights, knee/leg warmers and so I thought about using embro for my first MTB race this season, as it was cold and rainy. Instead of ordering real embro, I tried my wife's icy hot. Big mistake - Icy Hot is not embrocation. My legs were on fire the entire race and it just added to the overall misery. I bought the In Heat medium and tried it on a windy, cool day here on the coast. I didn't really feel anything so the next day I decided not to use it and wish I had. I can't tell it's working, but I can definitely notice the difference in not using it. In addition to being a buffer from the wind and cold, it also makes it easier to clean mud and road debris off the legs later. I used to live in Colorado and for that climate, I would probably add the hot version to use when it's really cold. I have also lived in Texas and the southeast and probably wouldn't use warming embro at all there. It has greatly enhanced my riding experience.
Ben C.
I have used this for a year now and just recently did a stage race with 3 days of rain. I used the DZ Nuts medium heat every day. It goes on nicely--like a lotion. It smells good and activates after about 45 minutes. One of the days we rode a short way in the rain and then had to ride in a car for an hour to the race start. The rain activated the embro so the legs were very warm at the start! I loved it!
I always wash my hands after applying.
Periwinkle