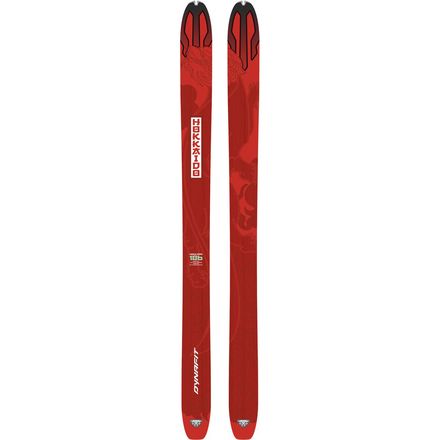 Colors
A solid steed for the steep and deep.
Being the more powder-oriented offering in Dynafit's free touring line, the Hokkaido Ski comes at a width of 118mm underfoot, making it a veritable slayer of deep snow. Designed with input from Dynafit's North American team, the Hokkaido was built both to get up and down big lines with speed. With a weight hovering around 9lb in all lengths, the Hokkaido is by no means an ultralight ski, but as all big mountain skiers know, extra weight is an absolute necessity when slicing through variable snow conditions.
The Hokkaido is a departure from typical Dynafit designs on almost all fronts. The full ABS sidewall construction favors strength over weight, but delivers durability when the skis inevitably make contact with rock and ice. The profile abandons traditional camber underfoot in favor of Dynafit's all-new Double Ellipse rocker profile. The profile is fully rockered in the tip and tail and is flat underfoot, allowing for more effective edge to engage as the ski rolls over—this means that the Hokkaido will not only hold an edge in steep and icy terrain, but it allows the Hokkaido to carve like a race ski once you're ready to loosen your turns up down open faces and slarve turns in deep pow when conditions turn prime. Carbon fiber stringers and fiberglass work to increase torsional rigidity, while the full carbon shovel saves weight while acting like a suspension fork to eliminate tip chatter for a confidence-inspiring feel you won't find on any other touring-specific ski.
Double Ellipse rocker (flat underfoot, rockered tip and tail)
Full ABS sidewall construction
Poplar and ash core
Carbon fiber stringers
Full carbon tip
117mm underfoot (182cm length)
Single radius sidecut
9lb 3oz (182cm length)
Alloy tip skin attachment
Dynafit ski for the downhill!
Familiarity:

I've used it several times
This ski is a little heavy but that is to be expected with a ski that has a 117 waist. This ski more than makes up for that little extra effort that you have to put into it to get up the mountain. I have the dynafit beast 16 bindings mounted on this ski and that is by no means a light tour binding and the ski performs perfectly in all conditions including large ice spots where the wind has blown all the power off. I prefer touring equipment that preforms better at the expense of weight. If you are an ultra light person and don't want to buy a downhill oriented ski then don't buy this ski. However, If you want an amazing downhill oriented ski to handle all conditions from deep powder days to frozen ice to spring corn snow this is in my opinion a quality ski for that.

As I ski in Wyoming and northern Colorado this ski holds its own every ski tour. Without breaking the bank.
Riley P.
Great Ski
Familiarity:

I've put it through the wringer
I bought these skis for touring. They are not the lightest skis out there, but they ski better than is physically possible for any of lightweight stuff favored by the gram sensitive. I'm 6 ft. 195 lbs. and ski aggressively. The Hokkaido's not only rip through the pow with buttery ease, they hold an edge on steep icy ridge lines or shoots and power through heavier snow or any other sub-optimal condition that one may encounter on the way to and from the North facing stashes (like for instance the South facing access and return routes . . . frozen in the morning and slush in the afternoon). I mounted them with Marker Kingpins and love the combo. They are burley enough to ski the resorts if you must. Again, not the lightest, but made for those of us who want a real ski for the way down.
I bought the 189, the shortest ski I've had since the early '80s and find it delivers everything I need in terms of stability. Five stars, all love.
Alonzo H.
An all time favorite!
Familiarity:

I've put it through the wringer
Disclaimer: I helped design both these and the Chugach's but am my own harshest critic.

Dynafit has never been known for producing outstanding big mountain skis. Our skis were always described as, "skiing well for how light they are." The Chugach and the Hokkaido change that. They are some of the best performing, most fun skis on the market bar none.... Alpine or touring.

What really sets these skis apart are their elliptical rocker profiles. What this means is that this ski is essentially a reverse camber ski, but that the rocker profile is super gradual under foot and that it slowly becomes more pronounced as you move closer to the tip and tail. This rocker profile creates an effective edge (amount of the ski's edge that is in contact with the snow) that is constantly changing depending on how far the ski is rolled over onto its edge. When the ski is relatively flat and the skiers feet are more underneath their body, the amount of edge in contact with the snow is relatively short creating a ski is both playful and maneuverable like many reverse camber skis. The skis can slide, slarve, drift and change directions at will. However, as the skier gets their feet further away from their body, thus rolling the ski up on edge further, the amount of ski edge in contact with the snow increases. This increases the skis stability and allows if to carve high speed GS turns. The end result is truly the most versatile and playful skis I have ever been on. Carve, slarve, slide, they do it all.

I can't say enough about how fun the Hokkaido is. It is comfortable in turn shapes of all sizes, but loves speed. The reverse camber gets it up and planing on the snow's surface quickly and makes it a much faster than skis with camber (think of a boat hull or surfboard.) It's poplar and ash core and heavy glass lay up make it a very smooth, damp and confidence inspiring ski when it's up to pace. I have yet to find it's speed limit, and quite frankly think it's higher than mine. What makes this ski so fun, though, is the ease with which it changes direction. I love tree skiing and am skiing lines much faster than I ever have before wit the Hokkaido. The skis can react to direction changes almost as fast as I can think. This gives me immense confidence (maybe a bad thing) to fly through the trees and be able to deal with whatever comes my way.

This is my all time favorite powder ski and tours very well. With this ski, when I look at terrain, all I see are possibilities. I'm like a kid in a candy store.
Jamie Laidlaw
Hokkaido Demo
Familiarity:

I've used it once or twice and have initial impressions
Last season i got to demo the Hakkaido. The Groomers were hard and smooth but the Hokkaido handled very well for a ski of this girth. We found a little skiff of settle powder in a boulder field for the video. I had some fun here and look forward to trying this ski in some real snow.
Please check out the video for Sandy's discussion of the ski.
Jeff Mikaelian