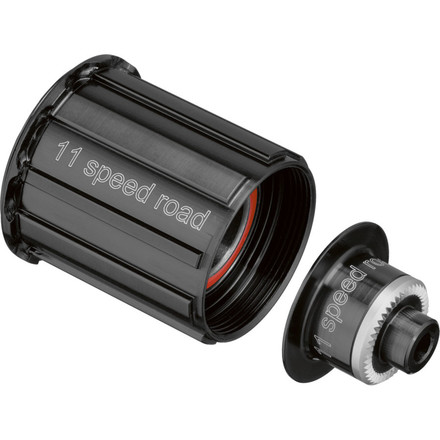 Colors
Freedom from hub limitations.
Change out your drivetrain and keep your favorite set of wheels with the DT Swiss 240S Road Freehub Body. Available in both Shimano/SRAM and Campagnolo-spline versions, the freehub makes matching your new component group a breeze—no need to buy a new set of wheels.
Compatible with DT Swiss 180, 190, 240S and 350 rear hubs
Available in Campagnolo and Shimano/SRAM-spline versions
Unanswered Question
I have a set of Bontrager RXL wheels with Shimano compatible free hub, but want to change it to use a Campagnolo Super Record 11S cassette, does this DT SWISS 240S FREEHUB BODY (Item # DTS0018) fit with my Campy stuff ?
CARLOS CORTES
Swiss Quality!
Familiarity:

I've used it several times
Picked this up to convert my Shimano 10-speed freehub body to 11-speed and it works just like it is intended to do. If you're doing an upgrade with your drivetrain and love your wheels, this is the answer you need for your DT 180, 240 or 360 hubs.
Questions? Feel free to reach out to me.
Scott Golsan
Can this be used to convert a 240 mountain hub w/ 142x12 spacing to use a Shimano 11-speed ROAD cassette?
Martha M.
Patrick H.
Upgrading from 10 to 11 speed
No hassle change for my ENVE 4.5s. Plug and play.
Charissa Olsen
easy swap to 11 speed
Familiarity:

I've put it through the wringer
plug and play, dt swiss makes great hubs and this falls right in line. I've bought a couple of these now, never any issues.
Kyle Br
Unanswered Question
Is this works for Reynolds DV46T?
Jiuk Jeong
Unanswered Question
Will this hub body works with DT 180 ceramic?
Jan Michael Ortiz
Unanswered Question
Is this freehub works for lightweight Gen2...
Is this freehub works for lightweight Gen2 wheelset? I'm planning change my Campy system to Shimano Di2 system thanks.
Hun Ming L.
Is this an 11 speed freehub body?
Is this an 11 speed freehub body?
Perry H.
Yes, this is an 11 speed freehub body.
Mike D Hilverda
Best Answer
to clarify the shimano/sram freehub body is 10 speed only. The 11 speed version is HWYABX00S2775S and the 11 speed SL version is HWYABX00S3184S from DT Swiss.
Scott Stack
I am planning to buy a used set of Bontrager...
I am planning to buy a used set of Bontrager race XXX-Lite Carbon tubular wheels that has the Campi freehub so I'd like to know if this DT Swiss 240S Freehub body the correct part for Shimano 10-speed cassette? Please let me know...
Thanks
Bao Vu
Yes, this is the one and will work fine.
Greg L.
Dear

This item can I convert my Bontrager Race Wheel - form Madone 5.2 - 2011 - to Campy?

Thanks

Gustavo
Gustavo D.
is this compatible with Tricon DT swiss wheel set road bike?
Cesar G. Malaque