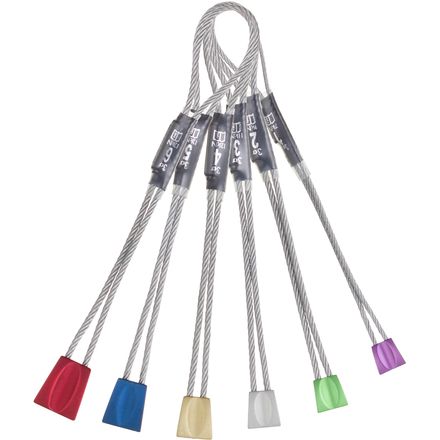 Colors
The DMM Wallnut Set is the bread and butter of your trad rack.
Rack up with the DMM Wallnut Set on your next trad climbing trip, and they'll amaze you with their easy selection and solid placement. Their color-coded anodized heads help you pick the right size the first time, so you can quickly slot the nut in a bomber constriction and move on before the pump clock starts ticking. Wallnuts also have a curved taper with a vertical concave slot to help them seat solidly in strangely shaped cracks.
Wallnuts are stoppers favored by elite trad climbers
Harder alloy heads prevent shearing
Larger sizes are slightly softer to better bite in placements
Tapered face and sides place better in cracks
Color-coordinated sizing for finding the right piece faster
Light and Versatile
Familiarity:

I've used it once or twice and have initial impressions
These set of nuts are a great set for starting to build your rack. They seem light and versitile and i use them in combination with some offsets and a couple smaller brass stoppers. Being new to trad I can't say that I've put them through any sort of heavy loaded falls, but when I get a good placement, the walnuts always seem to find a good fit, I feel confident in moving up the climb.

MB
I love the variety this package includes! The small ones can fit in bigger pin scars while the larger ones are great for big splitters. The grooves in the nuts are also a bonus for making weird placements feel more secure
Alex Blackmer
Look at my nuts, they are so tiny
Familiarity:

I've put it through the wringer
Why I use nuts?
There is somewhat satisfying feeling of watching your 2nd struggle to clean a well placed nut, because had you taken a whipper, that nut would have totally saved your life.
JBL
My go-to protection
Familiarity:

I've used it several times
Wallnuts are simply fantastic. If you're thinking about getting BD's, spend the extra $3 and get a set of these. You won't be disappointed. The design is much better due to the extra curvature and grooves. They sit much better in a lot of placements, but if the groove catches on something, you will not be able to remove it by yanking it up. Doing so will only kink the wire, so use the nut tool if you can't get it out after a yank. Also, these are rated to higher forces than the BD's and the wires are stiffer in the larger sizes so they don't flop around. But the best part about these is the instant security and relief you feel from clipping in to one. Nothing compares to a bomber Wallnut.
Bryan K.
Nice set of nuts
Familiarity:

I've used it several times
light, strong, and easy enough to clean
David T.
I have the full range of 1-11 and love them more than my BD stoppers. I trust them more than cams in a lot of situations. Great passive gear for a reasonable price tag!
Adam
Great addition to your rack
Familiarity:

I've put it through the wringer
These are a great addition to your rack, for just over a hundred bucks you can add 11 new pieces, and maybe 7 of those will get used all the time. I have only placed the smallest sizes a handful of times, but all the medium to larger sizes are super useful. Also I really like the small groove in the nut, I feel it helps to get extra secure placements in funky cracks
Craig L
Bomber
Familiarity:

I've used it several times
I often trust these nuts more than cams. They rock.
Bradley G.
Solid Nuts
Familiarity:

I've put it through the wringer
Great set of nuts and a necessary addition to any rack. The slotted design makes them a bit for versatile than other sets. Feel damn solid when you slot one nicely. Get 'em.
Dan Murphy
A double edged sword
Familiarity:

I've used it several times
They seat very securely on uneven rock (where the classic BD stoppers would struggle a bit) and I'd definitely trust my life to them. However, they're a pain in the ass to remove if you've weighted them. Great for knobby rock but be careful.
Paul B.
DMM IS NUTS
Familiarity:

I've used it several times
I really enjoy most of DMM's gear but all of their stoppers are totally bomber. I know guys & girls who will only use DMM's brass offsets and no other offset. Personally I bought the DMM's because of all the excellent reviews and then every time I go climbing someone will make a positive comment on me rocking DMM nuts. So, over all. It just feels right! The only negative thing I've ever heard is, if you take a big fall on them. You might not get it back out of the rock. That's fine with me! I'd rather have it stuck forever than have it fail. Nuts are replaceable.
Shane Martin Smith
Nice Nuts!
Familiarity:

I've used it once or twice and have initial impressions
I picked these as they were the top rated stoppers in every review I'd read. I now see why. Their design is brilliant as they will self-cam into even the most parallel of cracks and they hold well. I haven't taken a fall on one yet, but I trust that they'll hold.

Tip: If you are buying a full set, it is about $7 cheaper to but the small set (1-6) and the big set (7-11) separate as opposed to the full set (1-11]. It's not just BC either. Everyone prices them this way.
Adam L
They hold!
Familiarity:

I've put it through the wringer
These nuts are great. I have not used any other nuts but have had friends use them and they say they just fit a little better than other nuts they have used. That being said I have only taken one small fall on them and they held. They are super easy to place and they just fit the wall really nice!


Conner V
Comparison of BD Nuts to Wallnuts
Familiarity:

I've used it once or twice and have initial impressions
I just got my first set of Wallnuts today. I've climbed using BD nuts for long time and after reading tons of stellar reviews for these I wanted to see what the difference is. Being day 1 I haven't had a chance to use them yet but when I do I'll try to update this review. But here is a desktop comparison:



My Standard rack of BD nuts comes with 13 nuts, these Wallnuts come in a set of 11. Essentially, BD's 1, 2, and 3 are all smaller than the Wallnut 1. On the other end the BD 13 is slightly smaller than the Wallnut 11.



Weight:

This was some what disappointing. I was hoping the Wallnuts would come in lighter than the BD's, (better materials, less nuts should save some weight right?) Well, the full set of BD's come in at 14.6 oz while the full set of Wallnuts weigh in at 15 oz. So slightly more weight, less nuts.



However, after reading how easy they are to place with that unique geometry I'm exciting to give these nuts a try. (For some reason this discussion always cracks me up...)
DMN
MMMMMMazing!
Familiarity:

I've used it several times
These are lightweight and we haven't had any problems with them getting stuck thus far...

They are highly recommended by nearly all the gear heads and I concur, these are the best nuts on the market.


As others have mentioned they are color coded for easy identification.

While they are a little more expensive than the competition the extra money is well spent. Why you ask?

They are easy to identify, easy to place, easy to clean, bomb proof and lightweight.

Well done DMM!

Thank you!

(Pic-Racking up for another cold weather send here in the East!)
Jonathan
Why does the 1-11 set cost more than the 1-6 and 7-11 sets combined? Shouldn't it cost the same or less, since we're buying more?
Catherine Y.
Hey Catherine,



I can't answer as to the pricing on the item, but I can definitely tell you that I absolutely *love* these pieces! They're great.



Shoot me an e-mail or give me a call if you have any other questions.



Ben



801-746-7564

brabinowitz@backcountry.com
Ben Rabinowitz
What more is there to say?
Familiarity:

I've put it through the wringer
These things are bomber, light and easy to clean. Compared to any other nut I've used when climbing with someone else's rack, I always wish I had my DMMs.
Ethan Chaleff
Best nuts a climber could ask for.
Familiarity:

I've put it through the wringer
The DMM Wallnuts are the only cajones you need for scary trad climbs. The shape, design, and color-coded scheme make it fast-and-easy to place-and-go, and cleaning these beauties hasn't been a pain yet. These things feel lighter than the competition, and they definitely aspire confidence while climbing. Ditch the cams and sew up cracks with just these wallnuts; I'll buy you a beer if you do.
Derek Newman
Great Nuts
Familiarity:

I've put it through the wringer
I don't think I can say much that hasn't already been mentioned in other reviews, or the DMM Video, so I'll just say these are very good nuts.



I will add that I use my DMM offset nuts more often, even though it's a smaller set. But both are excellent and unique nuts and one type will work better depending on the situation. I carry both sets on my rack, because they're both so useful, versatile, bomber, and light compared to other gear. The full Wallnut set is probably more versatile than the offsets, and it covers a greater range, so that's a great foundation for your rack. But I highly recommend picking up the offsets also.
Dan
Last set of stoppers you'll ever buy.
Familiarity:

I've put it through the wringer
The shape on these things is tops. They sit so well when placed correctly in pods and constrictions. They have a bit longer head, with more surface area, which allows for more contact with the rock. The contoured shape allows for a tight placement and a slight cam when engaged. Great sizing range as well for the price!
Alex Quitiquit