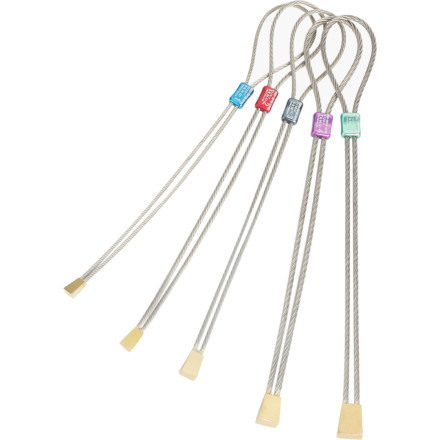 Colors
Climb like you've got brass nuts.
Named DMM's Brass Immaculate Marginal Protection Nut Set, the I.M.P. pro boasts full strength ratings at low weights. When you inevitably have to make a desperate clip, let your shakes subside with the knowledge that these color-coded wires are easily identifiable for quick placement. Slightly concaved faces make these pro pieces extra secure and ready to catch, while a double reverse taper resists rotating or wiggling.
Corrected Strength Ratings
The specs give the wrong strength ratings. If you zoom in on the picture, you can see that the strengths are:
1. 4kN
2. 5kN
3. 5kN
4. 7kN
5. 7kN
These are stronger than comparable BD or Metolius micronuts due to larger wires. You can verify this on the DMM web site.
sj_com1422824