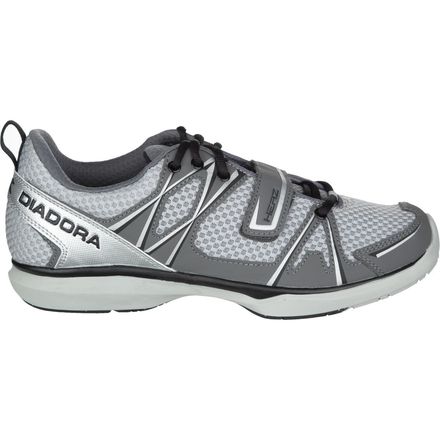 Colors

Detail Images
Give up those trainers.
If you've been spinning in an old, stretched-out pair of gym shoes, longingly watching your classmates clip-in with ease before a workout, we'd say it's time for an upgrade. Spinning is hard work, and it's even harder when your feet are shifting around between the pedal and the cage, wasting watts with every thumping beat coming out of the speakers. Diadora's Spinning Herz Shoes are a wallet-friendly way to make your spin workouts more efficient — in class or on your own — and they come compatible with the SPD 2-bolt cleats most spin bikes use.
Diadora uses its Suprell-Buk synthetic uppers with ample mesh paneling on the Herz, which when paired with the lace-up closure, gives them a fit that won't feel radically different from those trainers you've been reluctant to give up. The shaped heel cup and EVA insert work to add shape to the inside of the shoes, while overall, it retains a more sneaker-like fit compared to a slimmer outdoor cycling shoe. By finally being able to clip into your spin bike's pedals, you'll be able to enjoy improved power transfer and comfort during class — though we can't promise they'll make those punishing interval sets any easier.