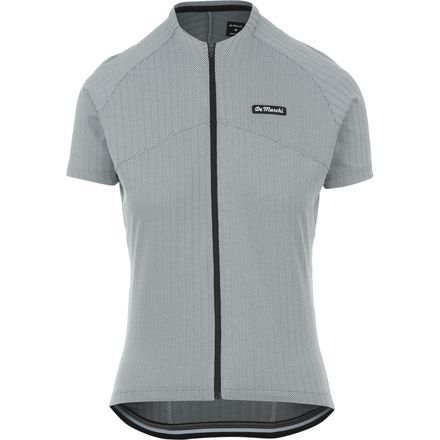 Colors

Detail Images
At last.
We aren't sure why it took this long for a cycling company to realize that herringbone need not be restricted to more formal attire, but we're awfully glad the in-tune designers at De Marchi caught on to the fact. The brand's Herringbone Women's Jersey more than makes up for the years we had to wait, and its clean, monochromatic aesthetic exudes class and timeless style.
Ok, we're gushing a bit, but when we first saw the Herringbone Jersey hanging on a tradeshow rack with dozens of other jerseys, it was the first we noticed. Like its pattern, the jersey's construction is relatively simple, and the not-quite racing fit ideally situates the jersey as an everyday training piece bound to earn you respectful nods of approval from well-dressed fellow cyclists on the roads. The fit is equally appropriate for long base miles or casual coffee shop loops.
Aside from its memorable herringbone patterning, the jersey also stands out for its soft, supple fabric construction. De Marchi trusts the same stretchy microfiber throughout the body of the jersey, and its thickness suits the jersey perfectly for spring days when a passing cloud or gust of wind can take the temperature down a few degrees — think 60 to 80 degrees Fahrenheit with a rider's preference for hot or cold pushing it slightly further in either direction.
The Herringbone Jersey is heavier than a climbing or race jersey, but it's still adept at wicking moisture away from your skin once you've warmed up in the sun. The added heft means it also feels refreshingly durable next to whisper-thin, low-denier, hot-weather jerseys. De Marchi finishes the jersey with SPF 50+ protection, reflective accents, three open rear pockets, and a zippered security pocket.