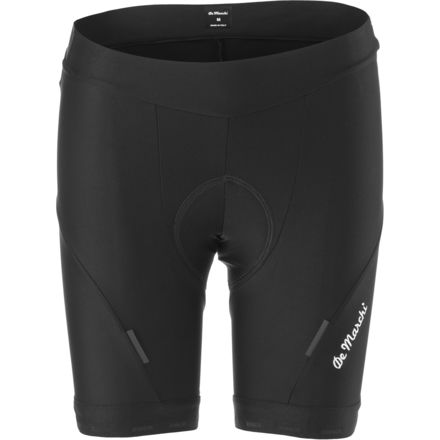 An instant classic.
De Marchi aimed to create a short that can withstand all of the miles that its Veloce model can, but for cyclists who prefer to ride sans bib straps. The resulting piece, the Classico Women's Short, displays all of the classic, understated styling we're used to seeing from De Marchi with the high-end construction of the Veloce and the functionality to become a favorite piece of summer kit.
De Marchi trusts supportive, breathable Lycra to construct the Classico Short, arranging each panel strategically to stabilize the hardworking muscles of your legs as you ride and keep fatigue at bay for as long as possible in the saddle. New this year, De Marchi reshaped the back and waist on the shorts, using a microfiber mesh to create smooth support along the waist and lower back, transitioning to microfiber mesh to ensure that the higher waistline doesn't detract from the short's breathability and its ability to move with you in the saddle.
Further addressing comfort, De Marchi chose to include the same chamois it uses in the Veloce: Elastic Interface's N-Dura. This inclusion means you don't have to wear bibs to get long-ride comfort. The N-Dura features plush, multi-density foam arranged in a strategic topography, which aims to provide the right mix of support and relief as you tuck into your drops on a descent or sit up and stretch on your hoods during a long climb. The chamois also features a breathable microfiber liner, which helps prevent chafing and resists odors.
Finally, De Marchi finishes the Classico with malleable jacquard leg grippers, held in-place gently by gel accents to prevent movement without making you feel restricted. Reflective accents help ensure you stay visible when you're racing the sunset, and SPF 50+ protection helps protect your skin from harsh summer rays — though we can't guarantee it'll ward off tan lines.