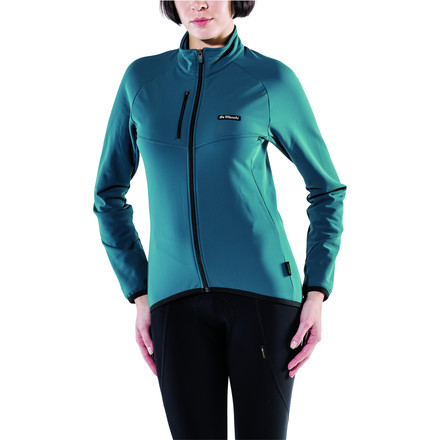 Make your own spring.
Although we'd like to limit our winter riding to bright, clear afternoons when the mercury registers Fahrenheit temperatures in the mid- to high-40s, our schedules don't always afford us that luxury. De Marchi's Classic Softshell Jacket addresses this, providing winter-weight armor for those determined to not let overcast, inclement weather keep them off the bike. Though the conditions around may suggest otherwise, your microclimate will think it's already spring.
The jacket relies on ThermaShield material, which somehow manages to appease all of our cycling demands, regardless of how irrationally demanding we are. ThermaShield's name gives away the two functions we most immediately associate with this kind of jacket: it insulates a cyclist's microclimate under a layer of protection from the windy conditions and icy temperatures of winter. While this material isn't stretchy on its own, De Marchi uses fabric that's been woven to provide a mechanical stretch, so it conforms to your body and moves with you in the saddle.
When you slip it on, you'll understand the need for this mechanical stretch, because the jacket is cut to straddle the line between racing and layering. There isn't any excess material flapping on the arms or hanging from your front while you're stretched out in the saddle, but it provides just enough room for a base layer when conditions demand.
The jacket's form-fitting construction is finished off with rear pockets that can be accessed through zippers on either side and a zippered chest pocket. The elastic cuffs, tall collar, and exaggerated rear hem ensure that there are no gaps in coverage.