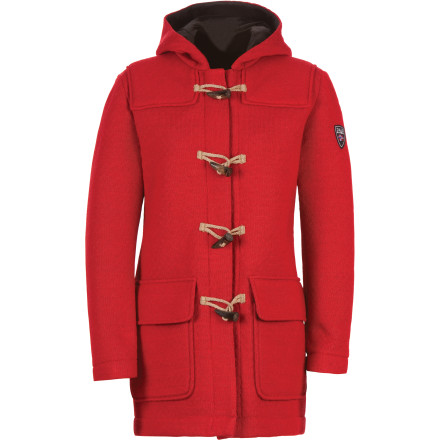 Colors
High-performance functionality and luxurious looks.
The Dale of Norway Women's Oslo Jacket is no ordinary wool coat. It combines the functionality of a weather-resistant shell, premium wool and fabrics with the street-friendly style of a classic duffel coat. The Norwegian wool used for the face fabric is a special quality of wool, with higher bulk and strength than other wool fibers, making it very durable, and also retains more air than other wool fibers for added warmth. The wool is naturally insulating yet it's breathable and resists odors, making it extremely comfortable while requiring minimal washing. In addition, each wool fiber is coated in a water-repellent solution that offers protection in wet weather, as well as repels oils and dirt, making the coat very easy to keep clean and dry.

Underneath the wool, a Polarwind membrane completely blocks heat-robbing wind so you stay very comfortable. The hood and toggle-closure placket overlaying the front zipper offer additional protection against icy winds, frigid air, or wet weather, and you can access the inside of the jacket from the top or bottom thanks to the two-way front zipper. The two-way zipper also allows you to fully customize how you want the jacket open if you don't need full weather protection. Genuine buffalo horn toggles punctuate the front of the jacket and add a luxurious touch to round out the high-performance functionality and stylish looks of this distinctive jacket.
Knitshell with water-repellent Norwegian wool
Windproof Polarwind membrane
Classic duffel coat style, regular fit
Fixed hood
Two-way front zipper and overlaying placket
Genuine buffalo horn toggles