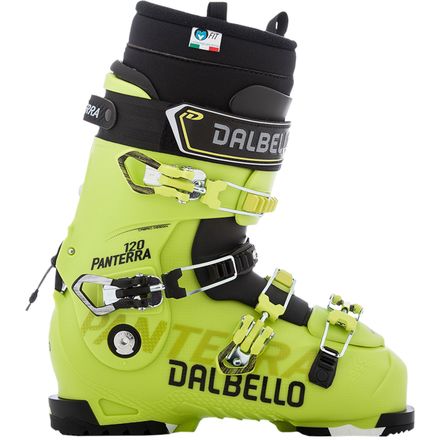 Colors
Original design for a better ride.
Dalbello likes following industry trends about as much as your cat likes riding in the car, so it should come as no surprise that the Panterra 120 ID Men's Ski Boot is a little different than most all-mountain boots. The end goal is the same—domination of steeps, shredding of groomers, and slaying of cold smoke—but the Panterra goes about getting there in a slightly different way, starting with Dalbello's famous three-piece Cabrio architecture, which combines a polyurethane shell and cuff with a progressively flexing polyamide tongue for lateral stiffness and a smooth, consistent flex. This lets the Panterra transfer energy into the ski powerfully and efficiently without having the leg-killing qualities of a race boot or the squishy slipper feel of a park boot.
Dalbello's Variable Volume Fit system also lets you adjust the last from 100 to 102mm just by tightening the toe buckle, eliminating pinching and foot-crushing tightness. Once the buckle's been set, there's no need to undo it, either, since the Panterra's designed to be taken on and off using only the three top buckles. In addition to the adjustable last width, the Contour 4 shell fit is premapped to the anatomical contours of the foot for a more comfortable out-of-the-box feel with minimal punching and grinding required. The boot also has canting and flex adjustments and comes with a heat-moldable ID Now liner that allows you to dial in the perfect fit.
As skis have gotten bigger and wider, they've started to require a more neutral, center-balanced approach, which Dalbello builds into the Panterra in the form of its Rocker stance, which helps you ride fat, rockered skis as they're meant to be ridden. The rearfoot retention strap pulls your heel straight into the pocket, for hold without shell distortion or pain, and the ski/walk switch and rubber-clad arch and replaceable polyurethane toe and heel lugs let you make short work of exposed ridges, slick rocks, and icy parking lots.
A high-performing alpine boot to crush the steeps
Stiff 120 flex for advanced skiers
100-102mm adjustable last accommodates medium to wide feet
ID Now liner lets you dial in the perfect fit
3-piece Cabrio shell offers a smooth, consistent flex
Dynalink retention strap keeps your heel locked
Walk mode helps you hike in comfort
Rubber soles gain you traction while bootpacking