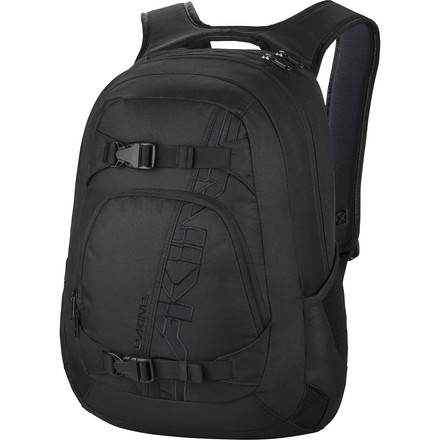 Colors
A pack that holds everything YOU need.
Before you head to school, strap your board to the DAKINE Explorer Backpack so you can poach the ledges behind the gym during lunch. Fit your laptop, MP3 player, sunglasses, and books in the Explorer's pockets so they don't get lost between your first and second class. Once lunch comes around, head around back and pull some wax out of the organizer pocket that also holds your pens and phone. When the ledge is waxed and ready to shred, put on your tunes and do your best to make it to your next class.
Ole reliable
Familiarity:

I gave it as a gift but have feedback to share
My brother loves it! The straps are really sturdy and up to the challenge of a heavy weight.
Lesa
Like it
Familiarity:

I've put it through the wringer
Nice bag for everyday, on the go use. Seems durable, and has held up well so far. Use it everyday for work, commuting, and all travel. Plenty of space for laptop, and extras.
Bill Hughes
Takes a Lickin' & Keeps on Kickin'
Familiarity:

I've put it through the wringer
I have had this backpack for over 5 years and have used it more than half of all days in that time. I have spilled BBQ sauce on it, got it submerged in water hiking in slot canyons, filled too full and tested the integrity of the seams. I've given this thing a beating and it has held up. Durable product. I've even strapped my skis to it a few times to boot pack into the side country at Alta. No complaints. Exactly as advertised.
Stephen Baxter
My favorite.
Familiarity:

I've put it through the wringer
So many great features on this backpack that make it stand apart from others. On the top of the backpack, there are two pockets. One is for sunglasses, so now mine no longer get lost. The other is sort of envelope shaped and it is sort of my emergency compartment for everything. I currently have extra cash, spare contact lenses and solution, some bandaids, a battery pack, a lightning cable, and earplugs.

The main compartment is medium sized and comfortably holds my 15" laptop along with whatever windbreaker and hoodie, headphones, etc I want to bring. The back accessory pocket is also great, A couple pen and pencil pockets that I can put to good use, as well as pockets for my pocket knife, flashlight, and more.

I don't skate but the skate straps are still super useful for me. If my rain jacket is still wet I can attach it to there instead of stuffing it in the main compartment. I have another color of this backpack that I use when I go to the climbing gym, and when I'm done clip my harness and shoes to the outside so they can dry out and not get funky.

This may be a love letter to a backpack, but it's a great backpack.
Brian in WV
Excited for my new day-pack
Haven't used my new backpack, but first impressions are that it is durable and just the right size for a day-pack. Got it in Tabor and am way stoked about the color scheme.
Emily J.
Great item for a great price !
Familiarity:

I've used it several times
The quality and the price are unbeatable.
marie lee
Quality Bag
Familiarity:

I've used it several times
Perfect size for a day bag, school, or work. Not quite big enough for a weekend bag. Fits my 15" MacBook Pro (non-retina) perfectly. Quality is outstanding, I'd definitely pay more if I had to for this bag. Can't go wrong with this one.
Scott R.
Can a nalgene water bottle fit in the water...
Can a nalgene water bottle fit in the water bottle pocket?


JP Nelms
Best Answer
Nalgene water bottles wont fit into the pocket. You can however attach it with a carabiner to the pack!
Emily Forsdick
Great quality lifestyle bag.
Familiarity:

I've put it through the wringer
I've had an older version of the Dakine Explorer backpack since 2000. Used it for college, hiking, motorcycle riding, overnight trips, basically everything for the last 13 years. Only in the last year, the interior lining has started to fall away from the nylon where the bag crinkles at the top. Other than that, the bag itself and every zipper have stayed in tact. Dakine is quality.



Great bag for overnight clothes + extra shoes (+more), laptop (fits 15" fine) and textbooks, or all the day hiking stuff you'd need. IIRC, in 2000 it was ~$90, so for $60 on here now, it's a steal for sure.
Bryan G.
how many days is the regular delivery?
how many days is the regular delivery?
Alex V.
Hello and thanks for the question.

We have quite a few different shipping options available. The free shipping method takes 7-14 business days and the item will ship from Virginia or Utah. You can chat with one of our sales rep to get a better idea of which location this item will ship from and how long it will take based on your location.
Lexi Dowdall
Carl S.
I doubt it. It's only 15 by 10.75 inches. You can measure your actual laptop, but it seems unlikely.
Angus Bohanon
This pack is great for the price. Plenty of room to carry school supplies (very roomy), and a skateboard. Great durable material also.
Alex Degnan
does this pack have a chest strap?
does this pack have a chest strap?
Benjamin C.
ben4923509



Yes this does have a chest strap
Amber H
This backpack is the shit is preaty big and the material is great it looks great and I will probably use it for a long period of time.
Razvan T N.
I got this backpack to haul my work laptop around and I love it! It's got lots of space and is comfortable to wear!
Jeff Guest
I am very happy with my purchase of this back pack. The best one I've owned. Fits all my needs and very roomy.
leighton kealoha
is this bag able to hold a 15.6 laptop?
is this bag able to hold a 15.6 laptop?
Alex Garcia
Alex, you are past the max size but I think it might work, but can't say for sure. You can return it if it does not fit but you would have to pay return shipping.
Gone Fishing
Will this fit a 17.5 inch laptop?? If not...
Will this fit a 17.5 inch laptop?? If not could someone give me a link to one that would?
lookinglookinglooking
Best Answer
Nope, don't think it will fit. You are going to need to step-up to the 2000 cubic inch packs or a little large in most brands to fit that big of a laptop.
Gone Fishing
Recommend the green one...
Love this bag. All the basics you need. Some great front slots in the front zipped pocket for organizing. Side mesh holds all drinks well. Especially love the two top zipper pockets for holding sunglasses (soft lining) and other personal items (in the nylon lined pocket). Also, interior laptop slot is padded and is perfect for 15-17" laptops.

In terms of comfort, it has great padding for the back and straps. Ergonomic fit when you're wearing it.

Also, bought the green color and it pops. Has the newer logo embroidered (not like the green one pictured). Also, has a better color scheme than the green one pictured. There's more dark grey (i.e. mesh on the side is dark grey and all the white has dark grey contrasting lining next to it).
Josh Stanley
great bag for a traveling dude
bought as a replacement for a bag i got at REI because I needed a laptop sleeve this bag completes that requirement very well, plus the organizer pocket which is awesome and the fact that the bag is super comfortable when worn makes this a great purchase for a great price.
Brett J.