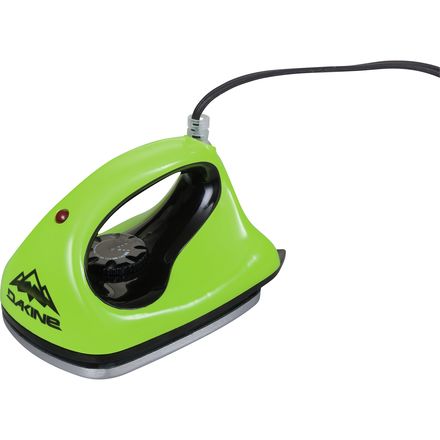 Colors
The way your base was meant to be waxed.
Put down your mom's old iron you've been using to wax your shred sticks and pick up the Dakine Adjustable Tuning Iron. Not only does the Adjustable Tuning Iron not have any holes that can get clogged up with wax, but it features adjustable temperatures specifically suited for waxing skis and snowboards so you don't burn the wax or your base, as well as rounded edges that allow smoother and more even wax distribution.
Iron for hot-waxing skis and snowboards
Adjustable temperature for consistent control
Beveled edges for smooth iron movement
Heat that Wax Up!!!
Familiarity:

I've used it several times
This iron works great. It is on the smaller side so works great for skis. I prefer this one over others because it it 100% flat on the bottom. No grooves or anything. There's not much else to say. It heats up and works great!
Zach Higgins
DAKINE Adjustable Tuning Iron
Familiarity:

I've used it several times
Exactly what I wanted in a ski waxing iron. Adjustable temp and smooth heat plate edges make for an easy and enjoyable waxing sesh.
Marley Arango
DAKINE Adjustable Tuning Iron
Don't keep paying to have your stuff waxed. Do it yourself and enjoy the process.
Nate Simpson
Waxing zen
Familiarity:

I've used it several times
There is nothing like waxing your own skis and knowing you get to ride them the next day. Add to that doing it in your own home instead of a shop? Wonderful! This little guy works great and keeps me out of excuses for dry skis. Would definitely recommend!
Rachel Tarver
Home tuning
Familiarity:

I've used it several times
This basic iron from Dakine does the trick for my home tuning and waxing needs. It has simple temperature controls and the smooth edges work better for me than that of a standard clothing iron. Why not have a green iron?
Chasen Fairfield