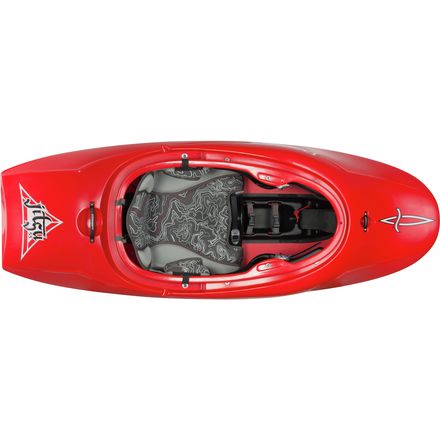 Colors

Detail Images
Fluid moves on the water.
On land you're barely able to put one foot in front of the other without suffering some form of road rash. Yet on churning water, turbulent with foamy white finishes, you're more nimble than a world-class gymnast. The Dagger Jitsu 5.5 Kayak is a short and sweet piece of pure fun for your on-water acrobatics. Spin through rapids and cartwheel down waterfalls, all while enjoying smooth acceleration as you make your way serenely through the flats toward the next section of tumultuous swirls and sick holes.
Rotomolded polyethylene is sculpted to fill out the unique rocker profile that helps to make this boat so much fun. The double-edge design combines the nonchalant flippability of a creek boat with the speed of a longer, tour-oriented boat. The majority of the volume centers around the cockpit, with the remainder fairly evenly divided between stern and bow. Experienced paddlers won't have issues with control whether standing on end, rolling through roiling water, or throwing rodeo-quality loops.
In the ConTour outfitting system, the seat rail is welded to the boat itself, making it easy to transfer power from each stroke and movement to the Jitsu for stellar on-water performance. The hip braces adjust with removable pads, and a ratcheted back support lets you customize the cockpit for as tight or loose a fit as you need. Foam footrests adjust easily so you can tailor the length for the right amount of bracing power and to alleviate and prevent foot numbness. One of the loosest hulls on the market today, the Jitsu appeals to park-and-play enthusiasts, freestyle competitors, and those who just enjoy paddling big waves and sick holes.
Play boat for freestyle fun
Rugged polyethylene construction
Hull rocker for smooth ride
Adjustable seating for customizable comfort
Welded-in seat track for security
Contoured, adjustable hip pads
Rotomolded seating with leg lifter
Security grab handles for easy transport