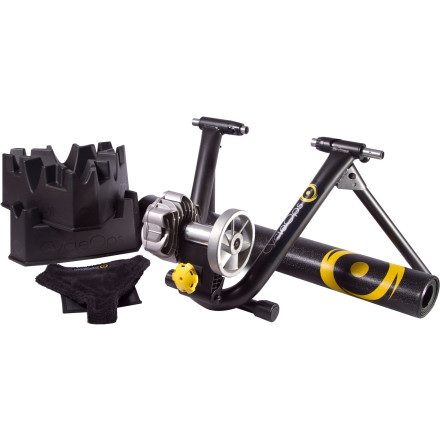 Colors
Because sometimes a polar vortex happens.
For most of us who don't live in a tropical climate, spring racing means a winter spent slugging out miles in the living room. The CycleOps Fluid 2 Winter Training Kit can't melt the snow, but it does minimize the sting of staying indoors and provides everything you'll need to get the most out of those hours.
The bulk of this kit is the Fluid 2 trainer, which gives more resistance as the pedals spin faster for a resistance range from 20 watts up to 725 watts. This means that this one little trainer has a resistance range that accommodates everything from a recovery spin to short, hard interval efforts. With a wide, two-inch roller, the Fluid 2 also gives a smoother ride with less tire wear than trainers with a smaller roller. It features a wide base for stability and a simple yet secure locking system to hold your bike firmly in place even when you jump out of the saddle to sprint.
The CycleOps Fluid 2 Winter Training Kit comes complete with the Fluid 2 trainer, two climbing blocks (no more propping up your front wheel with old textbooks), a trainer mat to protect your floor, and a sweat guard to protect your bike. It will accommodate tires from 26in to 29in with rear spacing of 120mm, 130mm, and 135mm.
Fluid 2 Trainer
Two climbing blocks
Trainer mat
Sweat guard
This trainer is a great value with all of the additional components. The kit includes everything you would need to get started on a indoor trainer.
As far as trainers go,it isn't terribly noisy, and it is easy
To set up and connect your bike.
Julie B.
Katie Stewart
Great workhorse of a trainer!
Familiarity:

I've put it through the wringer
I purchased this to keep getting in the base miles during the winter. It has performed exceptionally! I use both my road and triathlon bike on it. Never had any leaks, heat level stays low, and the base is very sturdy. The noise level is what I am most impressed with though. I will usually turn on the TV while training and it really doesn't drown out the sound at all. I highly recommend this trainer to anyone, it's a great way to keep your cycling legs fresh throughout the winter!
Sterling Watson
What a workout!!!
Familiarity:

I've put it through the wringer
I did not purchase this product from Backcountry, but now that I see their price, I wish I had!! great for winter months!! At first I thought the sweat guard was useless, but man was I wrong!!! its crazy how much more you sweat when you don't have the wind on your face!! and its also nice that you can keep your TV remote control on the little pocket!! The mat is just great, and the climbing blocks can challenge you!! it folds nicely for easy storage during the summer months!!
Ferd