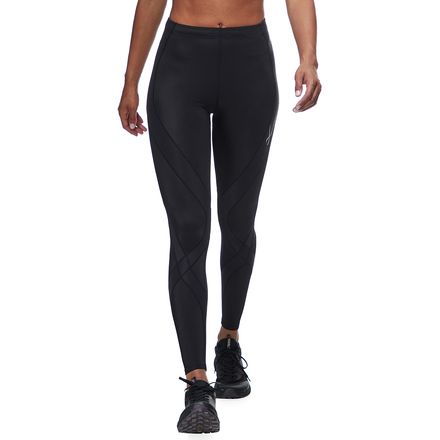 Colors

Detail Images
Sleek and comfy with technology that'll blow your mind.
Enhance your workout with the CW-X Pro Tight Bottoms. The ultimate in technical training wear, the Pro Tight supports key muscle groups to dampen vibration, increase blood flow and decrease fatigue so you can go longer and train better. CW-X's parent company manufactures (ahem) Intimate Apparel, so they know how to dial in a killer women's fit. Support for the lower back, knee and hip joints helps to bring them into proper alignment to cut down on the risk of injury. The really amazing thing about the pro tights though is how comfy they are, thanks to CoolMax fabric. You'll love the incredibly moisture management and temperature control they give you, so you can keep going even if the weather changes on you.
Run much smaller than my previous pairs
This is my 4th pair of CW-X tights. I ordered the same size as my 3 others and these run MUCH smaller. I don't if their sizing has changed or I got a "defective" pair that was sized wrong. Bummer that I need to return them.
jkh5190857
Good Compression Tights
Familiarity:

I've used it several times

Fit:

True to size
These compression leggings were tight but not uncomfortable. They had a different feel than traditional leggings, the extra compression felt supportive during a run and post-race.
Georgia S
Great compression tights
Familiarity:

I've used it several times

Fit:

Runs small

Size Bought:

XS
Very snug fitting compression tights. Have worn during high intensity interval classes at end of week when work outs start taking a toll. Keeps muscle fatigue at bay to finish the week strong. Great product! Purchased during sale. Still worth the extra money over closest competitor.
Cindy Custer
Height:
5'0"
Weight:
99lbs
Go to running tight
Familiarity:

I've put it through the wringer

Fit:

Runs small

Size Bought:

XS
These are my favorite tights to run in, the have great compression in all of the areas you need for muscle fatigue and recovery, they have significantly helped my shin splints and I have used these instead of compression socks, it's been amazing! You can use these for more than just running, you can use them for skiing or xc skiing as well. I would recommend these to someone that was looking for more compression during their activities.
Lexy Ott
Height:
5'2"
Weight:
100lbs
Great Tights, Run Small
Familiarity:

I returned this product before using it

Fit:

Runs small

Size Bought:

Small
I purchased these tights for running, primarily. I haven't had a chance to try these out yet because they run small. I bought the small based on the CW-X sizing chart for my height and weight. The tights seemed great, but they were just too small to be comfortable for running. So, I will be returning for a medium.
Arielle Horowitz
Height:
5'5"
Weight:
127lbs
Did not impress me
Familiarity:

I've used it several times

Fit:

Runs small

Size Bought:

Small
These are adequate compression tights, but for the price I was not impressed. I purchased these with hope that they would help with knee pain after running, but I have not seen any results. I have given these tights several tries with running and hiking, but still not impressed. Also these are not designed for people with longer legs! I feel like the alignment lines on the front do not hit in the right places on my legs.
Sarah
Height:
5'9"
Weight:
125lbs
Great pants but itchy.
Familiarity:

I've used it several times

Fit:

True to size

Size Bought:

xs
I wore this for outdoor activities like hiking/jogging in the winter/fall and it's pretty good at keeping me warm but not overly heated.
The only thing I didn't like was that it was kinda itchy where the seams are at. It took multiple usage/wash to not feel that anymore.
Yan
Height:
5'5"
Weight:
117lbs
Good compression, but too short.
Familiarity:

I returned this product before using it

Fit:

True to size

Size Bought:

Small
I am a little over 5'6", 120 lbs and got the Small. These are very tight fitting and compressive. I could feel the support in my hamstrings and lumbar spine. The material is not soft and the compression feeling is not for everyone. But the real deal breaker is that these are about 2 inches too short for me. For that reason I had to return them.
Michele B.
Height:
5'6"
Weight:
120lbs
I go anywhere from a casual 5km to half marathon runs, depending on my mood and these leggings are a Godsend! You will not regret buying them!
Sylvia
Tight fit but awesome
Familiarity:

I've put it through the wringer

Size Bought:

S
These are tough to get on but once on, were great for long treks.
I only take off a star because a hole developed on the butt after a week of trekking. To be fair, I was pretty rough with them, but I'm still disappointed they didn't hold up :(
Kristine B.
Height:
5'4"
Weight:
140lbs
Great Help
Familiarity:

I've put it through the wringer

Fit:

True to size

Size Bought:

Med.
Quit smoking & gained weight at 60 work-outs & bike riding hurt my hips & knees. These Performance Tights really have helped maximize my workouts. Now that I have built up some muscle tone the Performance Tights protect my hips & knees. I use them daily, easy wash & line dry to go back to work again.


Janet
Height:
5'7"
Weight:
140lbs
Great, even for a chubby chick.
Familiarity:

I've used it several times

Fit:

True to size
Here is the breakdown, with some commentary after:

Me - 5'4", 176lbs, 42yo, getting back at it
Fit - tight but true to size (if you wear a medium in other pants, buy a medium in these)
Feel - tight but in a good way
Size - large
Use - ran/walked 5 miles per session
Weather - 32 - 36F, breezy
Pros - comfortable, helped with muscle fatigue and recovery
Cons - held sweat in certain areas

Yes, I'm overweight and yes, I haven't been active for about 3 years; however, I wanted to share an honest review because not everyone that uses activewear is in shape. One more bit of info, though I haven't been active for the past 3 years, I used to trail run every day and went hiking frequently - so, I haven't been sitting on my couch eating cheetos my entire life and am familiar with active wear.

Now, yes, these are really tight and takes some effort to get on. With my height and weight proportions, I would not recommend anyone much bigger than myself buying these as they may be a little too uncomfortable in the waist. My weight is pretty well distributed, I have full and muscular legs, a full booty and my waist is poochy (if you carry your weight mostly in your tummy, these may be more uncomfortable).

These were really comfortable, which I was surprised about. The two days I've used them so far were cold but not unbearable mid-day. I knew going in these were not meant for cold but figured that once I warmed up they would be just fine. Though I was correct, they were fine after I warmed up, I wouldn't recommend these for colder weather or when it isn't mid-day without something over them. (I chill easily.)

I really could tell the difference with feeling like I could keep going a lot longer than I expected. Even the next day I only had some slight stiffness in the morning.

My only "con" is that it did hold the sweat in the crotch (gross but this is an honest review). My thoughts are a merino wool undergarment may help with this a little.

I'm super happy with these and plan on purchasing the ones designed for cold weather as well.



Suzie Reno
CW-X Pro-tight is TIGHT
Familiarity:

I gave it as a gift but have feedback to share

Fit:

Runs small
I gave these as a gift to my mom and had to convince her that she did not need a larger size. I knew that with a little wear that the tights would give and be perfect for cold outdoor activities. Below is a picture of her rocking them in 9 degree weather while snoeshowing and they were the only layer she needed.



She is 5'9" and 130 lbs - I got her a size M.
LD
Gave a WHOLE new meaning to compression
Familiarity:

I've used it once or twice and have initial impressions

Fit:

True to size
I got these as a Christmas present, and the first time I put them on, I was convinced I'd have to return them for a larger size. Then I noticed there were special instructions for putting them on - which was a first for me. Needless to say, I figured it out, and once they're on, they look badass and are particularly flattering. I've only used them once for yoga, but I definitely felt that they improved my practice. They're comfy and cool - I'm excited to sport them out in public. They're not as stretchy as would be ideal in some positions, but they're not designed for yoga, so I took a risk in requesting these for such a purpose. Overall, though, I'm happy with these, and I'd recommend them, as well as look into other CW-X pieces!
Al
Stink factor? I've been eyeing a pair of...
Stink factor? I've been eyeing a pair of these for a while, but I'm a huge fan of merino wool products, mostly for their ability to not stink after one use. Will I be throwing these in wash after every run??
Keri L.
Best Answer
Hi there Kspp.

I have 2 different pairs of these. (Highly recommend the insulated variety if you tend to get cold or live in a frigid climate). I typically wear mine 3-4 times skiing between washes. (Maybe don't tell my mom about that). They really don't get too stinky! I also use them for working out and running, I do notice a little more funk when sweating harder, but for skiing these tights are A-OK to use for several days on the slopes in between scrubbings.
Lexi Dowdall
Very tight fit, but great!
Familiarity:

I've used it once or twice and have initial impressions

Fit:

Runs small
Bought these for my girlfriend. She loves to run and participate on marathons, so these were perfect for her. They fit a little tight compared to other brands, but once used to it they are great for long runs!
Javier Mendez
Backcountry Video
TIGHT FIT!
Familiarity:

I've put it through the wringer
I love these! they are VERY tight, but they are meant to be that way. They keep me warm on those cold days and have really helped prevent muscle fatigue when Im get after all that POWDA!
Aimee Koson
Great tights, even better costumer service.
I bought this tights as a gift for my girl. First i ordered a small since that was what the size chart recommended but she was much better in a medium. This are great tights, a little tighter that other brands so i recomend to size up. She loves it and i am really happy with Backcountry.com, they made the exchage, shipping very easy and extremely fast. I recommend Backcountry.com to anyone, im a happy costumer and i will keep coming back for more gear.
Roger M.
I am 5ft 5in and 130 lbs. I needed to purchase the medium since I was in the gray area of the sizing chart. The small were too tight to put on. The tights are great for compression pants. They provide the support your legs need especially on long runs. I definitely recommend them to my running mates. Be careful when pulling up the tights so not to put a hole in the material.
Kathryn P.