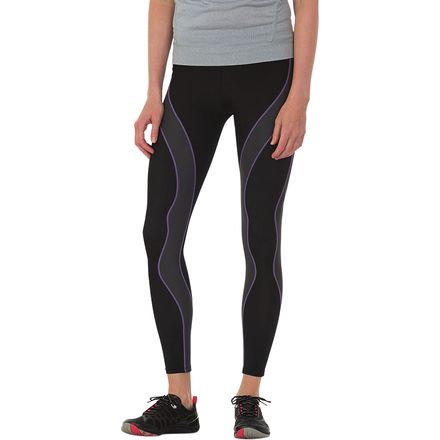 Colors

Detail Images
You haven't seen real performance tights till now.
Keep your muscle machine properly tuned in the CWX Women's PerformX Tight. CWX's patented Support Web fibers align your joints and apply gentle pressure on targeted areas to increase capillary circulation. Now you can go ahead and wait for the superhero hall of fame to induct you—because every runner knows improved circulation reduces muscle fatigue, blood pooling, and post-workout soreness. Coolmax fabric panels treat your skin to a little A/C, and UPF 40 sun protection saves your hide on bright days. When the weather turns harsh, the PerformX Tight's flatlock seams let it glide smoothly under protective outer layers of clothing.
Cool, just not for me.
Familiarity:

I returned this product before using it

Fit:

True to size

Size Bought:

Large
I listened to the size chart, got what it recommended and while these tights fit, I just didn't feel like they would add anything to my work out, other than the constant worry that you could see through them or that they were falling down. I didn't notice any added support for my knees, so unfortunately, I ended up returning these.
Jenn W
Height:
5'7"
Weight:
150lbs
Really liked these tights
Familiarity:

I've used it several times

Fit:

True to size
I really did like these tights. I had recently purchased them, and had the opportunity to wear them for several runs before I tore them up in a fall (they are not rock-proof, lol).



Did the compression seem to help my running? No, I didn't notice any difference in how my legs felt. However, one benefit of the compression tights is that it keeps the booty under control. Yes, it was like a running sports-butt-bra. And it was marvelous.



Would I recommend these? That depends: are you looking for an athletic advantage? Probably not. Are you looking to wear something flattering that won't make you feel like your rear is going to knock out innocent bystanders? Yes, buy the tights.
V Cow-happy
I've never worn compression tights. I finally got the right pair of running shoes this year but at 52 with several joint and stride challenges, I was sure I would be permanently limited to half or 1-mile distances--shin splints were my biggest curse, along with Achilles issues. In two weeks, I've moved from 1.5 miles to 5 miles, injury free, no shin splints, no Achilles troubles, not a single grumbling joint! First time hitting 5 miles in 19 years!!!! Thank you Stabilyx, for keeping all my wobbly joints--rebuilt knee, back and aging hips all aligned and happy! I won't ever rack up the miles on my frame, but it had definitely changed my point of reference--I'm not as limited as I thought I was!



PS...only complaint is the familiar one: it slides down from the waist. Tying it tighter is not an ideal solution. They would fit better if they were either less stretchy or were cut more snug in the last 5 inches to the waistband.
Greta G.
Great for Winter Running
Familiarity:

I gave it as a gift but have feedback to share

Fit:

True to size
I gave these as a gift and she loves them! They do stretch out a bit over time, but not in a bad way. They are still really compressiony and tight fitting. Even with the tight fit they aren't overly tight or restricting and the fabric keeps you cool.
Carver Shaw
Question
Familiarity:

I returned this product before using it

Fit:

True to size
Did anybody else find that the crotch on these pants were a bit too low?
Mariah M.
Unanswered Question
Need size suggestion. I'm 5'4, 140 #....
Need size suggestion. I'm 5'4, 140 #.

Chart has me in grey area between S and M.

Thanks
Adrianne C.
Good for cold weather
Familiarity:

I've used it several times

Fit:

True to size
Tried to wear them in the gym but practically died - best to use in cold climates I think
natasha
Unanswered Question
currently living in a rather hot state...
currently living in a rather hot state were temp. could reach up to 90 deg. which seems to be normal this days. does this trousers fit the bill not just for running but for the gym as well?
thest1g
I love them
Familiarity:

I've put it through the wringer
I now own 3 pair of CW-X compression deals. I have the shorts, the capris, and now these. These are great for winter running, and the support they give makes a Huge difference in recover from longer runs. Just remember that these are the lighter side of support for compression.
Kelleigh M.
I'm 5'5", 165lbs and bought the medium, so I was initially intimidated by the fit of these tights. However, when I realized it was like putting on stockings they were perfect. "Don't be scared ladies"... It's like putting on your favorite skinny jeans and realizing hey I can really fit these.
Jennifer G.
No More Muscle & Joint Pain!
Familiarity:

I've used it several times
I have had these Compression pants for almost a month now and I fell in love with them from day one. I'm 5'7, 140lbs and athletically built. I ordered a size small and was very concerned when I opened the package. At first glance they look like a pair of skinny pants my 10 year old niece would wear! But once I pulled them on (not as difficult as I thought it would be) they fit like a dream! These pants are an enormous help in muscle & joint control. Before using these I had pain in my knees and my quads, hamstrings and calfs would get tired and sore fairly quickly. I use these for every run, plyometric and HIIT training. I no longer have an inner battle of feeling like I have to stop my training because of pain & fatigue in my legs while the rest of me still has the stamina to keep going! They also keep my body temperature perfectly regulated while wicking moisture away. All in all, I couldn't give these a higher recommendation!
Naomi K.
Handles the jelly
Familiarity:

I've used it several times
Being bootylicious has no place in running, well not when it moves. Love these pants because they hold everything in place and keep my lower body from fatigue due to unnecessary movement. My posture/form remains where it should. These are the Spanx of running tights.
Erica J.
They are compression tights, after all.
I've never worn compression tights until this purchase. To be honest, it took an act of god (perhaps the running god?) to get into them. There are instructions on the package stating how to put them on, but quite frankly, the scene in the house was like something out of a Saturday Night Live skit. Anyway, I am 5'2", 125 lbs, cycled for years, enjoyed microbrews for years (with no cycling), and consequently have fairly thick legs. Based on the opinions here, I bought a medium and am happy that I did. They were a tad binding around the back of the knees, but I have to admit, they felt good while running and my knees felt better when done. They were a little long for me, but hobbitses aren't known for their fairy-like legs. I'll defintely be purchasing another pair.
Lynn from Redmond, WA
I was skeptical at first, but am really pleased with how these tights feel and fit and perform. The sizing chart is perfect, I got the XS and I am 5'1 and 118lbs. They even look fantastic. The price was really good too. You will not be disappointed.
Sabina H.
Love these tights. Ran hard 6 miles today and it was cold out and I felt great. and size wise ..perfect.. I am 5'1" and 118 lbs... Thanks Backcountry
Sabina H.
I bought these pants for my mom for skiing, and she's really happy with them. They fit tightly, but that's what's needed to get the support. She has a few friends who also love the CW-X line for skiing.
Merebea Danforth
These are the best. I wouldn't want to run without them. Looking to buy the 3/4 length for the warmer season.
Marilyn P.
Not all of their products are created equal
I have previously purchased XW-X Insulator Expert tights and they were phenomenal! I decided to buy the Performx and check it out. I am 5'1" and XS on the Insulator fit perfectly, so I ordered the same size for the Performx. Unfortunately, when they arrived, I could barely pull them past my thighs. They were a lot smaller!

I'd highly recommend you try them on at a sports store before purchasing online!
Ka Ning
I should have gotten a size bigger. I'm 5'9" and have a large athletic build (i'm a rower). I ordered a Large. I got these for running and rowing in cold weather. Although the fact they are so tight is very flattering, within a couple months the crotch of my tights busted.They are also short, inches above the ankle short. I've been compromising for months now but have recently decided to see if CW-X will take them back under warranty... I want a new pair though, they're awesome!
Gaelyn Moore