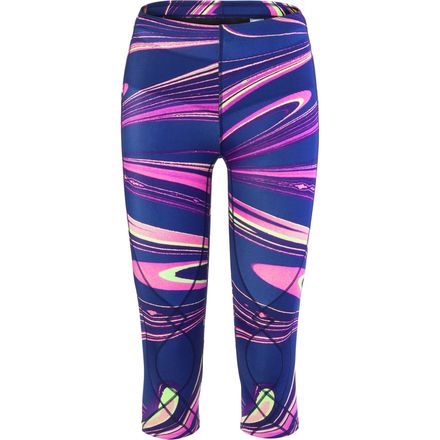 Colors

Detail Images
Stability is integral to performance.
CWX designed the Women's 3/4-Length Length Stabilyx Tight with the support commonly reserved for folks with muscle and joint injuries. The logic is, quite sensibly, that an ounce of prevention avoids a ton of physical therapy. CW-X's patented Conditioning Web supports each muscle group in your leg and holds your knee steadily in place. Extra support at the waistband lends a little extra power to your lower back and core muscles. And fortunately, even when the temps start testing your sweat glands, the CWX Stabilyx Tight's Coolmax fabric speedily wicks away excess moisture. Rather than feeling damp and overheated, you're free to focus on your run.
Stability tights ideal for running and training
Compressive fit helps reduce vibration through muscles
CoolMax fabric wicks moisture from sweat and cools quickly
Keep everything in place; make me laugh
Familiarity:

I've used it once or twice and have initial impressions

Fit:

True to size
I got these to help with knee problems, and they help a little. I'm short, so the knee bracing is too low and I have to pull the knee sections up higher than they naturally fall - that's why 4 stars instead of 5 for me. Since they are stability they really keep everything in place. A super-important feature for me, they don't get sheer in the rear when I bend over.

I got the purple lava color because of an awesome sale, and discovered the pattern can have amusing effects due to alignment at the seams. Please refer to my photo - I couldn't stop laughing! The one pair was made for memes: (1) Apparently my workout pants aren't very excited. (2) You didn't need to ask, it's obviously hanging to the right... The list goes on... I'm sure I could have gotten a different pair if I'd have returned them, but how could I give these up?! They make me laugh every time I see them! A friend asked if I could wear them backwards, but the fit would be all wrong and it would look like I'm pooping. Ha!
Patricia L.
Height:
5'2"
Works on the slopes too!
Familiarity:

I've put it through the wringer

Fit:

True to size

Size Bought:

Medium
I got these for knee support while snowboarding and they work wonderfully! I have had no knee pain since being out with these on, they seem to support my joints perfectly. They also make you want to go be active all day in them, they're so comfortable.
Katie Messer
Height:
5'7"
Weight:
135lbs
Magic for my knee
Familiarity:

I've put it through the wringer

Fit:

True to size

Size Bought:

S
As a longtime long distance trail runner, my last MRI showed a healthy case of OA in my knees. I used to wear these when my knees were aching as I trained for my last ultra and while I no longer run far, I wear these babies when I am on the elliptical or hiking. For them to be effective, you must buy them snug. At 5'8 and 130, I was on the border between a S and M. I got the S. They fit like I imagine Spanx would but it's not uncomfortable. Bonus: they look very flattering from the compression. There is no way they would fall down so the drawstring got yanked Day 1 and the webbing is better than tape or any knee support, for me. Just today, I was washing the tights so I wore another brand w/out compression/support for my workout and now my knee is burning as I type this. So I am on here buying another pair for wash days :) Suffice to say, these tights are pricey but worth it.
kt
Height:
5'8"
Weight:
130lbs
Pretty Decent Support
Familiarity:

I've used it several times

Size Bought:

XS
I often have trouble with runner's knee in my right knee when I push my mileage above 4 or so miles. I've been using k-tape for the last few weeks which has really helped, but I hate throwing it away every week and having to reapply, so I thought I'd try these tights. First off, the compression is not as extreme as I was expecting - I actually feel like lululemon's Tight Stuff Tights feel tighter overall. That being said, I wore them on a 5.5 mile run today and I did not feel any pain in my knee, so they definitely help to stabilize my hip flexors and knees. I also maxed out on my deadlifts 2 days ago, and the compression did seem to mitigate any hamstring tightness/pain I was feeling from lifting. I did feel like the fabric was bunching weird behind my knees though, and it was causing some uncomfortable pressure in those areas which I did not like. They also do not breathe very well, so they were pretty warm. I wore them at 6am on a summer morning, but definitely would not wear them on a summer afternoon. They are probably more suited for cooler spring/fall runs. (And this is coming from someone who gets goosebumps when its 70 degrees out).

I am around 5'2'' and 125 pounds, with a fair amount of muscle. I have a 26" waist and narrow 35" hips. The size chart put me between sizes but I went with the XS and happy I did, the S would not have provided adequate compression. I'm not sure why everyone thinks these are the tightest pants ever - yes, they're tight because they are compression pants, but it wasn't a struggle to get them on at all. And I actually needed the drawstring in the waist to keep them from sliding down while running. I do wish that these were high-waisted - the low/mid waist combined with a tight compression fabric will 100% give you muffin top, no matter how lean you are.
Lindsay S.
Height:
5'2"
Weight:
125lbs
Love them!
Familiarity:

I've used it several times

Fit:

Runs small

Size Bought:

Medium
My wife impressions:

I love the them. Be careful with the size normally I'm small, but with this ones I'm medium. They give you a lot of support. I use the to go to the gym and look great and gives you a lot of support specially in the knees. This is my second pair.
Jorge Garita
Height:
5'6"
Weight:
128lbs
These tights will make you want to run!
Familiarity:

I've put it through the wringer

Fit:

Runs small

Size Bought:

large
i'm an overweight women thats 5'3" in my mid 40's that wears a size 14 normally, and I'm trail running despite being really out of shape. I got these to support my thighs that were fatiguing on runs and my knees which in trail running would get sore from the uneven movements you make. These tights are amazing! My legs never get sore now and the knee support is just enough to make them feel locked in. That said, I had to order a large due to my weight and I feel where the actual knee support ideally should be slips lower that my knee cap. So I would really wish for a XL version to us more rounded figures that are short to more ideally hit the knee structure correctly. But all in all, I don't want to run without these, like ever again, I feel my muscles are so well supported! It makes someone like me who was getting discouraged that running was completely beating me up to now I can't wait to run again another day.
Debbie K
Height:
5'3"
Weight:
180lbs
Excellent tights
Familiarity:

I've put it through the wringer

Fit:

True to size
Bought these for my wife about a year ago and they are still going strong. She was dealing with some knee issues in her running at the time and has not had the same problem since we got a few pair of these.
Robert H.
Sizing is off
Familiarity:

I returned this product before using it

Fit:

Runs small

Size Bought:

Small
I am usually a small but these were TINY! I would need a large and I am 5'6", 120 lbs
Gina B.
Height:
5'6"
Weight:
120lbs
Go To Training Tights
Familiarity:

I've put it through the wringer

Fit:

True to size

Size Bought:

Med
My go to training tights for running and weights.
The compression around the knees and thighs, really make a difference during weight training.
Plus such zesty colors!
Laura K S.
Height:
5'5"
Weight:
145lbs
CW-X tights rock for skiing!
Familiarity:

I've put it through the wringer

Fit:

True to size

Size Bought:

Medium
WOW a friend (GUY) told me about these and I got a pair just in time for a ski trip to Taos. I had new ACL and both meniscus done 8 months earlier. The trip was a test - skiing 6 days straight. Wore the 3/4 length every day and I think that's what saved me! Not much swelling of the knee because of the compression. I followed the sizing chart and got a M even tho I thought L would be better. They are tough to get on but super comfy! Definitely helped not only my knees, but thighs and calves as well. Love them, think I'll get another pair!
SkiRacer
Height:
5'5"
Weight:
150lbs
Great for running and skiing
I bought these for running, because I have had some minor accidents with my knees, and I want to protect them. I also wear them as a base layer when I ski. Very tight fitting, as it should be.
Sara H.
running tights
Familiarity:

I've used it once or twice and have initial impressions

Fit:

True to size
I wanted to like these more than I did. I didn't particularly feel like they did much from a muscle relief stand point to warrant the extra cost. They make a decent running tight but not sure I buy into the hype. They are tight so if you are sometimes in between two sizes go with the larger one, but otherwise I think they run true to size.
Edyta McQueen
All I can ski in now!
Familiarity:

I've put it through the wringer

Fit:

True to size
I had ACL reconstructive surgery in March of 2013 due to a skiing accident and was pumped to get back on the hill this '13/'14 season. I made the decision to get a knee brace to protect my new ACL and had the hardest time finding tights that would fit with the brace. I love merino, but due to the wool fibers and overall texture the brace fit horribly and also irritated my skin. I had heard good things about CWX so decided to try out these tights. THEY ARE A GAME CHANGER. Not only does my brace stay on 100%, these things are as supportive as everyone says. They increase circulation, are breathable, are damn comfortable and do not irritate my skin. If you are in unsure of sizing, I recommend going by height. The way the supportive webbing is structured means that you will get the most benefit by going by your leg length. I am 5'2" and went with the small. Be warned, these will be tight like a tiger, but thats what you want in compression tights!
Alyssa Forrest
Love It.
Familiarity:

I've used it several times

Fit:

True to size
I am 5'0" 101 lbs. I purchased XS. The capris fit great except I think they are slightly too long in length so it is slightly off around the knees, but I haven't noticed any issues. I am breastfeeding so my body feels very "relaxed" due to the relaxin hormone. My hips feel very secure, no knee aches and I feel that I recover well after my workouts vs. how I feel post run when wearing my lululemon running capris. I think I should have just ordered the pants to support my calves as the capris cut off in the middle of my calf. I am starting to get use to it.



I took out the string around the waist because it's useless. I am able to fit my phone in the "itty bitty" inside front pocket and I haven't noticed it during my runs.



Today I ran in the pouring rain and surprisingly my legs were the only thing that felt dry. I love these capris! Took a dozen times to wear them to realize how good they feel.
Leanne C.
I am 5'2 and weighs 145 lbs. What size...
I am 5'2 and weighs 145 lbs. What size should I use. I'm in the white zone of the chart.
Ing-Marie Pettersson
Best Answer
Hey Ing-Marie,



I would go with a size M. I am your height though a little smaller and I barely fit in the size Small, so I think Medium would be best for you.
Lexi Dowdall
Love these!
Familiarity:

I've put it through the wringer

Fit:

True to size
This is my second pair of 3/4 length cw-x, I don't run in anything else. These are ideal for spring weather. As others pointed out I don' t care much for the draw string but it's easy enough to remove.

I love the fit, they definitely provide nice support. I had two knee injuries, and surgery and these make all the difference.
Martine
So far, so good.
Familiarity:

I've used it once or twice and have initial impressions

Fit:

True to size
I originally saw these tights in a local store, but once I saw the hefty price tag, decided against buying them. After continuing the search for the perfect tights, I Googled these and saw that BC had a huge sale. I read the reviews and immediately ordered a pair. I'm 5'4" and 118-120# and got the Small. It fits great! I have worn them around the house to break them in and to Hot Yoga classes. I love the feel and most importantly - you cannot see through them! They are not a cheap/flimsy material. These specific tights are NOT the lined version of CW-X 3/4 pants. That's ok with me though. I look forward to the Spring running season where I will test them outdoors. So far, so good. Very happy with the purchase.



The only con- as someone else mentioned. There is an awkward drawstring. I haven't done anything with it yet, but will most likely remove it altogether. It's not like these pants are going anywhere! They're like a second skin.
Lindsay S.
What a difference!
Familiarity:

I've used it once or twice and have initial impressions
I run half marathons and do Sprint triathlons. I struggle with some IT band pain and some runner's knee issues. I am training for a half marathon right now and ran my personal best training run this weekend in these tights. The tights definitely supported my body well. The fatigue was MUCH less than in other clothing! I highly recommend these tights!
Shelley M.
I'm a sprint triathlete and compete in...
I'm a sprint triathlete and compete in 10K's regularly. Does anyone know whether or not the 3/4 length "Pro" or "Stabilyx" offers more support? I also have a hip injury and I'm a Nordic skier...thinking this would be a great base layer as well. Both models are the same price but I'm having difficulty depicting the difference. Thank you :)


Erika Keiswetter
The stabilyx will offer better hip and core support. The pros focus more on muscle support.
Brian R.
Worn for every workout.....
Familiarity:

I've put it through the wringer

Fit:

Runs large
My wife has had these tights and has worn them for over two years. She wears them to trail run and as a baselayer for nordic skiing and racing...... and sometimes around the house all day if she doesnt have time to change :) She actually wore them under a skin suit in the Cours du Bois 90 K skate race where conditions went from spring-like to blizzard -like at the top of the Divide. She says they literally saved her ars. The compression memory has held up over time. They are breathable in the crotch and do not retain odor. The decals (silver and raspberry) partially came off after several months of washing. It is important to size DOWN with these. (If you are a large, order a medium). You want to have to wiggle into them.
Troy Barry