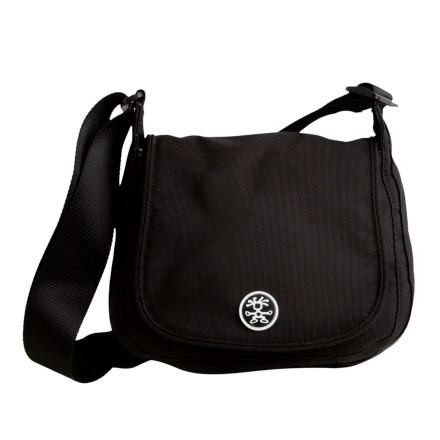 Colors

Detail Images
I had to return this, it was much smaller that I thought. The pocket was not roomy at all.
Kathleen H.
I bought the black bag, and after a few uses i returned it. It's a very very cute bag and at first I was thrilled. But when i went to open it i was horrified by how noisy the velcro is! If security is your concern, then get this bag! Nobody will be able to lift your wallet on a crowded train! I work in some situations where I have to be quiet and this was just in no way working for me. It was touch-and-go whether I kept it because as i said it's a very nice bag, well-made, stylish, and capacious. But for me, that's the way the decision fell.
Catherine B.
Too bad there weren't any glitter or customization options or it would have been....SMOKIN!
it was awesome
michaely hongy
My wife uses it as a purse and can't be happier. A few internal pockets for organization, and being water-resistant make it a complete package. The velcro closure isn't going to let anything out, but is a bit noisy.
Benjamin Vincent
What is the size of this bag and would my...
What is the size of this bag and would my netbook fit into it? It is 10.5 x 7 x 1 inch.
Susan
Like it says in the Tech Specs, it's 9 x 8 x 5, so your netbook definitely won't fit.
Angus Bohanon
This bag is the perfect purse size--fits cell phone, small make-up bag, and a large wallet, plus a few other things. Unfortunately, the strap is so wide that it cuts into my neck when I wear it like a cross body bag which is why I purchased it. The large and noisy velcro is a bit of a pain. I'd rather have a top zipper with a magnet close flap. If these improvements were made I'd buy it in all the colors!
Tea
Not bad at all. a small bag that holds my wallet, keys, cell, pen. it'll be tough to overload. the bag is well made and sturdy. i wouldn't pay full price though. wait until you find it on steepandcheap. it's held closed by a HUGE velcro closure, so it won't accidentally open, but it is LOUD.
What are the bag's measurements?
What are the bag's measurements?
Kathleen Boudreaux
Fur Finley
How long is the strap on this?
How long is the strap on this?
ms_adina_92153693
pretty long, and adjustable
Catherine B.
I have had several compliments on this bag. It is very well made and very practical with a little style. A little smaller than I thought it would be but a great day bag.
Anonymous