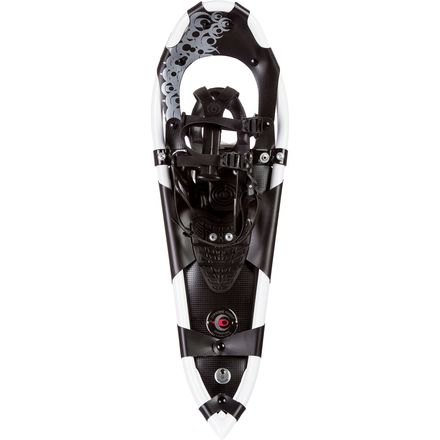 The trails miss you.
Your favorite trails don't disappear when the snow flies, so why would you consign yourself to a winter of staring longingly in their direction until the spring thaw? Instead, enjoy your favorite outdoor places from a new vantage point with the Crescent Moon Silver 9 Plus Hiking/Recreation Snowshoes. Built in a teardrop shape to allow for nimbler handling and a natural stride, the Silver 9 makes an ideal introduction to exploring snowy hiking trails.
When you pull up to the trailhead, fastening the Silver 9 over your hiking shoes will be refreshingly simple. A Cam locking heel paired with two over-the-foot buckles cinch down each snowshoe securely, even when you've been stepping through snow all day and need to make a quick on-the-go adjustment. Crescent Moon wisely used waterproof fabric to craft each strap, so they won't freeze or stretch out, even after hours in the snow. If you hit refrozen chop or ice on an ascent, dig in with the three aluminum crampons to maintain traction and grip on uncertain surfaces, then enjoy the lightweight aluminum frame's ability to float through deep, fluffy powder on softer days.
Enjoy your favorite trails year-round with this snowshoe
Teardrop shape helps to maintain a natural stride
Lightweight aluminum frame won't weigh you down
Easy-to-use buckle system secures without a fuss
Waterproof straps won't stretch or freeze in the snow
Aluminum crampons dig in when you need extra traction