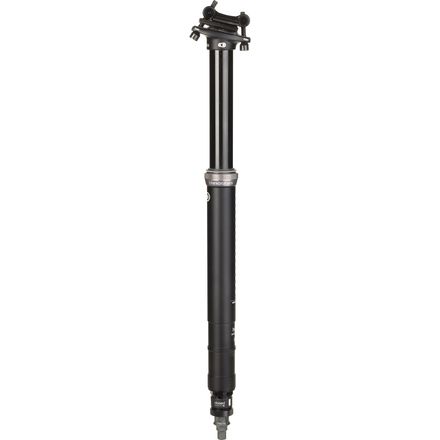 Colors
Simple does it.
Dropper posts have certainly come a long way over the past few years, but the—despite countless tweaks and re-engineerings—hydraulic lines are still a huge pain in the ass to set-up and maintain. A brand like Crank Brothers knows a thing or two about simple solutions to problems that don't need to be as difficult as innovation makes them, and its Highline Dropper Seatpost applies the simple-does-it Eggbeater Pedal approach to the dropper world.
Instead of the above-mentioned, pain-in-the-ass hydraulic lines, the Highline features a hybrid system that uses a Jagwire cable to actuate a self-contained hydraulic cartridge. Set-up is simpler, function is more reliable, but it includes the smoothness of hydraulics where the post actually rises and drops. The 125mm travel is fully adjustable, and the cable itself routes internally to maintain the clean, uncluttered look of contemporary cockpits.
A dropper post that's actually equal to enduro abuse
Hybrid actuation is as smooth as oil but with cable reliability
Internal routing for a tidy cockpit
Remote switch is almost as infinitely adjustable as the post
A Reliable Dropper
Familiarity:

I've put it through the wringer
This cable actuated dropper post works and feels great. The hydraulic post is smooth and the remote lever allows for quick adjustment.

The 160mm travel dropper is a welcome spec for taller riders.



Fritz Hanseler
Unanswered Question
Does this come with the lever?
Luke B.
Unanswered Question
will the crank brothers 160mm dropper seat post fit a large 2016 santa cruz 5010?

James S.
Seems high quality
Familiarity:

I've used it once or twice and have initial impressions
This is my first dropper post, and I only have an initial impression. I was not sure what to expect, but the detail, fit and finish seem to be of very high quality. The installation and setup was easy, and I really like how versatile the lever is in the amount of adjustment options available. Top of bar, bottom of bar, further in, further out, it seems to be a very robust design.
-kris
SUCH A RELIEF
Familiarity:

I've put it through the wringer
After have several issues with the hydraulic switch on the my prior dropper it was a major relief to install this with no hassle and have it work flawlessly every time I use it. I have used it in near freezing temps all the way up to near boiling temps without any change in performance. This is now my favorite part of my bike. I love the lever it comes with. I was able to get it dialed into the perfect position. If you are looking at any of the post out there, this is the one I would recommend. The internals are simple (like the piston that hold the hatch open on your Subaru, so there is far less to go wrong), the lever is amazing, the install was a breeze.
Jason
most durable ever tried, great lever
Familiarity:

I've put it through the wringer
I used for over a year, no maintenance required, same than day 1..Used in multiple conditions sub 10, over 90 always working. I love the lever micro adjustments too
Anthony
Rough Start, but Now Great
Familiarity:

I've used it several times
At first I was disappointed in the Highline dropper post because it was not holding position when adjusted. It could creep up or down. I spoke to a Crank Bros. tech, and he sent me everything (by overnight delivery) that could possibly be the source of the problem, including the hydraulic cartridge. The post is now working flawlessly.

This is my first experience with a dropper post and I was surprised that 125mm of travel is really a lot given my size (5'8") and style of riding. I should note that even with the new components it took a tiny bit of use for things to wear in and work perfectly.

Some pro reviews complained that the post rises slowly. Not mine. It's brisk, but not brutal.

This dropper post requires internal cabling, at least in the seat tube. My frame, a Diamondback, provides for that but makes the cable exit the seat tube through a rubber grommet near the bottom bracket. From there the cabling is external. When ordering check the dimension specs against your frame to be sure what you order will fit.
Jim Milstein
Heads up: 160mm may not fit your bike
Familiarity:

I returned this product before using it
Ignore the rating; I'm sure the post works great on a bike it fits. I ordered the 160mm dropper for my 2015 s-works enduro, installed it, and realized it does not fit the frame--the seat tube is not long enough to fit the 465mm length. This is also an XL frame, so it definitely won't fit normal models. Lucky for me, and anyone who uses this site, backcountry seriously has the greatest customer service I have experienced in my entire life. I say that will no hyperbole or exaggeration, they are absolutely superb. My "greahead" Grant immediately called me after I sent him an email and set everything up for me to have a new dropper immediately. Backcountry is the best!
Scott R.
Not the Kronolog
Familiarity:

I've put it through the wringer
I know, I know. You probably think Kronolog when you think "Crank Brothers Dropper". I'll admit that was hands down the worst dropper post i've ever personally ridden. I can say for a fact that the Highline is nothing like the Kronolog. I've been flogging it for the last 6 months now, and can only say great things about it. The best compliment that i can provide is that it still works. The actuation is really smooth, and the remote that comes with it has a unique adjustable ball joint that can give you multiple mounting positions. I got used to the action of a Wolftooth REMote that i was using with my previous post, so I stuck with that since it is also compatible. One pretty neat feature that i also like is that the stack height of the Highline is a lot lower than most other posts. For a shorter rider like me (5 foot 8) who due to seat tube clearance issues and had to run a Fox 100mm post, this post allows me to run a 125mm instead. No complaints at all about this post, highly recommend.
Peter N
Smooth
Familiarity:

I've used it once or twice and have initial impressions
Crank bros dropper offers a smooth ride. Even in cold conditions, it continues to work reliably. No complaints about the cable mechanism, rain or shine.
Morgan Eliasen
I just got mine yesterday with no wire housing, I called CC they said go to your LBS they are cheap.
Amazon offers it at $295 and it reads "includes cable and housing"
Sad....
CC gave a credit for $10 and a free two day shipping in my next order!!
Maria E.
Smooth
Familiarity:

I've used it several times
I like a lot the lever, the actuation is very smooth and, after 6 months of rides it is still working perfectly. I was worried after knowing the kronolog story, but this is much better than the Reverb and the Lev I had on my last 2 bikes...
Anthony