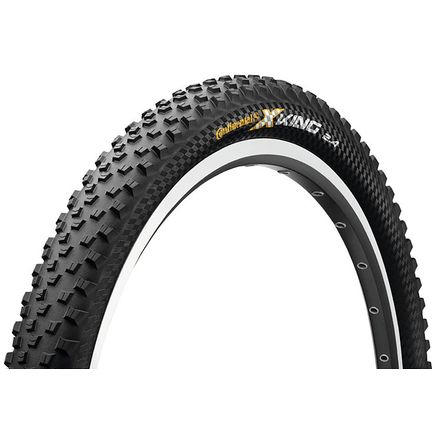 Fast and grabby.
The Continental X-King was developed in conjunction with the Topeak Ergon Team. The tire's low rolling resistance makes it extremely fast, but its promounced lugs give it excellent trail-holding capabilities, as well. Low, ramped center knobs roll quickly but also provide good brake and acceleration traction. The larger, more aggressive side knobs provide cornering traction to make the X-King a fantastic all-arounder.
The X-King uses Continental's innovative Black Chili compound. Black Chili compound reacts to surface irregularities more effectively to provide additional grip and lengthen tread life. By the numbers, Black Chili reduces rolling resistance by 20% while adding 30% more grip and improving tread life 5% over Continental's earlier-generation tire compound.
High volume
Black Chili compound
Available in 2.2 or 2.4
Unanswered Question
Hey guys, are these the old pre-2017 model which were extremely poor tubeless?
Andrew L.
Great performance awful durability
Familiarity:

I've used it several times
Had 29x2.4 on the back of my single speed. Getting the tire to inflate with tubeless required compressed air and was still somewhat troublesome. Tire performed fantastic, low rolling resistance, loads of grip, and tire didn't squirm when you loaded it up in a corner. Knobs wore down FAST... would be lucky to get 600 miles out of them. About 400 miles in I was running lower PSI than normal and tore the bead out of the side of the tire. Tire died in 8 months on my backup bike...
Nick G.
Felt good, but short life
Familiarity:

I've put it through the wringer
I really enjoyed riding on these, they felt good. Tubeless setup was a little iffy as they didn't want to seal well, but once they were on they worked well.

Sidewalls were torn up big time within about 450 miles though, so disappointing lifespan.
Jason T
Great grip and rolling but poor tubeless
Familiarity:

I've put it through the wringer
After about 8 months of using these on front and back wheels and after having to pump them up over and over again on just about every ride, the back wheel started to sweat through the sidewalls sealant. They still had tread on them that was usable, but sealant was sweating like crazy. I decided to replace them with the Maxxis Ardents, which seem to do a lot better at holding air for tubeless options.

I ride a lot of cross country and I've put about 1.5k miles on these tires
UtahBiker
Why you should not buy this!!
I bought this tires on August 2016. Whenever I have tried to ride my bike, I've been embarrassed because the tire was gone flat. I know that all tubeless tires go flat for a long time, but my tire goes flat fast for about two or three days. If I put air into the tire, I could ride a day. I have thought that it was weird, but I have postponed checking my tire, and today I confirmed the reason.
DONGOK SON
poor tubleess option
Familiarity:

I've put it through the wringer
These came on the Niner Rip 9 I purchased from comp cyclist (awesome bike) I have had issues with these holding air and have experienced the same seepage of sealant through the sidewalls as others. I would not recommend these I'm always having to check the pressure on rides if I pump the tire up to 30+ PSI you can actually see the sealant bubble out the sidewall. The only way I have made them work was by adding a lot of sealant multiple times and letting the wheel sit on its side so the sidewalls can get a better seal.



the ride and traction have been great but the poor sidewalls take all that away.



The attached picture was the final result after several sealant applications that it was able to hold air.
Adam J.
Adding more cushion to the hardtail
Familiarity:

I've used it once or twice and have initial impressions
I got these tires in a 2.4 for my hardtail. I am not quite ready to make the jump to a true plus tire yet so I figured a high volume 29er tire would fit the bill for now. The tire certainly gives a lot more flotation and cushion, however, the protection sidewalls make it a bit difficult to gauge appropriate tire pressures. 30psi is a bit too firm while 25 feels a bit squirmy. I think finding the correct pressure is key in getting the most out of these tires.
BJ Platte
The X-King feels like the perfect compromise between grip and rolling resistance. I ran an X-King in the front and a Race King in the back all season and was never left wanting for grip. Black Chili puncture protection works too! Amazing XC tire.
Joe Draper
Weak Sidewalls
Familiarity:

I've used it several times
These don't perform (grip) as well as my mostly worn out Specialized Ground Controls that they replaced. Now, at 5 months, I realized why the sidewalls always look wet! It the Stan's seeping through! I lose about 4 lbs. of pressure on a 2 hour ride.... I used to hold Continental in high regard.... :(

I don't recommend and will not buy again.
John G.
Fast and smooth
Familiarity:

I've put it through the wringer
I agree with Kevin's review below (posted Oct 24, 2013). I've been riding my X-King 2.2 protections this past year on both front and rear on my Niner hardtail. The front is holding up well but the rear tire looks like the pic Kevin posted, complete with a missing knob. They hold air pretty well despite visible seepage of sealant on sidewalls (which tells me it's doing its job). It's a great xc tire - fast and smooth, but a bit skittish in the loose stuff. I live in Utah and they're great on our mountain trails (Park City, Snowbasin, Corner Canyon, etc). Yesterday evening however, I barely finished the weekly Snowbasin race with about 10 lbs of pressure left in the rear tire confirming it's now time to replace. I'm considering a pair of Conti Mountain Kings.
Kenton F.
This is my 3rd time buying this tire. It's a great tubeless tire that performs well in all terrain! You can't go wrong with this tire!
Justin Henderson
Oddly narrow tread
Familiarity:

I've put it through the wringer
I got a set of these as a gift during the winter. They set up tubeless on KOM i25s fine - I did need a compressor to seat them, but they seal well enough to inflate from zero with a floor pump.

Initially I was a bit underwhelmed. They don't have great traction when it's muddy. I know it's not a mud tire, but other manufacturers' full knob XC tires have been more versatile for me.

As conditions dried out, I started to like these tires better. Not that it's that challenging to make a tire that grips well on hero dirt. I do like the volume, although the 2.4s only measure 2.3" on my rims. One thing that's very odd to me, though, is that the carcass actually measures wider than the widest measurement I can get over the knobs. At 550 miles, there's quite a lot of wear to the rear sidewalls, and the cords are working their way out through the rubber. The tire has also been weeping sealant a little bit, though it's still holding pressure okay. Finally, I'm tearing the corners off some of the knobs, and undercutting them some.

I won't be buying another set of these - I think the tread on a mountain bike tire should protect the sidewall better than that. They might sit a little better on a narrower rim, though.
AndrewSwitch
Unanswered Question
Hi, To confirm, is this Continental's...
Hi, To confirm, is this Continental's "Protection" version of the tire? The weight listed on your webpage is not the same as Continental's website.

Thanks
Christian H.
Fast Rolling, Not as Durable
Familiarity:

I've put it through the wringer
Disclaimer: I've only ran this tire as a rear. I really want to like this tire, but I'm on my second rear tire and not sure I will be moving on to a third. The pros of this tire as a rear is that it's fast rolling, lightweight, and offers pretty predictable traction. The major downside to these tires that I found out was their durability. I was never really able to trust these tires since they would let me down in the most elementary of situations and loose air. The Protection casing, while lightweight with a high TPI, did little to protect against sidewall punctures and wear. I did not suffer any punctures into the thread area however. Tread wear was alright for a rear tire, but I think compared to a Trail King front tire you will be replacing 3 of these to every 1 of the Trail Kings up front. During aggressive descending with this tire, it is possible to shed side knobs quickly (as seen in the photo). When it comes down to it, I was probably over using this tire as I wanted a fast rolling tire without too much of a weight penalty, but the durability was not acceptable. I would save this tire as a strict XC tire, otherwise look elsewhere if durability is a concern.
Kevin K