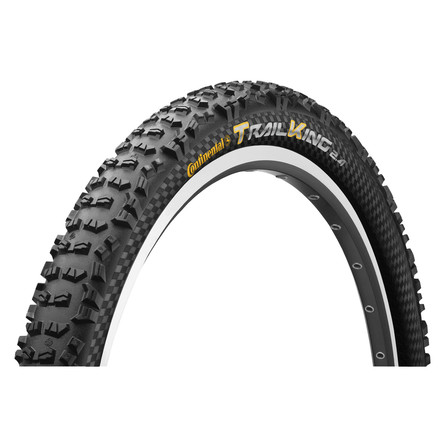 Colors

Detail Images
More air, better traction.
The 29in Trail King is a large volume tire that uses Continental's ProTection casing with Apex sidewalls to make it ideal for long-travel twenty niners. Available in both 2.2- and 2.4-inch widths, the Apex sidewall design uses a strip of additional material above the bead that helps stiffen the sidewall.
This increases tire stability and control in hard turns and off-camber terrain. The extra sidewall support also means that you can run slightly lower tire pressures without worrying about burping your tires or losing control. The Black Chili compound is a synthetic rubber with nano-sized particles to react to surface irregularities more effectively.
This not only improves grip, but these particles also form a tighter bond to improve compound strength, lengthening tread life and reducing the chances that lugs will rip and tear. Compared to Continental's earlier-generation tire compound, Black Chili tires provide 20% less rolling-resistance, 30% more grip, and an improved tread life of around 5%.
The tread pattern is aggressive and designed for loose and rocky scenarios. Staggered side knobs and siping provide excellent traction over a variety of surfaces. The Continental Trail King Tire comes in either 2.2 or 2.4in widths and with a black sidewall only.
Unanswered Question
Are these tires made in Germany?
Jesse C.
I love these things. I've been running them on my 27.5 5010 for a full season and am about 150 miles into my the 29" version on my Hightower LT. I have had 0 issues with durability or grip, but they definitely required a compressor to get them seated. I've been running them around 25 PSI all over Utah/Idaho/Montana and look forward to many more miles. Mountain King out back, so Conti's all around for me.
Chase Skidmore
Are these tires tubeless ready?
OSBALDO C.
Jason G.
Cheaply Made in China
Familiarity:

I've used it several times
For me, it's never a hard decision: I always outfit my bikes with quality "Made in Germany" Conti rubber. You can tell it's good quality rubber by the way it smells when you pull it from the box. MMMMMM. These tires were a rare disappointment and hopefully not a trend for Continental... I was concerned with the "made in Taiwan" label paired with a rubber/plastic mixture feeling of the tire. The tires simply don't grip the trail like a quality rubber tire should. Instead of absorbing and gripping the trail, the tires seem to ride on top of the track; bouncing and sliding off the roughage. Oh, and the Trail Kings don't have the great scent of fine black chili induced rubber. MMMMMM
Anonymous
I bought a pair of these tires a little over a year ago and I have been riding on them about twice a week since then. To begin, these tires were incredibly difficult to mount. After failing to mount them at home with my little air compressor it still took the lbs about 30 min per tire to seat the beads. After all that, I had one of the tires warranty replaced immediately because it was torqued on the rim, and created a serious wobble when riding. Now a year later the other tire is torqued, causing it to rub on my front derailleur. I'm hoping I can get a replacement on that one as well but it's a longshot. Both tires leak stans from the sidewalls constantly, and the rear tire has been losing tread blocks since the first ride. The 2.2s wash out easily on corners with very little gravel present. Do yourself a favor and choose another tire to buy.
Austin
Unanswered Question
Continental's recommended PSI range for their tires seem quite high. I think they recommend 45-58 PSI for this tire. I typically run my tires (other brands) at around 22-26 PSI. Why would Conti suggest such high PSI fills for their tires?
STEFAN W.
Hard tail Champion!!!
Familiarity:

I've put it through the wringer
I ride a spec. rockhopper in the Utah area. Salt lake, St G, Moab, and Fruita Colorado. With an occasional trip up to the Tetons or Bend. I find this tire to be the absolute best that I've ridden. It's got lots of size, which means more cushion on the back side (ass). It's also very strong, the Pro-tection in the sides keeps them from bulging like the old tires used to do. The black chili grip is insane! This tire grabs onto everything and won't let go until you tell it to, roots, dirt, slickrock, whatever. And I thought it wouldn't roll great or give me the speed on the downhill, but I was wrong there. There's very little resistance in the 2.2.

SO, overall, great speed, comfort, grip, and not really a bad price because they last forever!!! Enjoy!


joe
Do both tire sizes 29 X 2.2 and 29 2.4...
Do both tire sizes 29 X 2.2 and 29 2.4 have the Black Chili compound?
mr marvelous
Hey Mr. Marvelous,



Both the 2.2 and 2.4 widths have the Black Chili Compound. It looks like we are awaiting a shipment of the 2.4 version of that tire, but placing and order will set up a backorder in our system to send that out as soon as it is available. If you have any other questions or concerns, feel free to give us a call at (888) 276-7130.
Andrew T
Glen R.
Hi, are this tires tubeless?
Hi, are this tires tubeless?
Marcel Enrique
Best Answer
Marcel,



Yes, these tires are tubeless compatible meaning that you would want to use a sealant with them for a tubeless setup.
Kevin K