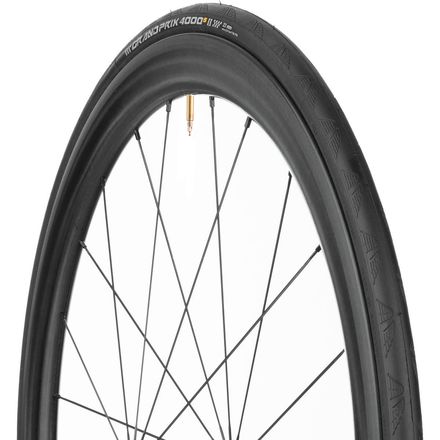 Colors

Detail Images
Grippy and puncture-resistant.
Continental's Black Chili Compound is famous for its unusual combination of grip and durability, and the Grand Prix 4000 S II Tires are the company's flagship road product. The GP4000s, as they're commonly called, can be found under riders and racers from seasoned pros to weekend warriors. Continental has upgraded the long-running GP4000s with a strong, puncture-resistant Vectran yarn made from liquid crystal polymers. This yarn doesn't cause any kind of "dead" feeling in the tires, and it keeps pesky rocks, glass, and thorns away from your tubes.
The most popular racing tire we carry
Increased suppleness reduces rolling resistance
Unrivaled traction and road feel
Vectran technology reduces puncture risk
You know Conti's GP4000 tires are the best, and they know you know
Disappointed
Familiarity:

I've used it several times
I hate to be "that guy" but I've had a really bad experience with my Continental Grand Prix 4000s II's. I ordered my tires last month and the one is already trash. The sidewall ripped and the puncture protection has been mediocre at best. I'm still a 4000s fan but maybe I just got a bad batch. It stinks because I'm not made of money and really can't afford to buy more tires too often. It's not Competitive Cyclists fault at all but it's just where I ordered them so I just came back to write my honest review.
Dan H.
Defective
Familiarity:

I've put it through the wringer
I was a loyal user of the tire, but two of the last three I purchased have been defective out of the box. Not sure if I've just gotten unlucky or if there is a quality control issue at the factory, but I'll be moving on to something different.
Dan Sink
my go to tire
Familiarity:

I've put it through the wringer
i always buy continental tires. they hold up great
Nellie Lingwall
This tire has been with my over dirt/gravel roads and on unswept streets. It is reliable for thousands of miles of riding.
Monika G
A couple hundred miles in and holding up nicely.
Nellie Lingwall
Best all-round training tire I've found
Familiarity:

I've put it through the wringer
After years of experimenting with different tires and brands, these are the best tires I've found for daily, year-round, training. I live in Colorado, and we have a fair amount of road debris. Every tire is going to flat, but these seem to have the best balance between road-feel and durability. They're relatively light-weight too, which I appreciate for the mountains. They corner well and their grip is good also.
Peder Horner denvercx
Typical high end clincher
Familiarity:

I've put it through the wringer
I find that most 120tpi clinchers are all about the same and the Contis are no different. They are very sensitive to inflation levels and tend to smooth out slightly under inflated. Puncture, cut resistance, and durability are good.
Brett F.
The worst.
Familiarity:

I've used it once or twice and have initial impressions
It just ripped open in my driveway. The center seem just split. Thank God I was just at the house.
Ben M.
Solid
Familiarity:

I've put it through the wringer
This tire has been great. They aren't kidding about the puncture resistances, although I have gotten a couple of flats, I didn't struggle a bit getting the tire on and off which is always relieving. I have had multiple sets and I don't think I'll have the need to roll anything else.
Brian
The Continental GP 4000s are great tires! They are super grippy and dependable. Don't forget to buy a pair!
Jason Kang
Favorite Race/Training Tires
Familiarity:

I've put it through the wringer
Absolutely love these tires, use them as both a training and race tire. They do not come as a pair, so make sure to grab 2 of them. A little bit on the higher priced end, but well worth it.
Seth Barnes
Dillon
Cusewordsmith
25 is the new 23
Familiarity:

I've put it through the wringer
25mm is the new 23mm. The larger wheel is noticeably more comfortable than the popular 23 of yesterday. The increased rolling resistance is also negligible so no need to worry there. Solid tire choice for racing or training.
Micah Appel
Go To Tires!
Familiarity:

I've put it through the wringer
Great grip, easy rolling, dependable! Re-ordering more right now :-)
Dennis M.
Why go tubeless?
Familiarity:

I've put it through the wringer
These tires roll just as well and grip just as well as a tubeless setup. Don't deal with sealant and get these race ready clincher tires! Especially if your bike will accommodate 25mm tires. Warning these puff up a bit wider on most wheels. I have raced these for three seasons and as my skills on the Crit course progressed these tire kept my grounded. Made with Black Chili " keep the the rubber side down" compound you can rail corners and get to the finishing sprint faster than your race companions. Hope your not afraid of heights, you'll often be on the top step with these tires installed on your race wheels.
Ian Gonder
fast and considerably light
Familiarity:

I've used it several times
use the tires for racing only, not the fastest or lightest but they provide good grip and puncture resistance at a reasonable price.

can't go wrong with these tires.
Adan R.
Rolls fast with great puncture protection. They are an easy way to keep your wheels light or shave some weight if you have been using a heavier training tire.
Eric Schulthess
Can't say enough good things about these tires. They ride and grip better than any tire I have used before.
David M.
First new tires I ever bought
Familiarity:

I've put it through the wringer
I *finally* bought new tires for my road bike. I was doing the ole' i can get a few more miles out of these bit. Granted I've put more miles in this year that i have in the previous 6 years - it was long overdue! These were recommended by a friend and I do not regret the decision. I ride in NYC out on 9W and these hold up great through the city streets (seriously there's glass and shit everywhere in this city - its hard to always see it and avoid it). Been riding on them for the last 6-8 weeks ~400+ miles and not a single issue.
Mary F.
Conti 4000 ii 700x25
Familiarity:

I've put it through the wringer
Purchased these for my road bike with 55mm carbon rims. I ride varied road surfaces, race, long fondos, and just for fun and also have these same tires on my Tri bike. I've had the 23 mm as well and these feel like they ride a bit better, but that is just feel. I've ran them at 90 psi. Pretty rough getting them on the rims but that's common I undertstand with these tires when reading reviews and my experience. No puncture issues whatsoever and they feel pretty fast. I've always gotten well over 2k miles on these tires. Buy with confidence.
Jason B.