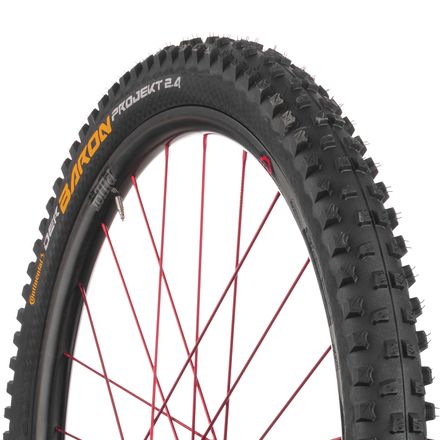 Colors
Worthy of the trail.
Sneak away from your daily desk duties for a revitalizing hour of barreling through all-mountain switchbacks and cleaning epic enduro drops on the Continental Der Baron Projekt 27.5in Tire. It's bombproof durability and beefy knobs give you the confidence to shred and the peace of mind that you'll arrive back at the office in time for that next meeting, with energy to spare and a new outlook on the day's projects.
Worthy of royal trappings in both name and design, the Der Baron Projekt reigns over the trails with a focus on speed that comes courtesy of its fast-rolling, multi-compound BlackChili composition. This multi-layer rubber compound maintains speed on tacky trails while providing enough grip that you can feel the ground underneath you, and is designed to wear slowly and perform consistently throughout its lifespan. The casing comprises several luxuriously high-TPI layers, including four plies of supple 240 TPI under the well-spaced, knobby tread and three plies of 180 TPI in the sidewall. As a final touch, the ProTection Apex layer provides protection against time devouring punctures as you blast down loose, debris-filled lines.
Versatile tire for big lines and fast runs
Fast-rolling and grippy Black Chili compound
Supple, high-TPI casing rolls through rocks and roots
ProTection Apex layer for added puncture prevention