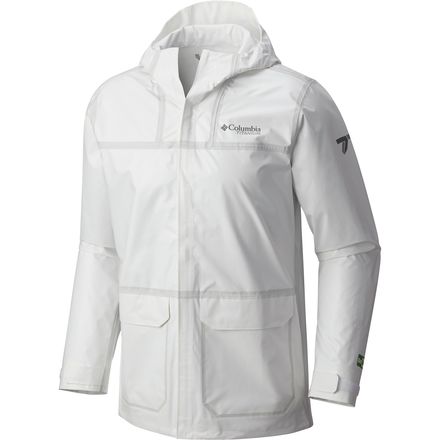 Finally, a solution to outerwear's dirty secret.
For years, waterproof outwear relied on perfluorinated compounds (PFCs) to bead off outside rain and moisture, causing undue damage on the environment through bio-accumulation in natural ecosystems, wildlife, and even humans. Solving outerwear's dirty problem of creating toxic byproducts, the Columbia Men's Outdry Ex Eco Jacket features an innovative design with all-recycled, dye-free materials. Best of all, it doesn't rely on harmful PFCs for water-beading performance and saves 21 recycled plastic bottles from ending up in the landfill.
The Outdry Ex Eco ingeniously places the waterproof membrane along the outside of the jacket, instead of using a face fabric with a water-resistant coating comprised of toxic PFCs. This funky construction technique repels water long after traditional jackets would become soaked along the face fabric, what's referred to as wetting out. As a side effect of never wetting out, the membrane is consistently able to pass sweat through its microscopic pores. Ultimately, this means it's less like a zipping into a sweaty garbage bag and more like your personal climate-controlled shelter.
Reliable waterproofing without relying on toxic PFCs
Recycled shell saves 21 plastic bottles from landfill
Dye-free fabric reduces water usage by 13 gallons
OutDry Extreme won't wet out in prolonged rain
Remains fully breathable in wet environments
Fully taped external seams keep moisture out
Survive the storm with adjustable hood and hem