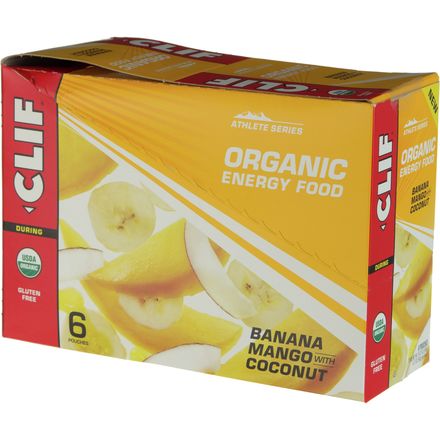 Colors

Detail Images
Power up.
Everyone knows about Clifbar's eponymous energy bars, but the Clif Organic Sweet and Savory Energy Food takes the company's all-natural ethos in a different direction. They're gels, packed with sodium, potassium, carbs, and protein, but have flavors that run the gamut from sweet to savory, so you can satisfy your cravings whenever they hit. They're also certified organic, kosher, and gluten free, so everybody can enjoy them without worry.

always satisfied!
Familiarity:

I've put it through the wringer
I've been using this product for two summers now on bike rides, i have enjoyed every flavor! Banana beet with ginger is my all time fave!
Sheila
My Favorite Fuel
Familiarity:

I've put it through the wringer
I HATE gels. Just the thought of choking down a gel during a distance run keeps me from reaching into my pack and choking down a gel, which is detrimental to my long run. Clif's energy foods never fail to go down easily, and I actually look forward to fueling. I prefer the sweet flavors. The savory ones are a little weird. They're more expensive than gels and at least twice as big, but it's totally worth it and a great rotation to the rest of my fueling foods.
Diego Gal
Kinda Tastes Like Baby Food...
But, in a good way! I have only tried the banana/mango/coconut and was pleasantly surprised. Great to have for a pick-me-up before the gym or a hike.
Natalie Ramon
Banana Beet with Ginger is the best!
Familiarity:

I've used it once or twice and have initial impressions
I was given one of these while riding the Porcupine Rim trail in Moab, on a long and hot day when I was caught with no snacks in my pack. The banana beet with ginger flavor is so good, I just had to come home and buy some to always have one with me while biking!
Sheila
Meal on Wheels
Familiarity:

I've put it through the wringer
The sweet potato is all you need. 200 calories, filling and savory. Everything else tastes too sugary now. Not the instant kick you get from GU, but if you time your portions of this sumptuous meal over 10 minutes instead of gulping it down, the energy surge will be smooth. I only like the sweet potato.
Isaac R.
My wife loves beets, bananas and ginger. So I picked up a box of all of her favorite flavors blended into one. It kinda tastes like banana bread. I think I'll pick up a box of sweet potato next!
Cameron C
So So
Familiarity:

I've put it through the wringer
First i like the fact that they are bit more of a real food than like a energy gel... flavor wise the sweet potato and banana beet are amazing. the pizza sucks and i will never ever eat it again. IT was just plan bad. But maybe your taste buds are different than mine... you'll never know until you try it!!

I've used them on long climbs and long cycling rides. does sit really well in stomach so that is a huge plus for me.
Nick Watson
Super Tasty
Familiarity:

I've put it through the wringer
Love the idea of having these as a snack while on a long hike. The Banana is very sweet and super good. I also like to eat the Pizza Margherita with crackers.
MacKenzie C
Balanced in-saddle snack
Familiarity:

I've used it once or twice and have initial impressions
I reviewed this on my blog here: http://cmkl.ca/2015/05/13/the-quest-for-good-goo-clif-savoury-gels-margherita-pizza-in-a-tube/ but the tl;dr is:
Tastes surprisingly good. A more nutritionally balanced endurance exercise snack but needs easier access if you want to make it an in-saddle calorie boost. Lots of sodium
cmkl
Tasty Goodness
Familiarity:

I've used it several times
If you are looking for a tasty on the bike fuel that is not pure sugar, and you want longer lasting energy this should be your choice of ridding food! The banana flavors are my favorite, you can taste every ingredient, so you know it is good. I would only recommend the pizza and sweet potato flavor if you are doing a long endurance race or long ride.
Matthew Tyler E Turner