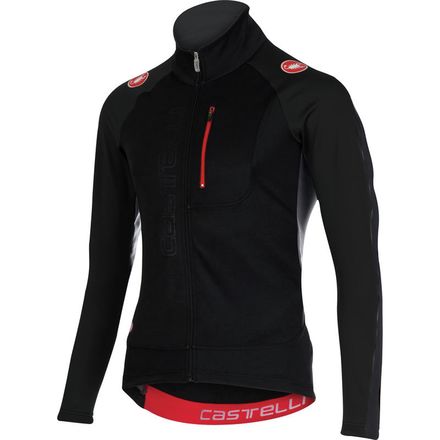 Colors

Detail Images
Obligated.
Castelli introduced the men's long-sleeve Trasparente 3 Wind Full-Zip Jersey with a pretty outlandish claim. "It will make you want to do intervals in January," Castelli promises us, which is a claim we take with a grain of salt. Nobody wants to do intervals in January, but some of us don't have a choice. For the riders at Cannondale-Garmin who use the Trasparente 3 for off-season training, the obligation is professional; for us, though, the obligation is one of pride. If we don't hit those base mile numbers, we won't have the form to hit our early season goals.
The jersey features two materials: Windstopper X-Lite material on the front and sleeves and Warmer fabric across the back. The Windstopper protects a cyclist's engine by blocking the wind generated while generating watts, and it adds a touch of water resistance to fend off winter road spray. The Warmer fabric on the back is thermally insulating, but it breathes in order to keep your engine from overheating. Too hot, and you sweat; sweat, and you're eventually riding in a sheen of frigid, clammy moisture. By regulating temperature and breathing, the Warmer fabric prevents this. Both fabrics are also stretchy enough that Castelli cut the Trasparente 3 to fit like a jersey, not a flapping winter jacket.
The Trasparente is finished with a full-length Camlock zipper and a Jacquard elastic to keep the waist in place. The usual complement of three rear pockets is supplemented by a more convenient, protected chest pocket, and reflective detailing on the rear hem presents an attention-grabbing shine to traffic approaching from behind in the kind of inclement conditions where the Trasparente's protective materials will be most needed.
First of all, buy one size up. I normally wear a large, extra-large is perfect . I wore this jacket with a jersey and a arm warmer while the temperature was in the low 40s. I was very comfortable. Then it got warm. I removed my jersey and my arm warmer. I removed my jersey and my arm warmers and used a jacket as a jersey. It makes also a great jersey standalone! I estimate that this jacket can be used from the mid 30s using a one base layer and up into the low 60s without a base layer. Not recommended for use if the temps are in mid 60s. Excellent value.
Jeffrey L.
The Trasparente is not a jersey. It is a light jacket intended for use while riding at tempo (hard) in cool, dry weather. It is one of the very best pieces of kit that Castelli makes; and that is saying something.

The Trasparente is officially rated by Castelli for use from 64° down to 50°.

But exact temp range is individual and influenced by several factors such as: (a) your baselayer system, and (b) your ride intensity. For example, if you are fit and training at max effort, and wear this jersey over a full winter baselayer (like the Castelli Flanders Warm or the Assos s7 Winter_4.4), this jacket can work great into the low 40s.

Anyway, lots of attention to detail from Castelli here: The zipper grip is designed to work well with gloved hands. The zipper itself cam-locks, and zips up and down easily on the fly (to dump heat while climbing). The textiles used in the jacket offer snug, wrap-around fit. So no annoying flapping in the wind or slowing you down.

But what raises this piece into the cycling kit Hall of Fame is the advanced textile (Gore Windstopper) used in the front of the jacket vs. the different back panel textile.

Gore's industry-leading Windstopper material, used in the front panels, blocks cold and wind to great effect. While the special textile used in the rear panels (back of arms too) is highly permeable to vent sweat away -so needed during high output riding. Brilliant!

The combination allows you to ride and climb at tempo in cool/cold weather without overheating and without getting clammy (and eventually chilled).

Wear the Trasparente from ~45° to 60°... ride hard... and you will stay dry, warm, and comfortable.

Fit: Size up +1 from your normal street size with Castelli jackets. Always. Italian sizing is different.
Jonny Heinken
Found the lower limit
Familiarity:

I've used it several times

Fit:

Runs small
I use this and a Expresso 3 jacket as my primary winter outer wear. The Expresso is very warm and quickly becomes uncomfortably so on long climbs. The Trasparente is the more versatile piece. It has worked effectively down to 34 degrees in overcast mist with just a heavy base layer. I was comfortable, not warm and not cold on a two and a half hour ride with mixed efforts.

It seems well made with a typical Castelli fit.

Follow -on: I continue to be impressed. I dressed today for a hard ride in 45 degrees. That meant the Transparente and a light long sleeve base layer. On the ridge at the top of the climb my Garmin registered 31 degrees. I was cool not cold and comfortable. I would have not like hanging around for a 20 minute break but was actually ok on a 35 mph descent. I rarely use the Expresso, it is simply too warm.
Doug S.
Trasparente sleeves
Familiarity:

I returned this product before using it

Fit:

Runs small

Size Bought:

XL
Only the front of the sleeves are windproof. I have found with other jerseys that I prefer the sleeves to be totally windproof.
Nick G.
Height:
5'10"
Weight:
160lbs
Good jacket
Fit:

Runs large

Size Bought:

Medium
Technically, it's a good jacket and had the features I wanted. The sleeves run a little loose, so I got a Gabba 2 LS jersey instead, which is more form-fitting but still has Windblocker.
David F.
Height:
6'1"
Weight:
160lbs
It is what we thought it was
Familiarity:

I've used it several times

Fit:

Runs small

Size Bought:

XL
Worn it twice now. Both in hilly areas (mix of very slow and very fast speeds). Both were mornings that started around 40-42 degrees and warmed only to mid-50's. Mix of overcast and sun. I wore it with a long sleeve Castelli Flanders base layer. Was it the warmest system at airspeed zero with a low heart rate? No, but it's not designed to be. Yeah, I was cold for the first few miles. Especially on quick downhills with minimal work being done. But who isn't? The test was later on a long 4mi, 7-8% climb. Did I overheat? Nope. What about on the descent after all that sweating, did I freeze to death? No. What about--once my body heat came up a bit--cruising along at 20mph on the flats in low 40-degree temps? Felt great. The real McCoy, then, must be that I just died later in the day after 50mi of climbing, descending, and pulling once temps rose above 50 and the sun appeared? No, not really.

I don't know about you guys, but I don't have a team car behind me looking to help me change my wardrobe every time there's a change to be made. So, like you, I'm looking for versatility. Not a magic bullet cure all, but garments that can help me ride with moderate comfort over more than just a little sweet spot of effectiveness. This jersey owns that title. Where does it really shine? High-ish speeds, with moderate output rates, in the mid to high 40s. But where is the garment serviceable? On the fringes of ludicrous speed (45+ downhills) and crawling ascents (slow assing it at 5mph on Mt Skyuka) anywhere from 38 degrees to the high 50's, higher if you only wore a mesh layer. It's a pretty impressive little piece, so to speak.

PS--it's Castelli, and fits like Castelli. 42in chest, 36in waste, the XL fits snug. And like all newer Castelli pieces, it fits funny in the mirror. Slump over your steed, and it's perfect.
Benjamin S.
Height:
5'10"
Weight:
191lbs
Perfect companion...
Familiarity:

I've put it through the wringer

Fit:

True to size

Size Bought:

Small
I grabbed this the same time I grabbed a Gabba. Together, they are so warm - while the Trasparente 3 paired with a jersey and arm warmers, has been my go-to mix lately here in Chicago. The high neck cuff is great, and once your body is warmed up - this is a comfy LS jersey.
Sean M.
Height:
5'9"
Weight:
158lbs
a sweet bit of kit
Familiarity:

I've put it through the wringer

Fit:

True to size

Size Bought:

Small
This is easily the best Castelli article i have owned. Is it a winter jersey or a light jacket? I wear it as a winter jersey -it wears like one- and it is perfect for me from high 30s to low 50s. Since i live in Florida it pretty much has me covered through the winter months. I'm 5'6" and 140lbs and the small fits perfectly. It is snug but not uncomfortable. I can get a thin base layer under it but not a normal summer jersey. The quality of the fabric, zipper, and stiching is great. This is an A+ product.
Eric C.
Height:
5'6"
Weight:
140lbs
Best Winter Kit Ever
Familiarity:

I've put it through the wringer

Fit:

True to size
I loved it so much, I bought a second jacket. The fit and finish on this product is outstanding. I ride with this jacket in temps as high as 50 degrees (no layers) down to upper 20's. (with layers). Warm without being bulky. It breaths well, repels water and has a form fit which is great for all around use. I use it on gravel grinds and road riding. This is my Go To kit for late Fall and Winter riding.
Craig
Windstopper is the Bomb!
Familiarity:

I've put it through the wringer

Fit:

True to size

Size Bought:

XL
I tend to always get cold riding-- be it needing a windvest, or toe-warmers-- pretty-much all the time! This Trasparente 3 is an amazing product. I can wear it with a wicking undertop on a cool morning or with a long-sleeve one clear up until its cold enough for a traditional jacket. Not needing to wear a windvest is a true revelation and a testament to this miracle fabric. Its warm, windproof and light. I wear an XL in anything Castelli (being 6'1", 160 lbs) and its no different with this jersey.
High-end cycling apparel can be an expensive experiment -- especially by mail-order. But this Transparente 3 is a true revelation. You won't regret it-
Dean C.
Height:
6'1"
Weight:
160lbs
My favorite Castelli top
Familiarity:

I've used it several times

Fit:

True to size
I'm 5'10', 155, 39''-40'' chest with thicker arms than most cyclists. I bought the large, and I'm glad I did because this jacket/jersey fits slightly larger in the shoulders, chest, and along the arms than my Gabba jacket. I was worried I'd have to go up to XL but I didn't. This gives me enough room for a good long-sleeve base layer--or even 2--for cold weather riding. And the chest pocket is so useful! I can keep my music/phone right where I really want it.
David M.
Surpassed my expectations
Familiarity:

I've used it once or twice and have initial impressions

Fit:

Runs small

Size Bought:

Large
I was worried about sizing: with base layer, without vs. summer or LS jersey... Fit is snug, but forgiving - I'm 5'9, 170lbs, 38 in suit jacket size, prob 5lbs off my perfect weight, mostly wear Medium and this thing in Large fit like a glove over a light base, summer and LS jerseys.

On a 3 hour ride at 38-40F with a summer jersey under it I was cozy.

No silicone gripper but the jersey stayed on my bum without riding up.
ap1kenobi
Height:
5'9"
Weight:
170lbs
Has anyone been able to compare this with the Alpha jersey? They both look very similar in what they accomplish.
Rishi Bawa
Really good question. They are both light jackets that cover the same approx. temp range. Castelli officially rates the Alpha for use in 46-59° F weather. And the Trasparente for 50-64° F.

The main difference is that the Gore fabrics used in the Alpha are treated with a "nano" silicon DWR coating and thus the Alpha is designed more for use in misty/drizzly/light rain conditions. And for climbing in these conditions (hence the internal vest; though personally I still prefer the Tras for climbing -at least in the dry- because it breathes better).

The Trasparente is an *awesome* light jacket that is made with slightly less water-resistant textiles (that breathe better) and is designed for riding hard in cool/dry conditions in the 50 to 65° range. It is arguably -the- benchmark jacket in the sport for that purpose.

Two great jackets. Just meant for slightly different conditions.
Jonny Heinken
Perfect for mild-cold riding
Familiarity:

I've used it several times

Fit:

True to size

Size Bought:

Medium
I have been really quite impressed with this piece. It is very comfortable, and provides for a very comfortable ride in the 35-50ish deg range. Wearing a baselayer underneath should drop that range another 10 deg, or so, although I have yet to really experiment with that. In my experience, around 40 degrees is the perfect temperature to be comfortable when riding, so long as you can deal with wind. The Windstopper membrane in this piece shields you from wind completely, making it a non-factor, and thus giving way to a perfect comfort-temperature ride.

This piece is sized like usual bikewear, so expect it to be tight. That said, I did not need to size down from my regular medium, however I think a Large would work for me as well. Whether or not to size down depends on how you prefer your fit.
Roger C.
Height:
6'1"
Weight:
170lbs