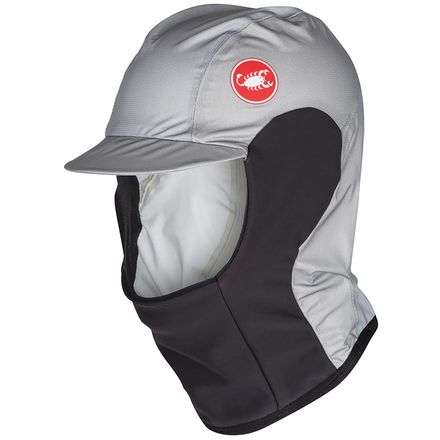 Colors
Into the storm.
The annual dance of minimizing gaps between your winter cycling cap and cozy buff usually ends in either uncomfortable overlaps at the back of your helmet or chilly, drizzly gusts of wind pummeling exposed skin once you're out on the road. Solve that problem and stay comfortably warm and dry with Castelli's Tempesta Hood, a modern balaclava that blends cycling cap style with full-coverage warmth to keep you riding all winter long.
Castelli constructs the Tempesta hood with an eVent membrane across the hat portion and down the back of the neck. This fabric is completely waterproof and doesn't release much heat, so it functions best on days when it's chilly and wet. Across the ears and front, Castelli uses its stretchy, water-resistant Nano Flex fabric that boasts the breathability to avoid clammy, frozen fabric. Fully sealed seaming throughout makes this hood completely waterproof, and its sleek design fits neatly under your helmet.
A balaclava built to withstand inclement weather
Windproof and waterproof membrane blocks the elements
Fully taped seams for a waterproof construction
Brushed lining traps heat
I had to return this item. Although it could be great, the neck on this hood just isn't long enough. It barely covered my chin.
joeholl
Height:
6'6"
Weight:
205lbs
A good bad weather 'hood'
Familiarity:

I've put it through the wringer

Fit:

True to size
(picture... how not to wear this.)

If you look at CompetitiveCyclist's picture, you can see that this covers the head and neck up to the chin. The neck covering is not stretchy and will not cover your nose properly. Thus, this is a hood and *NOT* a balaklava. I cannot complain, as the picture is quite clear, but consider this a caveat. I have attached a picture showing me using the hood improperly, with the face pulled up to cover the nose (which causes the brim to want to stick up and opens gaps that expose your ears.) If you wear the hood with only the chin covered (as suggested by the product image) these problems do not occur.

I've used this extensively in light drizzle and temperatures into the 40s. I like it a lot, and it works well with a wool collar into the high 20s.

** recommended, with caveats **
J Bond
Unique and essential in the rain...
If you have to ride in the rain (commuter), or otherwise race/train in the rain... this is a neat and effective piece of kit.

Castelli officially rates this hood for use between 60°-30°F.

Yes, cycling helmet caps keep your helmet and the top of your head dry, but what about your ears?

And what about the rain that runs off the cap and down into your jacket collar from the front, sides, and back? Especially if you are caught out in a good rain.

The Tempesta rain hood from Castelli is the first piece of cycling kit ever invented (to my knowledge) that solves this problem.

How? The bottom of this waterproof hood is designed to fit OVER and all the way around your jacket collar to direct the rain out and over your jacket. This is brilliant. Extremely effective.

Other PROS:
1. eVent waterproof textile is one of the very few textiles that actually is water-proof and that breathes well. US company, btw.
2. The eVent material is surprisingly strong yet thin and fits easily under your helmet.
3. The soft, black, water-resistant material used around the neck and ears (nano flex) provides you with: under your chin, over your chin, or over your mouth options. Your choice, depending upon how cold it is.

Cons: Expensive, yes. But if you're caught out in the rain during a long ride, what price do you put on protection like this?

Fit: My head is 59 cm (23") wide: a size medium helmet (sometimes large) in Giro. This fit perfect! Even slightly roomy around my melon.

If you ride in cold rainy conditions, this hood will uniquely protect your head, face, neck, and ears from cold, miserable rain. No one else makes anything quite like it.
Jonny Heinken