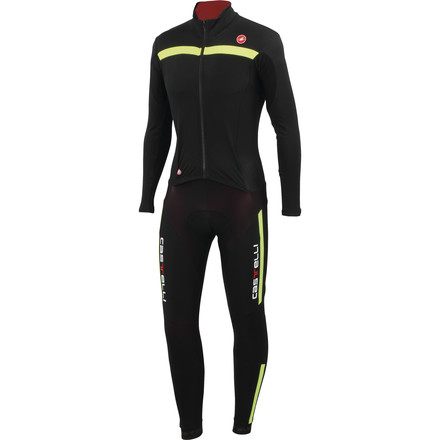 The last word in cold-weather cycling.
When gearing up for cold-weather cycling, we typically accept that things like fit comfort and aerodynamics will be sacrificed in favor of wind-stopping power and warmth. Leave it to Castelli to refuse this sacrifice with the Sanremo 2 Thermosuit, a piece of kit designed to offer the aerodynamic benefits of a bulk-free fit without the restriction of bibs — all while preserving the benefits you'd expect from the company's flagship cold-weather technology.
The Sanremo 2 uses a mix of fabric panels in strategic locations to create a microclimate in the sliver of space between your skin and the Thermosuit. The Windstopper X-Lite fabric leads the charge on the upper portion, offering 1.4 billion impossibly small pores per square inch that guard your microclimate jealously. They don't let wind in, but they do let moisture and water vapor out. This isn't just based on vague marketing copy, though. The science behind Windstopper X-Lite is measurable in a rating called CFM, which stands for cubic feet per minute, used to measure the volume of air that passes through a fabric in, you guessed it, one minute. In order to be considered truly "windproof," a fabric must register a CFM of equal to or less than 1.0. The Windstopper X-Lite fabric actually beats this rating, so you're guaranteed a literally windproof top.
The bottom portion is a mix of Thermoflex and Thermoflex Core2, using the former for areas that need more stretch and the latter in areas that need more protection. Both iterations of Thermoflex use hollow-core yarn to increase the size and insulating power of that thin microclimate. The whole Thermosuit is water-resistant and lined with a brushed interior so it's comfortable against your skin without any need of a mediating base layer.
The fit is the same bulk-free, race-worthy fit you'd enjoy wearing Castelli's Gabba Long-Sleeve Jersey and Sorpasso Bib Tights, less two elements: The bibs and the gaps. We often find that cold-weather bibs are unduly constrictive in cold-weather bottoms because of their focus on insulation rather than flexibility, so doing away with them is a plus, and the fact that the Sanremo 2 is a suit means that there are no unfortunate gaps in coverage at the waist. The sleeves are forward-oriented, so the Thermosuit feels a little tight across the chest while you're standing, but it relaxes into a comfortable fit while you're stretched out on your bike. Add to this the Progetto X2 Air chamois, and you've got what may amount to the most comfortable cold-weather cycling outfit date. You may actually regret going back to your summer kit.
A few thoughtful details round out the Sanremo 2: the underarms offer increased ventilation, the collar is articulated to eliminate looseness in the saddle, there are three rear pockets in the top, the front zipper overlaps, the ankle zippers tighten down for a secure fit over your shoe covers, and both the top and bottom have reflective tape to increase your visibility to motorists in low-light conditions.
The recommended low-end thermometer rating for the Sanremo 2 has dropped four degrees Fahrenheit compared to its predecessor, from 41 to 37, while the top end remained at a generous 59. We say generous, because we feel that the Sanremo 2 starts getting too toasty for conditions above 55 degrees and sunny.
The Castelli Sanremo 2 Thermosuit is available in six sizes ranging from Small to XXX-Large and in the colors Black/yellow fluo or Drive Blue/black/white.
I only had one day,,very cold,to ride in the thermosuit.It was extremely warm and comfortable,and made an otherwise cold ride in to an enjoyable one.It is true that any temperature above 50 degrees may be too hot to wear this garment.
Samson costales
Height:
5'9"
Weight:
165lbs
Sizing Info
Familiarity:

I've used it once or twice and have initial impressions

Fit:

True to size

Size Bought:

Small
Just bought this and have not ridden in it. Thought I would post quick sizing info. I am 5'6", 135, 28" waist, 29" inseam. Bought small. Racer fit and feels tight. Feels awkward standing up but feels right in riding position. Looks sharp and am excited about it. Will post if I get to ride before next winter b
michael_lambert
Height:
5'6"
Weight:
135lbs
Racing fit in a winter suit, awesome!!
Familiarity:

I've used it once or twice and have initial impressions

Fit:

True to size
The Sanremo Thermosuit 2 is an elegant solution to the challenge of performance / race fit cycling gear that is insulating as well. I just completed my first ride in the suit, 9 hours, 138 miles, and 11,500ft with temps ranging between 63F and 39F. This type of weather is common here in Seattle and can account for 3-5 months of the cycling year so it's worth gearing up for it.



The suit performed flawlessly and the fit is terrific. FINALLY, no flapping upper body or loose chest which is not only more aero and comfortable, but also far better insulating. The fit is like its painted on, but stretchy in all the right places. While you can see the red lining through the outer layer on the legs (as noted by other reviewers) it was still warm. I loved it! The only challenge was trying to cram enough nutrition and spares for a 100+ mile ride in the pockets, which are also fairly snug fitting. Given the temp range I experienced I was happy to note that I never got overheated. I warmed up and sweat a lot on the uphill climbs but that moisture evaporated quickly on the descents, which was perfect.



In any case, I can't say enough great things about this suit, it's fills a critical role now in my kit and one I'll use a lot here in the Northwest. In fact, I like it so much I bought a second one (50% off, thank you CC) so I can rotate them. Even at 39F I was still warm and I think, with a base layer, could go much lower. In fact, I had bought an Espresso 3 jacket but sent in back in favor of layering under the Sanremo for colder temps.



I'm 6'4" and 190 and the large fit perfect using the CC measurement chart to calculate sizing. One thing to be aware of, this is a performance / racing fit. It's SUPPOSED to fit very snug. It's designed for high intensity rides in cold temps. If your riding is more casual you may like to have more options for tops & bottoms, etc.
John K
Everything I expected from Castelli !
Familiarity:

I've used it several times

Fit:

Runs small

Size Bought:

XXL
Great piece of winter gear, especially for cold start days that may get into upper 50 - low 60 temps later on. Fit is consistent with Castelli line being slightly smaller than other lines. I went up 1 size over normal kits I buy from Gore or Assos. Used 5-6 times already!
Randall M.
Height:
5'11"
Weight:
187lbs
One-zie
Familiarity:

I've used it several times

Fit:

Runs small

Size Bought:

Medium
Hands down best winter kit. Always feels like I forgot something or aren't wearing enough, but end up perfect. Best kit for keeping it light/fast/warm/stylish. I've used below/above freezing, sunny, windy, what have you, just adjust base layer to taste for the conditions and have at it. This thing will make me miss winter.
Nashty
Height:
5'8"
Weight:
145lbs
Best cold weather thermosuit.
Familiarity:

I've used it once or twice and have initial impressions

Fit:

True to size

Size Bought:

Large
I started my workout in 20 degree weather and never felt chilled or cold at all.The best thing was feeling as un bulky as a summer kit and no Flapping with unnecessary base layers etc,,.
I'm hoping for some more cold weather so I can wear it again!
Samson costales
Height:
5'9"
Weight:
165lbs
Game changer
Familiarity:

I've put it through the wringer

Fit:

True to size

Size Bought:

XXL
This piece alone has converted me to Castelli. It is my go to piece now that the temperature has gotten colder. Now that the mornings can get into the high 40's and high 50's on the way home at night it has been getting regular use. Take all the measurements and order what size your body measurements fall into not what you think you should wear. I was a little bummed to be buying a XXL when I can wear a Large in other manufacturers clothing but the fit is great. As advertised it is a little tight when standing upright but once you get onto the bike it fits like a second skin.
a2lowvw
Height:
5'11"
Weight:
200lbs
Gorgeous, Just Not Right For Me
Familiarity:

I returned this product before using it

Fit:

True to size

Size Bought:

2XL
I really wanted to keep this suit, since I'm always struggling to find versatile cold weather riding gear. The blue/black/white combination is really sharp looking, and decently bright for winter riding in the dark. Unfortunately, the sizing just wasn't quite right for me. I'm a big guy, and 3XL is likely the right choice, but I took a chance on the 2XL because the blue/black/white one is discounted above and beyond the black/yellow fluorescent which I don't think looks as nice and is too dark for riding at night, even with the reflective striping, and the blue/black/white suit is out of stock in 3XL.

The suit has a race fit like a lot of skinsuits, being a bit constricting when standing upright as opposed to in a riding position, but the ankle cuffs were really tight on me, and trying to zip those up made me worried I'd break the zippers or cut off circulation to my feet. The material on the rest of the legs is quite stretchy and actually fits very well. The top jacket fit me well too, if a tad short in the torso because of the race-position fit. The jacket had a few wrinkles when I tried it on, especially at the sleeves, which makes me wary of the 3XL being a bit loose and floppy up top.

The fleece lining in the bottoms is red, and it shows through the material when stretched out. That doesn't give me a lot of confidence in the warmth, since the legs are where I get coldest, unlike a lot of cyclists admittedly. Still, stretching the material out just a little I could almost see right through it. That goes along with the description of the tights being designed more for flexibility than warmth. The top is more of a soft shell jacket so it doesn't have that issue. There's even a little flap on the back of the collar that you can flip up to help protect the back of your neck from cold wind.

Construction quality looks excellent with one possible exception. There's some vented mesh fabric below the rear pockets and above the tights. This is fine except the jacket and tights are attached at just four stitching points, the sides of the pockets and at the dividers between them. When bent over, I noticed a lot of stressing at these points, which would be exacerbated on rides with full pockets. I don't know if it's an actual weak point of the design or just something that looks worse than it really is. Maybe it's not such a factor with a more generous overall fit.

Anyway, I elected to return the suit. Maybe I'll try the black/yellow fluorescent one if it gets discounted more, but I fear I'd need to layer up too much in order to keep my legs from getting cold.
Jeffrey J.
Height:
6'3"
Weight:
275lbs
Comfortable, Warm, and Stylish
Familiarity:

I've put it through the wringer
This is my favorite go-to kit for cold weather riding/training. Being one piece makes all the difference in the world. The top doesn't creep up and leave parts around your waist or back exposed. The suit fits tight but comfortable. The fabric is soft and moves and stretches with ease. The top is made with Windstopper and keeps me comfortable (and slightly cool) down to 30F using just a thin, short sleeve, base layer. Once you get up to 50F, I believe you are beginning to reach the upper limits of breathability for this. At 50F, moisture is building and sometimes soaking through the fabric at places. Not enough to be a real issue but go above 50F much more and this will be too much for me.



The lower half is not Windstopper but the fleece-backed material is very warm and comfortable. On days below 20F, I'll layer up some more up top, but the bottom half is always warm, dry, and comfortable. The same can be said for the pad. Excellent on all accounts for me.



I'm 5'7" and 147lbs. I wear the medium. The fit is very snug but comfortable and it does not constrict any movement. I sometimes wish the top was a little longer in length to accommodate the length of my torso, which is proportionally long when compared against most other people my size. I would not size-up to large as that would compromise the otherwise perfect fit.
mike henasey