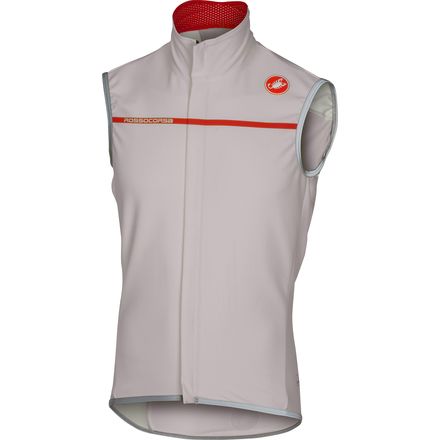 Colors
Investment.
The original Fawesome vest—which is basically a Gabba without sleeves and pockets—only has one identifiable flaw: the name is… questionable, at best. That's just one of the areas where Castelli found room for improvement with the Perfetto Men's Vest, and anyone who's spent time in the Fawesome will be surprised to learn that, yes, Castelli did actually manage to improve the vest. These improvements include an improved water-resistant treatment and the much appreciated addition of two rear pockets. While we appreciate the material update, the pockets make the Perfetto Vest a far more versatile option by providing the storage options that the Fawesome never did. The Perfetto isn't an indulgence, it's an investment that upgrades your entire wardrobe.
The Perfetto Vest rocks the same Windstopper X-Lite Plus fabric on the front and shoulders as the rest of the Perfetto line, which places the most protection where body meets wind. Windstopper X-Lite Plus has 1.4 billion impossibly small pores per square-inch that guard your microclimate jealously. They don't let wind or rain in, but they do let water vapor out. And when the marketing materials claim this fabric is windproof, you can actually believe them. A given material's wind resistance is measurable in a rating called CFM, which stands for cubic feet per minute, used to measure the volume of air that passes through a fabric in, you guessed it, one minute. In order to be considered truly "windproof," a fabric must register a CFM of equal to or less than 1.0. All fabrics bearing Gore-Tex's Windstopper branding meet or exceed this rating, so they are literally windproof.
The vest's back is made with Nano Flex Light instead of Windstopper X-Lite Plus, which is one of the only apparent variances in construction between the Perfetto Vest and the Perfetto Jersey. Nano Flex Light is a flexible, thermally insulating material that's been coated with countless nanofilaments in order to add water-resistance. It gives flex across your shoulders and ventilates better than the vest's front, helping to regulate your body temperature for rides where the full Perfetto would be too warm and addressing a wider range of conditions with additional layering versatility.
Like the Fawesome, the Perfetto Vest is packable, so you can use it for chilly descents without overheating on the climb. Castelli recommends it in temperatures ranging from 50 to 65 degrees Fahrenheit, but the layering possibilities are only limited by our daydream imaginations, so this number can drop easily into the 30s. (And no, we're not embarrassed to admit that we waste time at our desks daydreaming about layering. Well, not that embarrassed.) The full-length YKK Vislon zip boasts a wind guard across the entirety of its span, and the tall collar extends the Windstopper to cover your neck. Reflective elements at the sleeve holes and hem help keep you visible in low-light conditions.
A weather-resistant vest that adds versatility to cycling wardrobes
GORE's Windstopper X-Lite Plus is a breathable wind and water barrier
Race fit cut is more like a jersey than a rain vest
Two pockets add additional functionality
Reflective branding for visibility on damp, overcast days
Castelli's Perfetto line inherits the Gabba Jersey's all-weather crown
Great piece of gear
Familiarity:

I've used it several times

Fit:

True to size

Size Bought:

XL
This is a great piece of gear. Very pleased. Performance is everything you expect. Fit is snug. I wear a long sleeve base layer and jersey under it. I can see going without the jersey on some days. Base layer is XL castelli . My normal jersey size is XL although I find the castelli XL jersey is too tight. Like the length - not too long. Red is a great color.
Richard T.
Height:
6'1"
Weight:
194lbs
Size runs very very small
Fit:

Runs small

Size Bought:

large
I wear large in every other cycling jersey I have. I ordered this large and i can't even zip it. Now I have to return it and pay the shipping through no fault of my own. Get it together Castelli!
Damon S.
Height:
6'0"
Weight:
165lbs
I think a few folks don't understand the purpose this vest. It's not a casual, recreational cycling vest. Part of Castelli's Rosso Corsa (race) collection, this vest is designed for hard riding and training; and the sweat production that is created during that kind of riding.

Pros: 1.) The entire front of the vest is totally windproof (Gore's sublime Windstopper). While the textile over the entire back is expressly designed to vent sweat during hard riding.

This is simply brilliant design. Just the sort you expect from Castelli; a leading kit supplier to and collaborator with the UCI pro peloton (Team Sky).

2.) All the textiles used here are soft and form fitting and aero tight. This vest will not flap in the wind like cheap nylon vests.

So, along with general cold weather hard riding... here is an example of what this vest excels at:

Put this vest on when summitting before the start of a long descent in cool or cold weather. Just like the pros do (for a reason). The Windstopper front panel prevents your sweat (created during the climb) from chilling you to the bone during a long cold descent. And the wrap-around aero fit won't slow you down. It's brilliant.

Fit: Size up +1 from your normal street size; per usual with Castelli. Buy the same size as you usually do in Castelli tops. It will fit snug (as it is designed to be).
Jonny Heinken
Beautiful Item; but not what I thought!
Fit:

Runs small

Size Bought:

large
This is a wind stopper/bad weather jersey. This is not for hot weather.
Paul Gugliotta
Height:
5'10"
Weight:
160lbs
Best piece of cycling clothing I own.
Fit:

Runs small

Size Bought:

Medium
Like most of the Castelli reviews say, their products tend to run on the smaller side. I measured myself using the sizing chart, read reviews and ordered a medium. The Medium fits me like a glove and that I just the way I like my cycling clothing. I have and will use this vest throughout the Florida Winters. I have used this vest in 40 to 60 degree weather and never blinked an eye. I recommend this vest to any and everyone.
Darth Thurm
Height:
5'6"
Weight:
143lbs
Too small
Familiarity:

I returned this product before using it

Fit:

Runs small

Size Bought:

large
Ok, I'm built like a tree stump. I ordered a large and it isn't even close. Way too tight. Too bad, because it looks like a quality garment. Bummer, a wast of time and money.
jim4479101-0
Height:
5'7"
Weight:
165lbs
Best vest I've got
Familiarity:

I've put it through the wringer

Fit:

Runs small

Size Bought:

XL
Bought this to add any extra windproof layer for my late fall / early winter rides in CT and it's been great. It's wind stopping ability is second to none and the deep pockets on the back easily fit all my stuff.

Personally I love the race fit but did have to size up to get it to fit over my other layers.
John M.
Height:
6'
Weight:
172lbs
Great Vest
Familiarity:

I've put it through the wringer

Fit:

True to size

Size Bought:

Medium
Great fit and love the material it's made of!!! Wouldn't expect anything less from Castelli!!!
Joe F.
Height:
5'8"
Weight:
135lbs
Perfect fall cycling vest
Familiarity:

I've used it several times
This is the best cycling vest I've owned and I've been racing and training for 25+ years. The fit is VERY snug. I'm 5"10 and 160 pounds and a LARGE is snug but it does accommodate 1-2 base layers and a long sleeve jersey underneath. The fabric feels plush, you won't overheat and the pocketing is great.

If you want one vest that you can use for fall to early winter riding you won't go wrong with this piece.
Mark N.
How does this compare to the Superleggera vest?
AM
As the name directly implies, the Superleggera is a light vest. More like a lightweight nylon vest (with open mesh back). A good packable vest for insurance under sketchy skies. The Perfetto is very different. Much more technical, for tempo riding (and descending) in cool/cold weather. The Perfetto is basically a Gabba vest. See my review above.
Jonny Heinken
Best Vest I've Owned
Familiarity:

I've put it through the wringer

Fit:

Runs small
I'm 190cm (~6'3), 95kg (~210#). With Castelli I typically go with XXL tops which gives me a snug, just short of race, fit. I sweat a lot and prefer a vest vs. jacket as the temperatures drop as the ventilation is better. The Perfetto vest paired with the Castelli base layer, the Flanders Warm Base Layer, and Puro 2 long sleeve jersey is perfect for 0-8C (32-45F) riding in the dry. I can do a 3.5 - 4 hour, 1,200-1,500 meters of climbing, 100k ride in 0-8C weather and be warm without turning into a sweat ball and then getting cold. The front panel does a great job of blocking cold wind while being very breathable and the back panel really breathes well. For above freezing weather this thing is great. I use the 3 pockets in the Puro 2 Jersey for gear and the 2 pockets in the vest are perfect for ride fuel. The back panel material is pretty stretchy and lightweight, I wouldn't recommend trying to stash your ride tool kit, pump/CO2 inflator, spare tube, phone, etc. into the vest pockets.

The neck is high and nicely lined for keeping out nasty drafts on descents, zipper pull, though small, is easy to find and zipper is very easy to adjust while riding.

I've got a Perfetto long sleeve jersey for when things get damp, although it breathes really well, I like the vest option better in the dry. I've also got a Gabba 3 short sleeve jersey which is good as the temperatures drop and in the damp but for dry conditions I prefer layering the Perfetto vest over a jersey and whatever base layers the conditions call for.

Really great, highly versatile piece of kit. A bit bulky to roll up and stuff in a jersey pocket, though you can, better as a versatile top layer.
Larry H.
Great vest
Familiarity:

I've used it once or twice and have initial impressions

Fit:

Runs small

Size Bought:

XL. (Large did not fit at all....)
Bought for cooler days. A little heavier than the typical vest, which has worked well for cooler mornings (mid 40's)
brandon fosbinder
Height:
6'1"
Weight:
180lbs
Aptly named vest
Familiarity:

I've used it several times

Fit:

True to size

Size Bought:

Large
This is a great vest for those days when you want to keep it on. It is not necessarily one of those hyper-packable vests for emergency purposes only. This one works great in the upper 30s to mid 50s, especially if it's a bit damp out. A very flexible garment for a variety of conditions. It fits snugly but doesn't cut into the armpits. I am 6'2" 175-180lbs, I bought a Large which works great over a wool baselayer and LS jersey. Highly recommend.
Todd H.
Height:
6'2"
Weight:
180lbs
Slightly snug
Familiarity:

I've used it once or twice and have initial impressions

Fit:

Runs small

Size Bought:

Large
The fit of this vest is pretty tight even for Castelli. Because it is a race fit cut, it is snug from the shoulders all the way down to your waist with no material to spare. For me, it ran a little short when in a riding position, slightly more than I prefer. At 5 10 160 lbs, I still had room to fit a couple base layers, but would consider trying on the XL because I like the extra room and would wear it to ride primarily recreationally with staying warm a more important factor than weight or being aero. It feels like a jersey with extra insulation for combatting the elements. The Windstopper X-Lite Plus material on the front and shoulders will do a great job cutting the wind while still having a degree of breathability. The Nano Flex material on the back will be more breathable and less focused on wind and rain protection. Two large pockets in the back have plenty of room for stashing gear and other goodies for longer rides. When fully zipped up, the collar fits perfectly snug preventing. The Perfetto is a nice versatile option that can handle many conditions well.

Feel free to contact with any questions!
Michael Walker - Customer Account Manager
801-204-4687.
mwalker@backcountry.com
Michael Walker
Height:
5'10"
Weight:
160lbs
Great wind protection
Familiarity:

I've used it once or twice and have initial impressions

Fit:

Runs small

Size Bought:

XL
I'm 5'10" 167 lbs 39" chest. Usually order large in PI and Gore. This XL is perfect so yes, size up. Wore it over a short sleeve jersey today. Temp was 60. This vest IS wind proof. Tall collar is great. Could have used arm warmers first half of my ride. Did not overheat as the temp rose. Material is close fitting and stretchy. Zipper has a great feel. It's thin enough will fit in rear jersey pocket when not needed. Perfect addition for southern CA changing early morning climate.
Barry A.
Height:
5'11"
Weight:
165lbs
Great vest
Familiarity:

I've put it through the wringer

Fit:

Runs small

Size Bought:

XL
This is one nice piece of kit. Nice water resistance but not waterproof. Then again I do not think it claims to be totally waterproof. I had it out for 94 miles in the NH White Mountains and it rained the entire time. It took 40 miles in to get wet in certain areas, and did tend to dry itself out during lighter spells. Also, even during the more wet times of the ride, the wind repelling front portion of the vest preventing me from ever feeling cold or chilled. Even during sustained descents.
Like most Castelli pieces size up + 1 from your normal street size. Some reviewers say even +2 sizes on this piece but I do not agree. That would leave too much extra fabric on the front part of the shoulders/chest area although the body waist area would probably still be fine due to the fabrics great stretch. This will even be race fit if you size up 1 but has a great stretchy property to it. The only thing that prevented me from giving this a 5 star rating is a couple times now I have been riding with the vest unzipped roughly halfway, only to have the vest eventually work its way to unzip fully on its own through my movement on the bike. The zipper is butter smooth, but maybe too much so in this regard.
Overall a good vest. I love the two added rear pockets that make it more convenient for us mortals compared to the older Gabba vest with no pockets. 4 Stars.
Evan W.
Height:
5'11"
Weight:
172lbs
Size up or become maybe too aero?
Familiarity:

I returned this product before using it

Fit:

Runs small

Size Bought:

Large
Great quality vest, just ordered a size too small. Will be great for mild southern US winters.
Michael J Owens
Height:
6'3"
Weight:
200lbs
Perfect vest?
Familiarity:

I've used it several times

Fit:

Runs small

Size Bought:

XL
First, one size up. Runs small. Does it do its job? YES. Perfect with or without arm warmers on a chilly, windy day. I was surprised how well this vest works. I've had it for a month now, washed once, so it's not a long term test. All I know is - I was having issues with the cold and wind hitting my chest. I'm not having those issues now. Worth every penny.
Damien A.
Height:
6'2"
Weight:
175lbs
Must have for cool riding
Familiarity:

I've used it several times

Fit:

Runs small
All the benefits of the Perfetto long-sleeved jersey minus the sleeves and with a little shorter tail. Great with a pair of arm warmers for shoulder season and when it's really cold, pair it with the Perfetto jersey. I did that and was comfortable down into the low 30s. Throw in a good base layer and I'm sure one could go lower still.

As far as sizing goes, it is part of Castelli's Rosso Corsa (racing) line so it's snug. Size up per usual. I purchased the same size as my Castelli jerseys. It fits snugly like it should but it appears it was cut to accommodate the Perfetto jersey so it works together, well—perfectly.

What keeps it from being a 5-star vest for me? I prefer three pockets instead of two, but don't let that stop you from buying one of these.
macweelz
Perfetto = Perfecto
Familiarity:

I've used it several times

Fit:

True to size

Size Bought:

Medium
Toasty warm. Great fit. I usually wear medium and Castelli's medium in this vest is a perfect fit. I've worn mine mostly for gravel racing so far. At the Ragnarok 105, the temp at the start was in the mid-30s. By noon, temps were up to the low 50s. Despite the temp spread I stayed comfortable the entire time. Vest pockets are roomy and they have enough room for the stuff I need to cover 100+ miles. High vis yellow is the ticket. The color matches perfectly with my AM Cycling Club/Colavita kit. I am impressed with the quality, fit and feel of all my new Castelli products.
Sam T.
Height:
5'9"
Weight:
155lbs