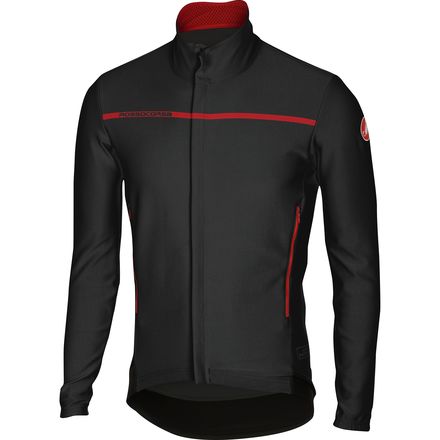 Colors

Detail Images
Perfect.
When the Gabba first launched in 2013, it basically took over the cycling world. By now, you're likely familiar with its clandestine appearances throughout the peloton, so we'll skip the anecdotal praise and get to the matter at hand: Castelli's replacing it. The new, Men's Perfetto Jersey spells the end of the Gabba era, and—once we got over our initial outrage—we realized that Castelli hasn't lost its collective mind. The long-sleeve Perfetto is, basically, a Gabba-plus, beginning with the same race-fit, weather-resistant features that made the Gabba so damned impressive and pushing those properties to further extremes. It's still based on the platform of GORE's Windstopper X-Lite Plus material, and we'll cover that below, but any time something as iconic as the Gabba gets tweaked, those changes bear analyzing in detail.
The biggest change from Gabba to Perfetto is that Castelli claims to have improved the Windstopper X-Lite Plus fabric's water-repellent finish. We write "claims," because it's hard to believe that it gets better than the Gabba. But here we are. The change addresses a relatively minor complaint that many of us have with the Gabba—namely, it does tend to get a bit stifling during race efforts and interval sessions. That's not an issue that most other inclement weather gear needs to address, because most other inclement weather gear isn't cut for racing. Since the Gabba is, we were able to push it to its limits in the most demanding situations. The Perfetto effectively extends those limits; we look forward to testing them in the sodden races of early spring.
The Perfetto's improved water-resistance and breathability are only noticeable during hard efforts in questionable conditions, but Castelli also made a few readily apparent changes to how the jersey fits. First, the brand refined the fit, further eliminating unnecessary material at the usual flap-points for an even more streamlined ride. Castelli also revisited the extended rear storm flap, making it more of a flexible material (similar to Nano Flex) that lies flat rather than blousing out. The rear pockets were also tidied-up, with the drain mesh relocated to three laser cut holes instead of an accordion construction between the pockets and the jersey itself. This contributes to the lower profile storm flap's fit, which in turn improves the overall profile of the jersey.
With the exception of the stretchy Nano Flex inserts in the underarms, the Perfetto's body is made from Windstopper X-Lite Plus fabric. Windstopper X-Lite Plus has 1.4 billion impossibly small pores per square-inch that guard your microclimate jealously. They don't let wind in, but they do let moisture and water vapor out. This claim isn't just based on vague marketing copy, though—the science behind Windstopper X-Lite is measurable in a rating called CFM, which stands for cubic feet per minute, used to measure the volume of air that passes through a fabric in, you guessed it, one minute. In order to be considered truly "windproof," a fabric must register a CFM of equal to or less than 1.0. Windstopper X-Lite Plus actually beats this rating, so you're guaranteed a top that is literally classifiable as windproof.
While the Windstopper membrane is impressive, the Perfetto's key defining element is its race-minded fit. The sleeves are forward-oriented and the chest features an abbreviated fit compared to similar offerings from other manufacturers. The Perfetto feels a little tight across the chest while you're standing, but your body fills it out perfectly while stretched out on the bike. Compared to the Gabba, it sits even closer to your chest and stomach, eliminating the pregnant hippo look that so many of us despise in kit designed for cold or inclement weather.
The Nano Flex underarm inserts offer increased stretch and ventilation, which can be further supplemented with vertically oriented, zippered vents on either side of the front panel. Those vents seem inconsequential, but they're a surprisingly effective alternative to opening the front-zipper floodgates. The collar is articulated to eliminate looseness while you're in the saddle and the front zipper features an external flap. The Gabba's reflective stripes are replaced by Castelli branding on the storm flap, which is one of the few embellishments to an otherwise refreshingly minimalistic design.
Castelli recommends the Perfetto for use in the same temperature range as the Gabba: 43 to 59 degrees Fahrenheit. As with the Gabba, many of us find that the mid-50s are a bit warm for this jersey, especially when hammering through intervals or riding at racing effort levels. Its peloton-worthy cut, insulating characteristics, and low claimed weight do recommend it for racing, just in the low-50s and below. Recreational cyclists or riders building low-intensity base miles will find that the Perfetto works comfortably into the high-50s, depending on personal temperature preferences.
An update to the original race-cut, weather-resistant cycling jersey
GORE Windstopper X-Lite Plus is breathable, all-weather protection
Racing fit is cut to eliminate flapping material
Wheel spray is deterred by the closer-fitting storm flap
Zippered side vents dump heat during hard efforts
Laser-cut mesh drains in the three rear pockets
Reflective branding adds visibility in inclement conditions
Castelli continues to redefine all-weather racing kit
Castelli Fit is always a Challenge
Familiarity:

I returned this product before using it

Fit:

Runs small

Size Bought:

XL
I love Castelli product. Styling gets 5 stars. Quality gets 4-5 stars. Sizing gets like 2-3 stars. Castelli is known for running small. The question is how small? One size too small, 2 sizes too small? Unknown.

I'm not a big guy. I wear the Gabba 2 in the spring and fall. Size XL. I'm 5'10, 165, 39 chest, 33 waist. With a tape measure, measured. Pretty average sized, actually. My weight varies maybe 5 lbs. Castelli notes a 41 inch chest for the XL Gabba 2. I wear a really thin layer under it. So sizing up two, It's form fitting and looks decent.

Sticking with my XL experience, these jerseys were way off for me, using the exact same underlayer. Chest was good, but the mid section was pretty baggy. The sleeves were at least 1.5 inches "on-the-bike" too long.

I buy Gore and PI stuff. Their sizing is always spot on. I buy a medium in PI and a large in Gore. They fit, every single time.

I will continue to buy Castelli product but the returns for retailers on inconsistent sizing must be a huge pain. Looking at the other reviews, it would seem a common issue.
Cubby Hotep
Height:
5'10"
Weight:
165lbs
Does the job, but runs really small
Familiarity:

I've used it several times
I purchased this on advice of a good cyclist friend of mine. He too owns a Perfetto, and it's previous iteration, the Gabba. I got the Sky Blue color, which looks stunning.

The first time I used this was on a 38-mile fall ride in southeast Michigan in cool weather, and this held up really well in 50-degree F with light drizzle. Subsequent fall-weather rides have been very pleasant, in combination with a SmartWool 150 or 250 base-layer when it gets colder. The base-layer can be a tight fit in size M, especially if you wear a heart-rate monitor on your arm.

I had purchased a size M based on my experience with other Italian cycling clothing (Santini Origine short sleeve jersey). The Perfetto in size M is even more tight-fitting than I expected, even for someone whose arms are as slender as mine.

I'm 5'10" with a 35" waist, 37" chest and weight around 180 lbs. Being south Asian, I have a more slender build than the average physically-active American.

I tried sizing up, but the item was no longer on sale, and I didn't wish to pay full price. I usually wear size S for Pearl Izumi, and M for Santini. I would size up to size L at least for any other future Castelli jersey, especially in their Rosso Corsa line.
Anirudh S.
Colors are not accurate for Med
Familiarity:

I returned this product before using it

Fit:

True to size
Note, I ordered a L and M as not sure on size (which is my typical Castelli experience!). The M fits, it is tight, race fit, not for casual hanging out in the coffee shop fit! I can get a thin insulating layer under, but this is a jersey, NOT a jacket. I am 5'11
Brian Dumais
Skin Tight
Familiarity:

I returned this product before using it

Fit:

Runs small

Size Bought:

Medium
Returning this to a large since this is the most skin tight Medium I've ever worn. Aside from that, I believe I'll be very warm in this jacket. Can't wait to get the Large in to test my hopes!
Nathaniel K.
Height:
5'5"
Weight:
165lbs
It's as perfect as Gabba 2
Bought Gabba 2 for New York City 4-season riding. ONLY needed that for temp as low as 20F (with 1 layer of Patagonia mid weight long sleeves). I needed something more so I bought this. It is as awesome as Gabba 2, a bit more form fitting. For Rapha I'd need M, this I need L. For competitive cyclists out there, this is the only thing you need if you hammer every ride. For colder days, I have Castelli Alpha, probably with that is that's too hot for even 0F.
Meng Sun
Quality product sizing not very accurate
Familiarity:

I've used it once or twice and have initial impressions

Fit:

Runs small

Size Bought:

3xl

The jacket is nice. I originally ordered an XL, then a 2XL and finally a 3XL. I'm somewhat barrel chested, so the 3XL provided the fit I needed. Unfortunately, this makes the arms a bit long. I bought this for riding in 50-60 degree weather. Was unsure of how to layer with it. I think I should have layered a bit heavier. 55 degrees, sunny with a good wind. The jacket seemed to cut the wind. Overall, I was a bit cool, but that was probably due to how I layered. Overall, I'm happy with this product. The sizing is weird. Other than that, I like it and would recommend it.
Christopher R.
Height:
5'10"
Weight:
188lbs
Not Perfecto
Familiarity:

I've put it through the wringer

Fit:

Runs small

Size Bought:

XXXL
With a 41" chest & 35" waist, I needed an XXXL to fit. The sleeves of the XXL were too tight for my skinny arms! Ridiculous sizing. The XXXL looks great and fits well.
Beautifully windproof. Worn with a Smartwool 150 gm long sleeve undershirt in 40 to 55 degree weather and rain, I found that while it is fairly rainproof, my torso and arms became wet at 45+ degrees due to sweat, and periodically my arms and torso were cold due to the sweat buildup. I have never felt sweat on my arms before. The jersey DOES NOT breath. The two side vents are totally inadequate. I would just as soon get lightly wet from rain as wet from sweat. My Goretex rain jacket breaths much better and results in less sweat buildup. Would be okay doing a leasurely ride at 40 to 50 degrees, but not when you need to breath hard or over 55 degrees..
cbratina
Height:
6'0"
Weight:
170lbs
Absolutely Perfetto!
Familiarity:

I've used it once or twice and have initial impressions

Fit:

Runs small

Size Bought:

Large
Wore this for the first time this morning on a typical spring ride - 45 degrees, light rain and road spray. Paired it with Castelli Seamless Men's Sleeveless Base Layer and it was perfect! I was just the right temperature and completely dry. The rear storm flap is awesome - my buddies all had wet and dirty bib shorts but I had nothing on mine at the end of the ride.

Like everyone says it does fit small. I normally wear a medium in other brands but the large was just right and the race fit was fantastic.

I'll definitely be buying another one!
John M.
Height:
6'
Weight:
172lbs
Incredibly Inaccurate Sizing
Fit:

Runs small

Size Bought:

XL
It looks great, but I could not wear the XL even though I normally wear Med to Large in Pagatonia, Ibex, Smartwool, Kitsbow. Etc. I am skiing and the sleeves were terribly difficult to get into. Not sure if an XXL will fit. Looks great, but why can't they size it properly?
cbratina
Height:
6'0"
Weight:
170lbs
Versatile and well-named
Familiarity:

I've used it several times

Fit:

Runs small
I got this for road rides into late fall and winter in the Berkshires and western New England. It is windproof and somehow breathes well, but it's not warm. On my ride today (it was 29degF), I wore a base layer and the Castelli Puro 2 under the Perfetto and my temp was perfect. After going 31 miles, only my toes were cold. I'm 6' and 185 lbs with skinny legs, and I got the XL--it was big enough to fit 2 layers underneath, albeit snuggly. Pockets are deep and stretchy, and there are reflective bits to make you stand out. I got the Sky Blue version. Nice color.
Duckberry
Impressed
Familiarity:

I've used it once or twice and have initial impressions

Fit:

Runs small

Size Bought:

Large
Love this jersey/jacket. It's a tight slim fit - but that is as it should be for fall fitness. I got the Sky Blue one. It's a stunning vibrant blue. A touch darker than in the photo on this page. Overall a high quality product.
David
Height:
5'11"
Weight:
157lbs
Not Good for Cold Weather
Fit:

Runs small

Size Bought:

Large
I wore the this other day when it was 57 degrees and a little windy on a 25 mile ride. The upper part of my arm near my shoulder was cold the entire ride, but my lower arms/body were warm however not overly so.
Richard R.
Height:
5'11"
Weight:
185lbs
Castelli Perfecto Long Sleeve
Fit:

True to size

Size Bought:

Large
This is a great product... The fit is aero and the sizing is great. I have used it on six rides that were in the mid 40s to the mid 60s and it felt fine, and had drizzling drain on three of those ride. In the mid 60's I had to unzip half way. This the best item I own.. am looking at the short sleeve lite Perfecto.
clay_linda1406861
Height:
6'1"
Weight:
177lbs
Usual high quality Castelli gear, but...
Familiarity:

I've used it several times

Fit:

Runs small
I have been buying and wearing Castelli gear from bib shorts, to Moritolo jackets in winter to spring jackets, short sleeves etc. In the past year, shirts or shorts seem to be running smaller - I recently purchased this jacket for Spring riding where here in the Rockies the temperatures and weather swing from 60 one day and 35 the next with snow.
This jacket is a perfect complement for my other stuff. But the sizing is terrible. I decided size from my usual L to XL because some of the other gear has tended to run smaller - no I haven't piled on 15 lbs as the reason for tighter fit. I like a tight race fit, but when I got this jacket it was so tight, and arm length seemed 1 inch above wrist that it wasn't doing the job. When I compared against four other heavier or lighter weight jackets, I could see the arm lengths were considerably shorter so it is not my imagination. I called the folks at CC and they agreed to the change for a 2XL, so now I am wearing Donald Trump size bicycle clothing!! The 2XL jacket came today and I tried it on- fits great with normal sleeves, although they aren't as long as the other Castelli jackets, but I figure at least they aren't up my forearms when leaning over stretched out.
I have raved and written great reviews of all the Castelli gear- I still am a fan, but I am not impressed with their customer service people in Portland when I called to give feedback. They blamed this as poor factory sizing or mislabeling. Given that the new replacement is right, they are full of #%*+ L is now 2xL. Lol.
Christopher B.
Awesome in wet or cold
Familiarity:

I've used it several times

Fit:

Runs small

Size Bought:

large
I am super impressed with this jersey, which seems basically the same as my long-sleeve Gabba. In temps from the high-30s into the 50s I am comfortable, which is an impressive range. It really is windproof yet still breathable, which is amazing because so many products that claim to do this really don't.

I got this in size large rather than medium like my Gabba, and the larger size is arguably better for colder weather. I am 5'10' 150 pounds, and the medium is almost too short in the front and sleeves, and it could not be any tighter or I would not be able to zip it. This one is longer and a bit roomier for a bigger baselayer, but both sizes work for me (I am almost always a medium though, for reference).

Along with its windproof qualities it is great at shedding water. These materials change my attitude about wet rides and allow you to go farther with more comfort in the rain. These are some of the best pieces of cycling gear that you can buy. The Nano Flex bib shorts make the perfect companion, since they are also very rain-worthy. But I really wish Castelli made shorts and/or tights from the Gabba material to pair with this jersey, as the Nano Flex is not windproof and not warm enough for me on its own in colder temps (like sub-40).
Nick
Height:
5'10"
Weight:
150lbs
This. Jersey. Rules.
Familiarity:

I've put it through the wringer

Fit:

Runs small
I bought a Gabba and really liked that. Then I got this.

Somehow it manages to provide the right mix of wind and water repellency, breathability, and insulation all in a single garment. Depending on the weather, a short or a long-sleeve baselayer will be the perfect accompaniment. I will often take a light wind-vest for really cool days, and on those brutally cold days, this jersey layers nicely under an aero jacket (see fit below). And I agree that Castelli's temperature recommendation is a bit pessimistic. You can go 5-10 deg F colder than what they recommend depending on your tolerance for cold.

This jersey is part of Castelli's Rosso Corsa line so it's a race fit. Translation: size up per usual for Castelli and it will still be close-fitting. As with the rest of this line, it might fit a bit tight across the chest when standing, but it is cut to fit you correctly when in the riding position. It really is better at eliminating that extra material at the chest and stomach when in the drops than any other race fit or otherwise jersey or jacket I own. This also makes it more comfortable when wearing the jersey under a jacket on the coldest of winter rides. The side vents work surprisingly well at adding a bit of ventilation and cooling when needed. And the closer fitting tail does a better job than a Gabba at keeping wheel spray out and a little extra heat in on those cold wet rides.

Pockets stretch "reasonably" well and do a good job of supporting what you stow back there, but because this is a race fit, don't plan on carrying the kitchen sink.

If I had to pick on anything (and I'm really stretching here) it's that the zipper pulls are a little small and there's no zipper garage. Both of those are personal taste issues and don't adversely affect the jersey.

The Perfetto is a truly versatile jersey great for cool and even cold dry and damp conditions. I like it so well I bought two more. At full price.

My new go-to cold weather jersey.

*** UPDATE ***

I was caught out in a rainstorm that turned to snow during my ride. Wearing only a long-sleeved Craft baselayer with a windstopper front under this jersey, I was cool but not cold on descents and when I stopped at traffic lights, and fine otherwise. The high collar didn't let any rain or snow in. After an hour in the rain/snow I was still dry and comfortable, though I was working pretty hard which kept my body temp up. At no time did I overheat and moisture management between the baselayer and the jersey was superb. *This* is why the Perfetto is better than the Gabba.
macweelz
Pretty freaking rockstar
Fit:

Runs small

Size Bought:

LG
This thing is snug. I mean, make sure you are at race weight, size up, or expect to ride a lot to fit into it. Aside from that, it will keep you toasty, like Fog, no sun, darkness before the sun comes up, most comfortable thing you will wear and keep on loving it
Matthew W.
Height:
6'0"
Weight:
185lbs
Brian P.
Familiarity:

I've used it several times

Fit:

True to size

Size Bought:

Large
Tighter fit than Gabba, more water repellant, feels lighter in weight overall than Gabba. Perfect jersey for 40 to 60 and anytime it's damp outside. No reason to buy any other jersey.
Brian P.
Height:
5'11"
Weight:
155lbs
Great jersey that does the impossible
Familiarity:

I've used it once or twice and have initial impressions

Fit:

Runs small

Size Bought:

3XL
This jersey was renamed this year, I bought the older Gabba 2 (which is the same as this, just different name.)
I bought it for fall and winter MTB rides in the pacific northwest (lots of rain, mud and snow.) Problem is that 'raincoats' hold sweat so I'm soaked weather I wear one or not, but moisture drains core temp which is dangerous. I tried the jacket in real rain this morning and it amazingly kept me dry despite sweating heavily. Item has a long back flap with a silicon band to hold it in place which works to keep your back covered.
A word about sizing: this item deserves a new catagory because it runs so Crazy Small. I have a 'typical figure' thin with broad-ish square shoulders and normally wear an L or XL. I'm 6' and <180 pounds and not much of a gut. The XXL was too tight across my deltoids and impeded elbow movement when on the bike, not ok. I returned it for the 3XL and which fits how I want: loose enough in the shoulders that I can move (though not stand upright comfortably) and arms are loose enough that I could wear a thin sweater under if necessary. I didn't notice the 3XL sleeves were much longer than the 2XL, though 3XL is looser on my forearms which I like. For more sizing perspective, I bought a used Trek softshell at a thriftstore this weekend and the 'M' fits me loosely.
Really nice item and beautifully put together.

eric C.
Height:
6'0"
Weight:
180lbs