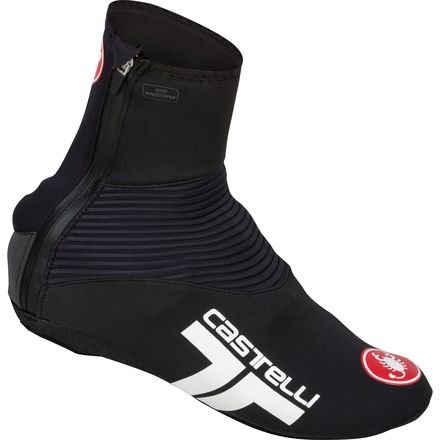 Colors
Venerable weather protection.
When it comes to wind protection, few names inspire the confidence of GORE. Castelli enjoys a similarly glowing reputation for high-end cycling apparel. Since it represents a combination of the two venerable manufacturers, we had high expectations for the latest generation of Castelli's Narcisista 2 Shoecover. With cold-resistance courtesy of GORE and Castelli's decades of cycling know-how behind it, the Narcisista 2 doesn't disappoint.
And that's a good thing, because we've built up a relationship with the Narcisista models of the past. Like its predecessors, the Narcisista 2 incorporates panels of neoprene at the ankle and heel for weatherproof flex that protects against road moisture. It does feature an upgrade to GORE, though, with the previous model's Stratolight body being replaced by Windstopper X-Fast.
The combination of materials insulates to preserve body heat and provides water resistance so that warm microclimate isn't compromised by clammy dampness. It isn't equal to a monsoon-like deluge, but the Narcisista 2 will keep your feet dry in most conditions where riding a bike at speed is still a feasible undertaking. If it's raining so hard that the Narcisista 2 would be overwhelmed, it's probably best to just stay inside and watch replays of the weather-stricken 2002 Roubaix, anyway.
The inclusion of a zipper makes the Narcisista 2 easy to pull on, and the zipper is waterproof so there's no easy point of elemental ingress. The shoecovers' soles are built for durability, and a hit of reflectivity on the heel helps keep you visible in the kind of low-light, overcast conditions where the superlative protection of GORE Windstopper and neoprene will really come in handy.
A cold-weather cycling shoecover
GORE's Windstopper X-Fast material resists the elements
Neoprene inserts add flex without compromising water-resistance
Waterproof zipper ensures a dry ride
Reflective heel detail for low-light visibility
Stylish and does the job! Winner.
Familiarity:

I've used it several times

Fit:

True to size

Size Bought:

XXL
I wear a size 46EU/12.25US Specialized shoe with 1 BOA dial. These fit just right no issues getting them on or off. Several reviews did mention the difficulty in zipping up. Can agree completely, just need to take your time to get them started but then it is smooth sailing. The heel cut out does not really fit my shoe as I have 2 rail like platform as opposed to a solid bump. These are great keeping the wind out and the thermal layer keeps my feet nice and warm.
Khadejam R.
Height:
6'0"
Weight:
240lbs
Look good, don't last
Fit:

Runs small

Size Bought:

XL (I'm a size 12 shoe - U.S.)
Loved the stylish looks but unfortunately they have zero durability. After 1 ride they started to wear through in spots. I've worn them maybe 4-5 times in all and probably can get one more ride out of them before they end up shredded to tatters.
Doug A.
Height:
6'3"
Weight:
164lbs
Too hard to zip
Familiarity:

I returned this product before using it

Size Bought:

large
I couldn't zip them up due, I believe, to the zipper being designed to go too low on the back of the shoe and perhaps due to my own inflexibility. The fit on my Sidi shoe was snug but ok. I just couldn't get them zipped even with a lot of effort. So I'm having to return the item. FWIW, I wear 9.5 (US) shoe and bought large.
TAJ
Tough zipper placement.
Familiarity:

I returned this product before using it

Size Bought:

Size 42.5 shoes
These seem pretty nice, didn't use them. Returned. Where the zipper is placed and the nature of the stretchy material, makes it impossible to zip these with one hand. It's a twist your back two handed yoga maneuver. I'd also prefer that they go higher. But they do seem well made, otherwise good design and materials.
ew
Height:
5'8"
Weight:
150lbs
The Best
Familiarity:

I've used it several times
I've been really happy with these shoe covers, Castelli makes some really great winter riding gear and these are no exception. They are plenty warm around freezing temps and will keep your feet dry. They do run slightly small so size up if you're in between sizes.
Renzo B
Just what I was looking for
Familiarity:

I've put it through the wringer

Fit:

Runs small

Size Bought:

L
As previous reviewers have mentioned, these run smaller than indicated. I bought a size L for EU 41 shoes (even though the sizing chart says M), fits perfectly.

These replaced a pair of Rapha winter overshoes for me, but they never kept my feet warm enough. These are fantastic. The exterior is stretchy and accommodates shoes and Boa dials perfectly, the fleece lining keeps my toes warm while reasonably wicking away any sweat. I've worn them down to 30F, at which point I swap for a heavier pair of Gores.
Simon G.
I excitedly opened my new winter shoe covers only to see that they may fit perfectly if only I were a 6 year old girl. I wear a size 9.5 US or 44 EU. Ordered a Large based on Castelli size guide. I cannot get the cover on my shoe at all. Almost have to rip it to even get the bottom hole over my Shimano cleats. I knew Castelli run small but I recommend oversizing by 2 sizes. I have never worn an XL in anything but after this I believe I need an XXL. UPS loves all the shipping to and from $$$.
jfield4
Style and warmth
Familiarity:

I've used it once or twice and have initial impressions

Fit:

Runs small

Size Bought:

XL
Rode in upper 30s, low 40s. These shoe covers were nice and warm. Very stylish! Just like all Castelli kit, size up. I have larger ankles and calves so zipper is a little more challenging for me. I am sure I would have that issue with any brand. I have a 43-44 shoe and I ordered XL. Good fit. I would buy again.
Keith A.
WARMTH in the form of STYLE
Familiarity:

I've put it through the wringer

Fit:

Runs small
The warmers have been great, I feel that they run a touch small so if you are on the bubble, or anywhere near the bubble, size up. I wear a size 43 and went with a Large since the reviews said they ran small. I was stoked on the fit and that made it easier to get them on and off.
I have worn them down into the teens and they were acceptable with wool socks, in the 20's and 30's they were perfect. I rode them in some light rain / snow and they did a great job of keeping me warm.
I would buy these again.
Forrest
Castelli works for me
Familiarity:

I've used it several times

Fit:

Runs small
I wear a size 42.5 in Sidi's & Specialized....I knew Castelli stuff usually runs smaller so I ordered a Large and it has worked out fine......shoe covers are usually not the easiest pieces to put on, so I didn't expect a slam dunk here.....a little work to fit over the buckles and bands, but with a little patience they fit like they should...... snug......keeps my feet nice and warm ( I've worn them from the high 30's to the low 50's)..... the zipper seems like it will hold up as long as I'm careful....I ruined a pair of Giordana covers by being impatient.....the price is right as long as you buy when it's discounted........
Anonymous
PITA first time. Awesome afterwards
Familiarity:

I've used it several times

Fit:

Runs small
I really like the look of this shoe cover. Like it better than the Duvilo covers I bought last year because I prefer a zipper over velcro and it keeps out rain better. I order a XXL even though I wear a 42 shoe and the shoe guide says pick XL (it is Castelli after all). Even buying up a size the first time I put tried to put the shoe covers on I bet it took me ten minutes on just one shoe and boy was I cussing. There is a trick. While holding both sides of the cover in one hand, you hold the zipper in the other and manage to also hold the bottom of the boot cover down to make it zip up. It is that last thing that makes it easy and now they go on quickly. No cussing. I have had several people compliment me on how good these shoe covers look while I usually think more function than form on such an item as this, I will say the look is one thing that got me to buy them. It fits very close to the shoe/leg, and has kept out the rain pretty well and worked in some pretty cold temps. With the thicker Castelli socks I even rode down to 28F in a light misting rain for over an hour one day and was fine. I would buy a pair again.
barry hair
Damage
Familiarity:

I returned this product before using it

Fit:

Runs small
Receive shoe covers and both of them had zippers that didn't work it like they're damaged before before ship. I was very disappointed that they would ship me a used product will be
returning these.
Edward J.
Truly Exceptional Product!
Familiarity:

I've used it once or twice and have initial impressions

Fit:

Runs small

Size Bought:

XXL
They are warm, fit perfectly, windproof and the Hi-Viz Fluo is extraordinary! Thanks to Clayton Otto for suggesting the color!
Calivendor
Height:
6'2"
Weight:
170lbs
It does the job but..
Familiarity:

I've used it once or twice and have initial impressions

Fit:

Runs small

Size Bought:

XXL
This is my second Castelli clothing and still don't understand their sizing guide. How do they come up with these measurements? I wear size 10 shoes and knowing it's Castelli I went one size up and got XL. It was impossible to zip the shoe covers so I returned it in exchange for XXL and that just barely fits. If you are size 11 or up, don't even bother with these.
Because of the tight fit I'm worried that one day the seam line or the zipper will pop.
Other than these issues, it does a good job of blocking the wind and keeping your toes warm.
Ahmet A.
Height:
5'6"
Weight:
190lbs
GREAT SHOE COVERS
Familiarity:

I've used it several times

Fit:

True to size

Size Bought:

X Large
These are some cool looking shoe covers, they match my Assos ij Bonka Jacket and several of my gear. Oh, did I mention they are supet warm??? These covers are very warm and easy to slip on & off. Can't be any happier... Love them
Eridilia V.
Height:
5'10"
Weight:
190lbs
Very nice shoe cover
Familiarity:

I've used it several times

Fit:

Runs small

Size Bought:

2XL
Ditto other reviews re small sizing. But this is Castelli and is to be expected. The 2XL just barely works on my 47 road shoes. I've used them down around freezing with sock liners and wool socks and have been totally comfortable. I have the hi viz yellow and think they look really cool and help make me hard to miss on the road.
Jerald G.
Height:
6'4"
Weight:
195lbs
Runs small
Familiarity:

I returned this product before using it

Fit:

Runs small

Size Bought:

Medium
Wanted to use these for a cold weather ride.....couldn't get them over my shoes and zip them. NO GO. I wear a 41.5 thought a medium would work.....wrong!
David L.
Height:
5'7"
Weight:
165lbs
Awesome winter booties
Familiarity:

I've put it through the wringer

Fit:

Runs small
Castelli is based in the Italian Alps (Dolomites). They really understand Winter cycling and design GREAT winter jackets, gloves, and booties.

Castelli designed the Narcisista 2 booties for riding in cold DRY weather. Castelli officially rates these for use from 57° down to 32° F.

Castelli makes a lot of winter booties (too many?) to cover every conceivable situation. But THESE are my favorite all-around Winter bootie from Castelli (or anyone).

Main points:
1. These look really cool; especially in yellow fluo or the all black.
2. These fit great if you get the correct size (see below).
3. The use of the neoprene component for fit and flex is brilliant.
4. These will keep your feet warm down to 38/40° with quality wool socks on. I'm not sure these support use in 32° weather. But I suppose that depends if the sun is out and how well kitted you are otherwise.
5. The fleece lined Gore Windstopper material is amazing. Soft, wrap around, insulating, windproof, and water-resistant. Yet the material is breathable!
6. These booties protect great in fog, mist, and drizzle; and along wet roads; but Windstopper material is NOT waterproof. Do not use these in full-on rain conditions.

If you need *totally* rain-proof booties (not sure they exist), try the Castelli Tempesta model at ~$80 or perhaps Velotoze (size +1) over these.

Don't forget to tape up any vent holes on the bottom of your shoes when riding on wet roads.

**Caveat about sizing: These fit small. Italian sizing is different.

For example, I wear a size 45.5 in Sidi, 45 in Shimano. I got the XL's on but the zipper was, for all practical purposes, impossible to zip up. The XXL fit much better. Still snug but much easier to get them on and zip up.

Sizing here:
36-39: SM
40-42: MD
42-43: LG
44-44.5: XL
45-48: XXL
Jonny Heinken
Runs a little small
Familiarity:

I've used it several times

Fit:

Runs small

Size Bought:

Medium but later got a large
I originally purchased size medium for my 41.5 road shoes, they were hard to get on and zipped up on the third ride the zipper broke open. I then got a pair of large and these are working out great. much easier to get on and zipped up. The coldest I have been out with these was 40 degrees but feel they will work down to near freezing with thermal socks.
Robert N.
Height:
5'11"
Weight:
185lbs