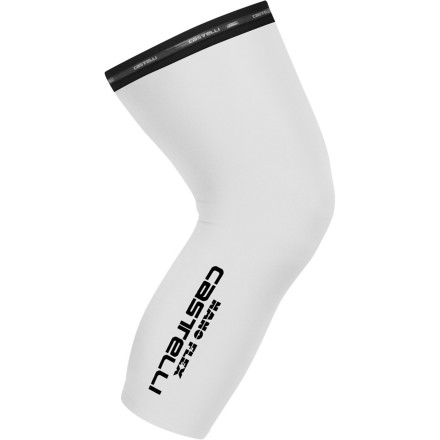 Colors
Block heaters for your well-oiled engine.
In rainy conditions, knee warmers suffer from the same problems that legwarmers do. Basically, the fabric absorbs water and their ability to keep your joints warm becomes compromised. Lucky for you, the Castelli Nanoflex Knee Warmers have remedied the issues that challenge knee warmers in cold and wet conditions.
Nanoflex is a proprietary Castelli fabric. The mill begins with Castelli's super-warm and ultra-stretchy Thermoflex fabric (used in many of its winter pieces) receiving an exterior coating of ultra-tiny nanofilaments of silicone fiber. These fibers create a near waterproof barrier to moisture, and raindrops run off the fabric without soaking through. Despite its water-resistant finish, Nanoflex fabric remains highly breathable, keeping you comfortable in almost any condition.
Silicone leg grippers keep the knee warmers in place on the hardest rides. But, keep in mind that they do run longer than some that we've seen -- more accurately, they run from mid-thigh to the bottom of the calf. Lastly, Castelli printed reflective logos at the knee and on the side of the calf in order to increase your visibility to motorists in low-light conditions.
The Castelli Nanoflex Knee Warmers are available in four sizes from Small to X-Large and in the colors Black, Red, and White. Please note that Castelli recommends wearing these warmers in temperatures ranging between 50 and 60 degrees Fahrenheit.
A very good product
Fit:

True to size

Size Bought:

medium
There are days when you start out in temperatures in the high 50s to low 60s, but before your ride ends it will be in the high 60s or into the 70s. Days like that happen through the spring and summer in the Pacific Northwest. That isn't a day for knickers. These knee warmers work perfectly for days like that. They can be easily removed and stored in one of your jersey pockets. Anyone who has used Castelli products know that their stitching is notorious poor. That isn't the case with these. They are well made, remain in place, and provide adequate warmth for those cool mornings when you don't want to expose your knees. At the current price ($25) they are a great deal.
Gene Kriegsmann
Height:
5'7"
Weight:
136lbs
Do the Castillo Nanoflex knee warmers come in a pair or single knee ?
Steven S.
These will come in a pair.



Please don't hesitate to contact us via phone or the chat feature on our website for direct assistance.
Andrew Meehan
Castillo comes as one single knee. But Castelli and any other company comes as a pare.
Leonard F.
Gene Kriegsmann
As they should be
Familiarity:

I've used it once or twice and have initial impressions

Fit:

True to size
This is the first knee warmer I've used, and I'm quite satisfied. I used the warmers on a ride with temps around 48 deg F at the start and near 60 deg at the end. I felt comfortably warm at the start and never overheated. I did pull them up above my thigh with the bottom of the warmer at the top of my calf. The warmers moved down a bit over the ride, but I never had to stop and pull them back up.
I wear a large in Castelli bibs and tops, and large fit in these as well.
Jonathan B.
Good Warmth but Slide Down
Familiarity:

I've used it several times

Fit:

True to size

Size Bought:

medium
These leg warmers fit well but they slide down sometimes. I put them on, leave overlap with my shorts and pull the shorts down over but they don't always stay up. Based on sizing charts I bought the right ones and don't think my thighs would fit into a small. They give a slight sausage leg look. They do keep you warmer and are good for layering. I've washed and dried them and they seem to keep their size and shape.

The fleece inside is comfy and warm. The outside wicks away water which is a huge plus.
Brooke
Height:
5'8"
Weight:
135lbs
Great !!
Familiarity:

I've used it several times

Fit:

True to size

Size Bought:

Medium
Couldn't be happier with these -- I've used them on 3-4 hour rides without an issue, as well as using them in icy rain, etc. They stay put if placed correctly (and it's a quick adjustment if they weren't), fit true to size, and protect extremely well from adverse temperature and weather conditions (much more so than I expected). Neither pattern nor lettering have proved to be an issue, as mentioned in other reviews.
Alice R.
Height:
5'10"
Weight:
138lbs
Does an excellent job!!!!
Familiarity:

I've used it several times

Fit:

True to size
Excellent knee warmers. Fleece inside and water repellant outside. I have used them with Castelli Gabba jersey and Castelli Nano arm warmers to provide a very protective shield against temps between 45-60 degrees. They look very "pro" too. Recommended!!!!
Johnny G.
Excellent knee warmers
Familiarity:

I've put it through the wringer

Fit:

True to size

Size Bought:

Large
I live in New England (southern Rhode Island) and have used my Nanoflex knee warmers for 2+years. I have ridden using them in cool to cold temperatures (40-55 F) in dry to wet conditions. Unlike the several other brands of knee warmers that I have used, the Nanoflex knee warmers have never slipped down while riding. Simply put, they performs as advertised.
David
Height:
5'8"
Weight:
160lbs
Convertible is great, runs small
Familiarity:

I've used it once or twice and have initial impressions
Just got these for a fall fundraiser ride. Boy, am I glad I did. Started at about 45F with shorts and jersey, plus these, the related arm warmers and a Fawesome vest. Very comfy. It warmed up over the course of the ride to mid 60s. As it warmed up, I was able to shed first these knee warmers, then the arm warmers. Made it so that I was comfortable the entire ride, not the more usual under-dressed to start, over-dressed by the finish.



I'm 6', 185lbs. I got the L, and they fit ok. They are short. They rode up my calves, and I had to hoist them up a bit to keep them from sliding down out from under my shorts. Even so, they kept my knees warm.
Ian Duff
Nanoflex fabric rocks
Familiarity:

I've put it through the wringer
Great fabric! Superior wind and water protection, and they're warmer than you would think. I have thermal knee warmers from PI and Canari that aren't as warm. They fit nice and snug but don't stretch as much as the Castelli Thermoflex warmers so they occasionally slip down, especially on long seated climbs, but honestly I've had similar issues with other brands. I just spray a little Mueller pre-tape on my thighs and they stay put.
SLADE
Bad fit
Familiarity:

I've used it several times
As expressed by another rider these knee warmers don't grip the quads properly and will slide down. I bought the Large because I wear XL shorts and weigh 190lbs (very tall though).



The material for dryness and warmth is great though, just needs better shaping, grip and elasticity in the band.
Pat A.
Great fabric - dissappointing pattern
Familiarity:

I've used it several times
Great fabric let down but a very basic pattern which results in them not feeling perfectly flat against the back of the knee - compare the pattern of this knee warmer (basically a tube) with something like the Assos kneewarmer and you'll see why these are let down in that department. The fabric is great though, water just beads off and they keep you warm even when it gets through (stops wind chill). Wish they charged the extra and used a more advanced pattern system (which would result in more fabric wastage and a higher cost) but more comfort. The fabric has so much potential!
Spider
Pretty good
Familiarity:

I've used it several times
I have washed once with a gentle cycle and so far the letters have not peeled off, as mentioned by another reviewer. Also they do a great job of keeping the slop off, adequately waterproof. Only complaint was the last time I wore them the right leg on my quad slipped down below my bibs exposing my knee. Super annoying as you have to try and hike them up while riding. Although this was in about 38 degree weather and consistently raining for 3 hours. Otherwise, I think they do the job.
Michael M.
Cas elli N n ex
Familiarity:

I've used it several times
These knee warmers look just like my title after only the second use. Half the letters fell/pealed off. I expected better from Castelli. The warmers did not fit my legs. They were loose on my quads and kept falling down. I think a smaller size would not have worked either since they were tight around mid-calf.
Piff