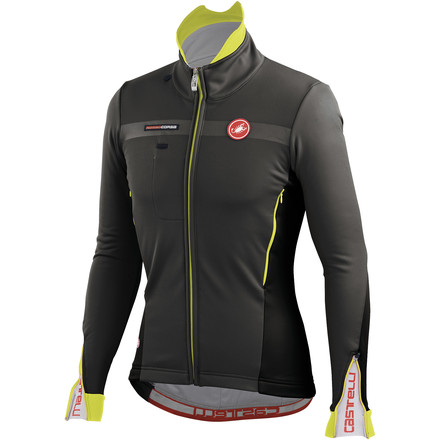 Colors
Stay warm while looking cool.
So many pieces of cold-weather cycling kit fall into one of two aesthetic categories. One is the ubiquitous black on black with black detailing, and the other combines a medley of bright colors with swooping and swirly graphics. The Castelli Espresso 3 Jacket breaks this binary by using solid colors, contrasting highlights that complement the body's shape, and tasteful branding to make a winter jacket that's so attractive you'll want to wear it off the bike, too. And it's also water-resistant, windproof, and thermally insulated for temperatures ranging as low as 32 degrees Fahrenheit — all of which will appeal to cyclists who aren't just in it to look good.
Castelli uses Windstopper X-Fast material from the venerable manufacturer Gore-Tex, which is the go-to destination for manufacturers who want to beat the wind. Wind-resistance is expressed in terms of CFM, which determines permeability by measuring the volume of air that can pass through a given material in one minute. Since all fabrics branded with the Windstopper stop sign logo either meet or exceed the windproof rating of 1.0 CFM, they are all literally windproof. In the Espresso 3, this windproof layer is sandwiched between a protective outer layer, which has been given a DWR treatment for water resistance, and a fleecy, insulating lining.
The jacket's sleeves are forward-oriented with an abbreviated fit across the chest. This makes the Espresso 3 feel a little tight across the chest while you're standing, but it fits your body perfectly while stretched out on the bike. It sits close to your front instead of hanging down, eliminating the pregnant hippo look that so many of us despise in kit designed for cold or inclement weather. The floating shoulders also accommodate a cycling position and allow for unrestricted reach.
The Espresso 3 may set a record for the number of zippers in a single cycling jacket. It has the requisite full-length front zipper, two zippered chest vents for when the going gets hot, and zippered wrists so you can pull the jacket on easily over gloves but then zip them down for a tight seal. The flip-up thermal collar provides variable coverage for your neck, depending on conditions, and an elastic gripper band keeps the extended rear hem down where you want it.
A phone pocket with a media cable port lets you route your headphones like you route your bike's cables: internally. This keeps the wire out of the way so you won't unceremoniously rip your earbuds out while reaching for a bottle. The Espresso 3 also includes three rear pockets for storage and reflective elements to help keep you visible in the low-light conditions that you'll likely encounter while using it.
The Castelli Espresso 3 Jacket is available in six sizes ranging from Small to XXX-Large in the colors Anthracite/black/yellow fluo, Black/red, and Drive Blue/red.
Unanswered Question
How does the Espresso compare to the Giordana FormaRed Carbon jacket ($380 one)? Which is warmer, has more venting, fit, etc. They look somewhat comparable, but it is hard to tell exactly.
Tyler S.
When fell down some ice from the sky should be nice...😬
Roberta M.
Great Jacket, Great Fit
Familiarity:

I've used it once or twice and have initial impressions

Fit:

Runs small
Incredibly good deal on sale. I used this jacket for the first time a couple weeks ago with a thin base layer in low-50 degree weather. It was perfect in every way. In riding position, the cut is very comfortable. It is well-tailored and has a quality look and feel. Even though I got a little warm, the moisture wicked away while maintaining a good wind barrier. Two zippered vents on the front sides of the jacket are a nice touch. They literally disappear when not zipped open. Another thoughtful touch is the sleeve zippers -- they are on top so easily accessible while riding.

I'm 6'4
Jeff J.
Awesome winter jacket
Fit:

Runs small

Size Bought:

xl
I love it. with one base layer, this is good from about 30-40ish degrees, with vents opened at 40. With 2 base layers I'm comfortable at 25 degrees. Its handsome and stylish, yet subtle and efficient. I ride 120 miles per week, all through the winter, and have tried numerous outer shells and jackets and this is by far the best for me.
Nicholas K.
Height:
6'0"
Weight:
185lbs
Buy it
Familiarity:

I've used it several times

Fit:

Runs small

Size Bought:

large
Ok, enough on size, Castelli is Italian, that means to buy a size larger for the Yankees. If you live south of the 45 parallel, you don't need this jacket. Others in the north, this jacket works with a single layer for the fall cyclocross, the odd ride in winter and the spring mud n snow season. Zippered sleeves work with ski gloves or thin liners, great idea. High collar keeps cold from top of the neck but I prefer a neck gaiter to breath through and block the cold. Good fabric and ventilation system works for wicking moisture away from the core. Good for it.
William G.
Height:
5'6"
Weight:
155lbs
A true winter jacket.
Familiarity:

I've used it several times

Fit:

Runs small
A lot has already been said about this jacket's virtues so I won't repeat most of it. But with the Espresso being one of the heavier jackets in the Corsa Rossa line, this is definitely a true winter jacket.

Something that is not obvious from the description or the photos is how the venting works. The "floating shoulders" actually open up to a mesh lining across the interior of the back to help dump heat from where you radiate it the most. In other words, you can stick your hand in one vent and reach out the other. The interior of the back pockets also open up to the same mesh lining allowing—in theory—for an additional place for excess heat to escape. This prevents you having a double layer of thick fabric across the back. Coupled with the two front chest vents and opening the wrist vents, one has a reasonable ability to control temps. That said, this is still a very warm jacket. The ability to have air flow inside it will depend on how you like to wear it—race fit at size or with enough room to get a base layer or a thin to medium jersey when sizing up one. Even sizing up one, this is Castelli—it will be a close fit.

Temperature-wise, I don't think I'd ever wear it above 45F, even with only a thin base layer. I did that the other day and was too warm for much of the ride. Even in the high 30s I had it partially unzipped with the chest vents completely open when climbing in the mountains, and I'm not one of those guys that has a high tolerance for cold. It really is in its element between 32F-45F, and you could easily go lower with the right layering.

My only two complaints are: 1. the chest vent zipper pulls should be big like the main zipper so you can use them with gloves on. I have a number of other Castelli jackets that have this and it's a real bonus. And 2. the bazillion logos all over the thing. But then I guess we buy Castelli gear for performance, not to be discreet.

It's a bit spendy at full price, but at 50% off (at time of review), it is a must have in the closet and definitely one of my favorites when it's really cold out.
macweelz
Very comfortable
Familiarity:

I've used it once or twice and have initial impressions

Fit:

Runs small
I am 6'3" 218 lbs and XXL fits perfectly. I have been riding with temperatures between 35 to 45 degrees with and without rain and I have to say that I have not been cold at all. When raining I have thrown a light shell on top and that has kept me dry.

I have been looking for a long time for a good jacket and this one exceeds expectations.
Jorge D.
Money well spent!
Familiarity:

I've used it once or twice and have initial impressions

Size Bought:

Large
I live in FL and ride 200 miles a week all year. I'm cold below 70F so the sleeves and vest come off and this jacket goes on around 55F. Good down to 40F and haven't ridden anything colder. I'm a 40 chest 150 lbs and L fits perfectly. Moisture gets out and warmth stays in. Definitely keeps me riding more often.
Carlos C.
Height:
5'7"
Weight:
150lbs
I am 5'8" and around 140 pounds at 36 chest. Small or medium?
Yash Katsumi
I got the size small. I feel like a overstuffed pork sausage when standing up, but the fit is quite nice in the riding position.
Yash Katsumi
Nice and warm
Familiarity:

I've used it once or twice and have initial impressions

Fit:

Runs small

Size Bought:

Xl
First use on a 28 degree overcast day. I just had a lightweight long sleeve base layer and was initially overheating on a 2.5 hour ride. Fit is typical Castell, but not quite as snug to allow for base layer options . Based on my first use , I would say this jacket is great for the truly cold days, but will be too toasty for 40 plus degrees
James K.
Height:
6'0"
Weight:
195lbs
Oh, how nice
Familiarity:

I've used it once or twice and have initial impressions

Fit:

Runs small

Size Bought:

XXL
6'3" and 205 pounds, XXL fits with a tad to spare. I broke this in on a short hour's ride with temps ranging from 21-24 degrees and partly cloudy. Jacket kept me on the cool side of warm throughout. I did not over heat on two one mile climbs and had no sense of moisture building up. I had an older Craft base layer underneath. I only hope this is as comfortable at 45 degrees. Beautifully done bit of gear.
Doug S.
Height:
6'2"
Weight:
205lbs
Wrap Yourself in Warmth & Just Ride
Familiarity:

I've put it through the wringer

Fit:

Runs small

Size Bought:

Large
I'm 6'0" and 165 lbs, lean build suit coat size 40 regular and a Large in this Espresso jacket fits me great. I compared this jacket to the Alpha and there is simply no contest here...the Espresso is the jacket you want. The Alpha felt "drafty" and the little built-in mesh base layer was weird. Back to the Espresso...this jacket is very, very warm. I've taken it out in sub-30 conditions here along the Wasatch front in Utah and I honestly can ride as long as I want with this jacket. The fit is snug and the Windstopper and fleece keeps you tight and warm. There are a couple of weird things about it that are not real important to me but I will mention them.

1. The media pocket in the front is small - fits an iPhone 6 but I doubt an iPhone Plus would fit. The little wire hole is right out the front of the chest and that's just strange. I simply route my wires up through the collar. No big deal.
2. The zippers on the cuffs are a bit too tight to zip over my bulkier winter gloves. I zip them down about halfway. Not an issue, no heat loss, etc. Just kinda wish they were a tad bigger.
3. At first the chest area feels tight...you'll think you need a size up but this should loosen up. Also, when you are in a riding position you'll feel it loosen and feel more natural.

I haven't ridden any canyons yet in this jacket. Based on the dozen or so rides I've done in varying temps around 30 degrees I'd expect it will breathe really well going up and keep me from freezing on the way down. On the few shorter climbs and descents I've done it feels solid.

Bottom line: I am riding the trainer indoors a lot less so far this winter because of this jacket and for me, that's a big win!
Jim M.
Height:
6'0"
Weight:
165lbs
Phenomenal.
Familiarity:

I've used it several times

Fit:

Runs small

Size Bought:

Medium
Love this jacket. I pair it usually with a lightweight base layer and I'm good in to the 30s. Last night, 30 with wind I wore a short sleeve jersey over base layer...perfect. Throw on a long sleeve mid layer and I'm good in the 20s. I purchased a medium. My Gabba jerseys are medium and they fit a little snugger than the Espresso. Sleeves are a little long and as a result the zippered vents at the wrist are a little tricky to activate. The front zipper pull is the best of any jacket or jersey I've owned, super easy to pull in either direction to vent or to Zipp up. Roomy pockets in the back. Great cold weather jacket that blocks the wind very well and gives many venting options. Looks great. Runs small but true to Castelli sizing.
mperri
Height:
5'10"
Weight:
133lbs
Better than the Alpha???? Depends on . .
Familiarity:

I've used it several times

Fit:

Runs small

Size Bought:

XL for a 40.5" chest
I live and ride in Lancaster County PA with picturesque, rolling farm land. I would describe our weather in the winter as a damp cold.

I am 5'10', 165 lbs. and 40.5" chest. The XL fits perfect in Castelli clothing.

I purchased both the Espresso 3 and the Alpha. I tested both jackets today in 40 degree weather with 12 mph wind. I wore a medium weight craft base-layer. Both jackets are superb build quality.

The Alpha is a great concept. I like the idea of the separate, thermal zip up layer. Nice, but I found myself being cold in the arms and chilly elsewhere. Aggressive riding up and down rolling hills did not increase the comfort. Maybe I should have layered with a jersey. For me, this is not a jacket I would use for PA winter riding in +10 mph wind.

I came back and switched to the Espresso 3. Same base layer but what a difference. I was toasty warm and had to open up the vents. Very comfortable. As it gets colder, I can even layer a wool zip up jersey - close fit but still very comfortable.

For me, I see the Alpha being used for riding between 50-60 degrees - unless I get a larger size and layer up. But I think that defeats the purpose and functionality of the piece. I like being comfortable when I ride. I want a jacket that keeps me warm and vents the sweat so I don't get clammy. The Alpha will definitely keep you from getting too clammy but you may find, as I did, your arms get too cold and you just feel a little chilly for a 40 degree ride.

For most cold weather riding though, I see me using the Espresso. I love the multiple pockets and their placement, the arm zips allow for venting and pulling on and off. Side zips vent perfectly and the articulating and floating shoulders are very comfortable when stretched out in the riding position. The Gore Windstopper fabric stops the wind - period! No cold spots with this jacket.

But what's up with that tiny media pocket??? Seems out-dated.

When it comes to selecting a jacket, it really is personal. Everyone's experience will be different based on metabolism, body type, topography and riding style.

I opt for comfort every time. When I'm comfortable, I will stay out longer. For the right conditions, the Alpha is a great choice. For cold weather, windy conditions I will be reaching for the Espresso. Castelli rocks!
Jerry Y.
Height:
5'10"
Weight:
165lbs
Benchmark deep winter jacket
Familiarity:

I've put it through the wringer

Fit:

Runs small
Castelli is based in the foothills of the Italian Alps (Dolomites). Castelli knows winter cycling.

Application: The Espresso 3 is designed by Castelli for riding in cold, dry weather from 50° down to about 25° F --depending upon your baselayer selection, your riding tempo, and your personal thermostat.

Sizing: Always size up +1 with Castelli jackets. Always. Italian sizing -does- run smaller than US sizing.

I'm 5'10" and 185. The XL fits me perfect. Remember, this jacket is meant to be used with a quality baselayer underneath (or two) depending upon how cold it is. But, it is also tailored snug on purpose for proper insulation performance and for proper aerodynamics.

Jonny Heinken
Almost love it!
Familiarity:

I've used it several times

Fit:

Runs small

Size Bought:

XL
The first one I received was a size Large which is what all my other jackets are and was way too small. Exchanged for an XL and that fit better but still snug, not much room for layers. That's fine though because this thing is very warm and keeps the wind off you even on fast descents. With just a thin long sleeve layer underneath, vents open, and the zipper down, 45 degrees is the upper end of the range that I can wear this comfortably. I haven't worn it in below freezing temps yet but I'm sure it will do fine.

The warmth and windproof characteristics of this jacket are very good and when combined with the venting features it's a winner.

The only things I would find fault with are the sizing, which runs on the small side, and personally I would like it cut just slightly longer as well.
Michael T.
Height:
6'0"
Weight:
175lbs
I'll re-ask the question below about the Espresso 3 versus the Alpha jacket. Which one is better for sub-freezing riding conditions? Any thoughts or experiences? I'm in the Northeastern U.S.
Thanks.
John T.
Hi John (and LSM below). Castelli makes great jackets (their specialty I think). Their 3 coldest weather jackets are the: Alpha, Elemento, and Espresso. They're all great, just slightly different.

The Elemento is designed for hard, sustained riding in dry, cold weather in the 30-55 range. It's awesome at this. The Alpha jacket is designed for riding (and climbing) in misty/drizzly/light-rain in about the same 30-55 range. Both of the preceding jackets are designed for and tailored for the slim/athletic rider.

The Espresso is the thickest and most insulated jacket of the three (the winter-weight Gore WindStopper textile is amazingly effective). And with a slightly fuller cut. For temps as cold as you guys describe I'd definitely go with the Espresso plus serious winter-weight baselayer choices.

For riding on 'warmer' days in the 40s, I'd wear a light-weight long/sleeve baselayer like the Castelli "Flanders." On the coldest days (20/30s): I'd wear a heavier long-sleeve "Flanders Warm" or "Flanders Wool" baselayer -and-perhaps a "Flanders Wind" baselayer -depending upon specific conditions.

And don't forget, of course, a face mask (Castelli Viso) or balaclava, thermal cap, wool socks, and insulated winter booties (I recommend the Diluvio 16, letter edition). Have fun!
Jonny Heinken
Espresso or Alpha jacket? Which would you get for cold weather riding (i.e. below freezing - even sub-zero)? I'm in Chicago.
LSM
Hi LSM. See my answer above.
Jonny Heinken
The Espresso Due jacket will due the trick for Chicago winter weather (I'm in the Naperville-area) and use it for my winter commutes in wet, mid-20s weather. I recently experimented with the Assos Bonka-Cento jacket (verdict is still out . . .) and the Capo Guardsman Padrone Thermal Jacket (http://www.competitivecyclist.com/capo-guardsman-padrone-thermal-jacket) - this thing is AWESOME! Very deceiving - light weight but extremely warm - I paired it with Assos winter base layer and stayed warm on 10.17.15 when the 5am temp was 26F. Ultimately, I think you'll be pleased with the Castelli Espresso Due 3!
Paul M.
Great Jacket
Familiarity:

I've used it several times

Fit:

True to size

Size Bought:

Large
Bought this to replace a winter jacket that has seen me through many winters and a few too many crashes. I looked through a number of jackets, brands, reviews and sites before settling on the Espresso 3. Castelli has a great reputation in cycling clothing, and has made some great innovations with clothing, including the not-quite speed suit for road racing... winter jackets are a different beastie, but innovation is no less important. The high collar, rear venting and excellent fabric were the main features that solidified my choice. The zip cuffs and front vents didn't have me convinced at first.
When riding, the jacket is warm! Earlier in winter I rode with a long-sleeve jersey underneath, and was toasty. More recently, I've worn with a short sleeve jersey underneath, and the front vents were employed to good effect. A previous observation that the zip tabs - on both the sleeves and front vents - are too small for easy use on the bike is spot-on. But the venting provided by both does indeed extend the temperature range of the jacket.
I now choose my winter clothing based on chest/waist dimensions, rather than height/weight sizing. My chest is 100cm, and the large fits just fine, with ample space for a jersey (or two), should I need the additional warmth.
Timothy H.
Height:
5'10"
Weight:
162lbs
From one comprehensive ride
Familiarity:

I've used it once or twice and have initial impressions

Fit:

Runs small

Size Bought:

Large
OK so this jacket was to fill a void in my quiver of outerwear for riding in Vermont in the winter. Despite the season for which I purchased it coming to a close as the trails lose their snow, I figured I'd splurge with this sale. I ride snowmobile trails 5-7 days per week all winter, which is very slow climbing in the woods & wind chill isn't much of a factor. But descending generates wind & venting moisture when climbing is a huge advantage for the descents. This winter we had 20+ days well below zero. With 3 rides at -16F and a windchill of -40F. Today, post an inch of sloppy snow that was crusted over with ice, I rode an hour in on & off rain & freezing rain, sometimes hard, at 30F. Under the jacket I just wore a very thin long sleeve base layer. The ride was on a trail with lots of rolling - Slow climbs & fast descents. Thanks to all its superb features, this jacket rocked on this ride!

FEATURES....
The driver blue color purchased is plenty visible. I wish it came in a neon maybe with colorful trim. Tho it satisfies the italian designer in me, Goth black with colorful trim doesn't go far enough to make me significant out there. When I finished riding I felt the inside of the jacket. Impressively dry! The flexible, coziness of the material & jersey like snug fit are great. Sleeve length is nice. The shoulder opening for venting & preventing the sleeves from creeping up when reaching for the bars is spectacular. The venting that the sleeve & chest zips provides is why I got this jacket. Venting moisture is a must in winter riding. Tho they worked well at what there purpose is for, I wish they were 3" longer for even better venting. No problem using zips with my light gloves. Rear 3 pockets are good n sturdy. Easy access w/ gloves. Chest pocket is a joke. Were I to try to put a food bar in it to keep it from getting rock hard in a cold rear pocket, I'd have to cut it in half lengthwise to fit. iPod nano may fit but snug.

FIT (hence the 4 star heads up)...
I am a skinny 5'11"/ 145#/ 39" chest - measured with 2 base layers, a short sleeve jersey and a heavy wool jersey - distance runner turned cyclist. A solid Medium. This size large jacket will be great allowing layers, down maybe to 5-10F. Ideal for most riders needs. No size XL available in Blue. I wish I could return for an XL to allow for the layers to go to -15F plus windchill. The versatility of the venting would allow me to get down to maybe 15-20F on my road bike before I felt like a stuffed sausage. I'll post those results when they happen.

Generally, an awesome jacket that I will enjoy. But it fits me like all my medium jackets.
Rick Trainer
Height:
5'11"
Weight:
145lbs