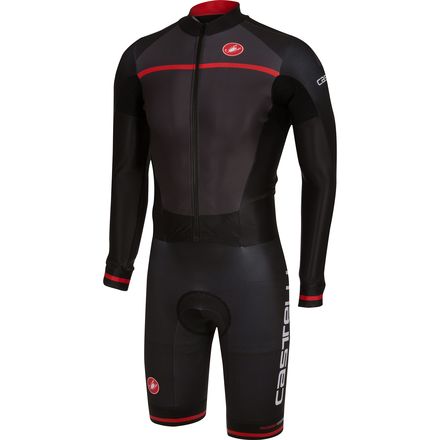 Colors
Pin it.
As fall gives way to winter and the long, snowy slog to age-group nationals begins, privateer 'cross racers across the country are left scrambling to find warm kit worthy of toeing the line in early January temperatures. Adding a Castelli Men's CX 2.0 Speedsuit to your cycling wardrobe will have you ready for nats while also adding a versatile piece for winter layering to the mix so you're not throwing your money away for just a handful of race days.
At first glance, it's easy to mistake the CX 2.0 for just any other speedsuit, but most speedsuits don't have Castelli's Thermoflex fabric to provide breathable warmth worthy of top-tier racing. The long-sleeved upper portion is made from that soft, thermal fabric to keep you warm in frigid race conditions and boasts a full-length zipper with a beefy pull tab that's easy to operate with gloves. So when the Northeast wind whips up and snow starts flying, you can rest assured that Thermoflex has got you covered.
Castelli fashions the shorts portion with its Action 290 fabric, which was chosen for its blend of warmth, durability, and free-moving stretch that won't bind up when you're on the run or flying through a remount. As an added touch, single-piece construction eliminates seams to prevent uncomfortable bunching or chafing. The shorts are capped off with Castelli's KissAir chamois, whose shape and elasticity adeptly accommodate the combo of running, jumping, and mashing inherent in 'cross. The seamlessly tapering geography of dual-density foam provides strategic support while virtually eliminating abrasion.
A thermally insulated, cyclocross-ready speedsuit
Long sleeves and soft fabric provide warmth and coverage
Insulated shorts portion allows full freedom of movement
Two rear pockets stow ride essentials
KissAir chamois provides support without excess bulk
Streamlined fit doesn't catch wind or course tape
Review
Fit:

Runs small

Size Bought:

small
Love it. It does fit a little on the small side. As cool weather garment it's difficult to figure out the layering. While in motion it feels on the cool to almost cold side. But once stopping it becomes very warm. And you find out that you weren't cold after all. I still like it a lot.
Rico Ramires
Height:
5'4"
Weight:
132lbs
Nice
Familiarity:

I've used it several times

Size Bought:

XL
This Castelli is very comfortable for me. The size runs small, so you may want to buy a size larger as I did. Buying this is like getting a bib-n-jersey all in one peice..that's great👍.
Donald Colbert
Height:
5'7"
Weight:
153lbs
Great design
Familiarity:

I've used it several times

Size Bought:

XXL
The suit fits well. I'm 6ft, 195lbs. Really like the the front panel design. Makes it much easier to get in and out of than a more conventional design. A good suit for fall, but the mesh ventilation panels may be too open for winter.
Eric Vander Linden
Height:
6'0"
Weight:
195lbs
CX Ready.
Familiarity:

I've used it several times

Fit:

True to size
I bought this skinsuit for CX which is what it is designed for and does the job very well. The material feels great and works perfectly under the conditions Castelli recommends. Pair with a baselayer and some embro if the temps dip very low. The chamois is super comfortable.

My only complaint is as the material stretches, it fades, making the skinsuit look "worn" even when it is brand new.
Eric White
Not Perfect But Still Very Good
Familiarity:

I've used it once or twice and have initial impressions

Fit:

True to size

Size Bought:

3XL
I bought the Castelli CX 2.0 Speedsuit for cool to moderately cold weather layering. Despite its cyclocross branding, it's perfectly acceptable for road use as well, with a sleek simple design and what so far seems to be a very nice chamois that will endure way longer than any pro CX race.

I got the blue/black/red design because I'm just such a sucker for blue. It's a really beautiful color and the stripes down the sleeve are very sharp. All the material has a bit of a sheen to it, more so than some lycra you see, though it fades as the material stretches. The Castelli branding down the side panel of the legs is a bit much, but elsewhere it's pretty minimal and tasteful. Print quality, stitching, and overall fit and finish is excellent. The fleece lined lycra upper body/sleeves are warmer than regular lycra but still breathable. It's not a wind blocking fabric and it's still kind of thin, so it's not crazy warm. The lower body is regular non-fleece lycra but it's a decent weight fabric. If you want a warmer suit with fleece lined bottoms get the Santini DirtShell. I can't say the design/cut of the rear and the shape of the chamois is particularly flattering to those looking at your behind, but to each his own. There's a nice lighter weight textured fabric under the armpits for better ventilation. It looks like the same fabric Cuore uses on many of their aero skinsuits and jersey sleeves, but you barely notice it.

The zipper seems fine, though it was a bit hard to manhandle the thing up with some belly trying to push through. Despite that, once zipped the cut of the shorts is high enough that you don't feel like your gut is going to come pouring out between the top and bottom of the suit, and it's still much much easier to take a nature break than in a traditional skinsuit. The leg grippers are like those on most other Castelli shorts, with a textured fabric, tight flatlock stitching, and no hem at the leg opening. The edge is very crisp, better than I've seen from most other clothing manufacturers, and doesn't look like it will curl over time. The sleeves have 1 1/2" long hems/cuffs around the wrist, giving it a somewhat retro look, but it's also very comfortable and stays in place. This suit technically has a mock turtleneck, but it's just low enough that it doesn't feel like it's choking you, and even without a wind flap the zipper doesn't dig into your neck. There's two very deep pockets in the back, great for storing anything, and they stay tight and aero when not used too.

The chamois, after the first one-hour ride, feels awesome. It's dense and supportive and shaped just right. Even without chamois cream it felt like nothing was there. Time will tell how it does on longer rides, but first impressions are good. Usually if a chamois isn't too great, I'll know within about a half hour. Sizing is typical for Castelli, which is pretty small/Euro. I'm 6'-3" 275 lbs (it's not all muscle sadly), and even 3XL is a bit tight. The way the jersey top opens all the way, as I mentioned above, makes zipping up difficult. The fabric also lightens noticeably when stretched, a common problem with Castelli gear. Sleek shiny jet black fabric turns to matte charcoal if it's stretched at all. That said, the leg grippers, sleeves, and waist all feel evenly form-fitting, so there's nothing pinching or uncomfortably tight, so it still fits pretty well.

The Castelli CX 2.0 Speedsuit is a very good skinsuit for cyclocross or other cool weather layering. At full price, yeah it's rather expensive. If it's on sale for less than $200 then I'd say go for it.

Pros:
Design/colors, fabrics, build quality, chamois

Cons:
Fabric stretching, difficulty zipping up
Jeffrey J.
Height:
6'3"
Weight:
275lbs