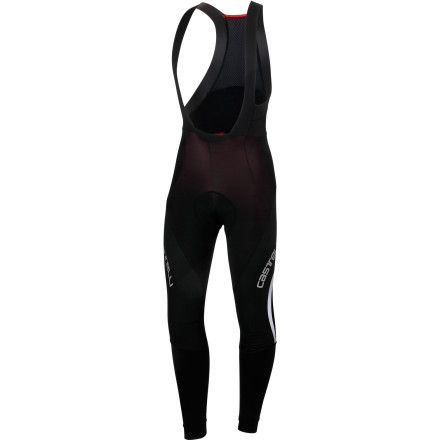 Riding in the frigid north has never been so warm
Castelli's passion for riding extends through all four seasons, and in Italy, where Castelli was born, that means frigid, bitter winters. Its warmest Bib Tights, the Sorpasso Wind, build upon its reputation of Italian design and quality and the result is a winter tight as comfortable as your favorite summer short.
With the Sorpasso Wind bib tights, Castelli has taken everything you love about its Sorpasso winter tight, and made it even warmer and ideal for riding in the Great North. The main panels of the Sorpasso consist of variations of Thermoflex fabric at both the upper front, and legs. The Thermoflex Core Due at the front is a two-layer fabric that keeps warmth near your core while wicking moisture away to keep you dry. The Thermoflex Stretch used at the back and lower legs allows maximum flexibility and mobility to pedal and move while riding.
To create an even warmer tight than the Sorpasso, Castelli cut Windstopper X-Fast panels for the thighs and knees. This is a windproof, four-way stretch with a fleece layer that rests against the skin. It extends the temperature range of the Sorpasso bib tights down to well below freezing. The tights are held in place with Giro++ seamless shoulder straps with a wide Thermoflex back panel — this ensures that cold and wind do not creep in beneath your winter jacket.
The Sorpasso features Castelli's top-of-the-line Progetto X2 Air seat pad. This is the same pad that is found in its best shorts. The top layer was made from a seamless, four-way stretch, microdenier fabric that moves with your body eliminating chafing. To keep your skin happy, it received an anti-bacterial treatment. This layer was bonded to a multi-density foam pad that provides optimal padding for different areas. Sit bones receive denser perforated pads, while softer padding is placed in sensitive soft tissue areas. Getting in those winter base miles has never been so comfortable.
Castelli finished the Sorpasso bib tights with its Giro3 ankle grippers. These keep out cold by sealing around shoe covers. The ankles close with camlock zippers so that they stay shut and are trimmed with reflective tape for low-light visibility.
The Castelli Sorpasso Wind Bib Tights come in sizes Small through XXX-Large in the color Black/white.
Progetto X2 Air seat pad FTW
Familiarity:

I've put it through the wringer

Fit:

Runs small

Size Bought:

Large
Its worth paying a little extra to get castelli. And its worth a little more within the castelli line to get the Progetto X2 Air seat pad. As its been said many times before, size up for Castelli. I'm 6'2 and 170lbs and the Large are a snuggish race fit.
BJ Keane
Height:
6'2"
Weight:
170lbs
Awesome Fit, Plenty Warm
Familiarity:

I've put it through the wringer
Awesome design, fit and temperature regulation. I have found that these work really well in the 30's. Castelli strategically incorporated different fabrics through out the bib tights to ensure comfort and breath-ability. If your legs run cold or need more warmth, I would recommend going with the Polare 2. Castelli has done an excellent job on this piece, would definitely recommend.
Renzo B
Leaves room for improvement
Familiarity:

I've used it several times

Fit:

True to size

Size Bought:

large
I generally purchase top of the line gear for riding in challenging conditions. I purchased theses and have used them 10 times in various conditions from 25 F up to 40 degrees F. The lack of insulation in the upper thigh and groin area is CERTAINLY a concern. Any rider that wears these enough will notice the flaw. I am somewhat confused by all the 5* ratings of this product as CC reviewers are generally fairly accurate. I have resorted to a pair of wind stopper base layers underneath. I don't really like the extra heft, but that is what seems to be required to make a 2.5 hour ride comfortable at 30 degrees with a wind. If I were in the market for a new pair, I would likely look elsewhere prior to purchasing this product.
Paul Height
Height:
6'1"
Weight:
180lbs
Very small
Fit:

Runs small

Size Bought:

3XL
I'm 6'0", 190 lbs. 38" waist, average to slightly large thighs. I usually wear either an XL or L in riding shorts or tights. I was advised to order this item in XXL, which was extremely tight. I returned them for 3XL. Even the 3XL was too small. I tried a couple of hour rides, but the tight dug in at the crotch on every stroke. If you weigh over 180, unless you are tall and slim, look for another item. I know Castillo has a reputation for running small, but this was ridiculously small. Too bad - it's a really nice tight, if it fits you.
fra110564412
Height:
6'0"
Weight:
190lbs
These are the ones for 40*F and less
Familiarity:

I've put it through the wringer

Fit:

True to size

Size Bought:

Small
They're like the regular sorpassos, but these are noticeably warmer.

They're a typical Castelli fit. I wear a small in all the Castelli clothes except for the Idro, which I wear a medium. I have a lot of Castelli: several jerseys short and long, gabba, perfetto, alpha jacket, vests.


MichaelJ
Height:
5'6"
Weight:
140lbs
There's no such thing as bad weather...
Familiarity:

I've put it through the wringer

Fit:

Runs small

Size Bought:

large
Just the wrong clothing. I wore a pair @ the cx nationals in hartford @ 28 degrees and it was perfect. So perfect i bought another after that.
Bob W.
Height:
5'10"
Weight:
178lbs
Comfortable and warm, were even smaller
Familiarity:

I've used it several times

Fit:

Runs small

Size Bought:

medium
I have so many pieces of Castelli gear and always buy medium and they fit me perfectly. These tights are even tighter around the waste than all of my other Castelli gear. Besides the fit though, These are Very warm. I was almost sweating getting ready for my winter rides, but when outside it was like it wasn't even cold outside and I never suffered once while riding in the Utah cold. The windstopper part on the front is perfect for cold damp rides where you might hit a little mist, and are even good for Fat bike riding in the snow as well.

If you have any questions about these tights, email me at: gcelentano@backcountry.com
Greg Celentano
Height:
5'9"
Weight:
150lbs
Excellent winter tight
Familiarity:

I've used it several times

Fit:

True to size

Size Bought:

Large
A very comfortable tight with excellent warmth and breathability. I wear it between 15-40F and have no issues with staying warm. I love the front wind protection. Excellent padding and comfortable straps. I think it fits true to size.
Matt M
Height:
6'1"
Weight:
160lbs
No groin / lower abdomen insulation.
Fit:

Runs small

Size Bought:

medium
Great potential but...
I normally love Castelli, but this is a seriously flawed design. Knee warmth and panel design is excellent, and so is fit from waist down, but as others have commented, there is no attempt to keep your junk or gut warm, in fact the fabric is see-thru there! WTF Castelli! Also, the shoulder straps roll up and cut your shoulder circulation, and there is a 1/2" waist band that digs in too much. My lower abdomen was very cold at 35 degrees. I'm returning these.
Peter A.
Height:
6'0"
Weight:
153lbs
Warm!
Familiarity:

I've used it several times

Fit:

True to size

Size Bought:

Small
For me, this is warm enough in the 25*F and up range. I'm in CT and it has been a bit warmer, so I haven't tested them when it gets below 20. I have the sorpasso tights as well, and these are definitely warmer. The wind protection has been nice for the blustery cold fronts. So far, these are as warm as the pearl izumi elite amfib bib tights, but the castellis fit so nicely. I wear a small in all castelli wear, and these fit fine.

I'm 5'6 and 140lbs. My legs are considered muscular as well as my calves.
MichaelJ
Height:
5'6"
Weight:
140lbs
Excellent for terrible weather.
Fit:

True to size

Size Bought:

Medium
This is a great winter tight, but it is best for full winter days with cold temps, wind, and/or rain. The wind blocking fabric also blocks a little breathability, but it's a fair trade for how warm the tights are. They are not as stretchy, and may take some wiggling to get them to fit, but once on they conform to the riding position well.
Staxxx McClusky
Height:
5'6"
Weight:
163lbs
Very good!!
Fit:

True to size

Size Bought:

XL
Perfectly comfortable and not cold!
KeebumHong
Height:
6'69"
Weight:
176lbs
Good thermal
Familiarity:

I've put it through the wringer

Fit:

Runs small

Size Bought:

XLg
Nice fit and insulation for 38 deg +. I rode with them in 19 deg and froze. Crotch area has no insulation, wish it did.
Chris F.
Height:
5'10"
Weight:
188lbs
Warm legs in cool temps
Familiarity:

I've used it several times

Fit:

Runs small
These are high quality bibs. The thigh portion is snug and warm. The private area not so much. When you stand to pedal you'll feel the cold in the crotch. Overall it's a great product.
David F.
Great value, superb construction
Familiarity:

I've put it through the wringer
I bought a pair of these bibs last fall and rode them comfortably and extensively this last winter in temps down to the mid 20s. Below that, they are no longer sufficient and I then used my Assos. These Castelli bibs fit small: I am 5'10", weigh 145 lbs with a 30" waist and the Medium size fits me perfectly. The wind-breaking fabric really cuts the wind out and will even repel some water. The zippers at the bottom of the legs are sturdy and solid. The chamois is comfortable for very long ride and keeps a man's genitalia where everything should be. I liked these bibs so much that I bought a second pair a week ago.
st-101618537
Not a fan...
Familiarity:

I've used it once or twice and have initial impressions

Fit:

Runs small
I personally dislike the fit. The windstopper coverage leaves a bit to be desired as well if we're talking about a winter cycling tight. As far as fit/sizing goes... typical Castelli. Size up!



I would recommend the Gore Bike Wear Xenon series for those really looking to ride. Far more comfy, significantly warmer. Overall, it's a better quality product. Castelli has been letting me down as of late.
Shawn Maguire
Unimpressed
Familiarity:

I've used it once or twice and have initial impressions
I thought these were good based on all the reviews but they just don't cut it for me. The wind stopper fabric works and it works very well. It is nicely placed around the thigh and knee area.



However, the lack of wind protection around the crotch is quite the disappointment. The wind seems to just pass through the fabric at this part of the bib. On my ride with these it literally felt like my members were exposed. A bit of a shame really. I'll probably see if CC will allow me to return them.
Barnard
Nice Set of Tights
Familiarity:

I've put it through the wringer
Wanted a second pair of tights to complement my Capo Padrone Rubaix bib tights, which are absolutely awesome. Love Capo, but they have a limited kit. Also wear Castelli alot, and have the Gabba which I LOVE and the Espresso Due Jacket which I also LOVE, so wanted to add a pair of tights. Really nice. However, not nearly as warm as the Capos. Limit on these is around 28 degrees. Extra protection on thighs, knees and shins which help with the cold. Don't love the strap material though and would love a zipper with a higher bib like the Capos. The other thing is I tend to go with Large in Castelli, and these are a bit long. It's okay, but could be a bit shorter. I'm 5'8" and they'd definitely fit someone 5'10". Highly recommend
Ted Kramer
great pants
Familiarity:

I've used it several times

Fit:

Runs small
I wanted to write a quick review of these pants. There are several panels to the pants with some being thicker than others. The thickest windstopper panels are on the front of the pant legs which makes sense as this is where you get the most wind when riding. Around the croch area there is a lighter fabric and this was done as this is the area that gets the most movement in the pants when you are peddling. The tradeoff is that the croch area tends to get a bit cold when it drops close to freezing. One may consider wearing a pair of underarmor boxer briefs under these pants to give a bit more warmth in the croch. I have also seen that gore has a pair of windstopper boxer briefs that would probably be great with these pants in cold weather. Other than that suggestion, these pants are awesome.



For fit purposes, I am 6'1", 190# and the XXL fit me great.


Mitch B.
How is the water protection on this one?
How is the water protection on this one?
Lam N.
Best Answer
Hi Lam,



Checked the Castelli site to get more info about this particular bib: they make no claim for them being water-proof, or even H2O resistant. Some light melting snow will probably be no big issue...but not prolong riding in freezing drizzle.



Best temp rang (per Castelli) for this bib is 25-46 F, with excellent wind stopping advantage.



Their warmest winter bib is their *Polare Due bib with a riding temp range of 18-25 F. But again, these are not touted as being water proof/resistant, either.



They do have a water-proof/water resistant bib line up called: "*Nanoflex..."

*Nanoflex is their version of Gore's Gore Tex fabric. Look for their bib with Nanoflex in it's name, as they have a few different selections to choose from. The only trade off is they aren't quite as warm as these.



Gore has some weather-beater water resistant/proof products (as does PI)...but of course, that's a whole different class of product/fit.



Hope this Helps


Debbie C
Another option for both warmth & added rain/wet protection might be using the *Polare Due & wearing Gore's Alp-X GT rain pants over top for total rain/slush protection (they have a great super light weight rain/wind jacket, too...ALP-X 2.0 GT). If you do try these pants, make sure you purchase a good leg band to keep the bottom pants leg out of the chain, as they are somewhat baggy from the knee down. They are very light weight and pretty packable (if you use a pack). I like a leg band made by Dueter...you might have to special order from your local bike shop...$11.00, but worth it (I'll post a pic on the Gore GT pants page, as all who purchase these pants should deff. have this band!).



Happy Trails!
Debbie C