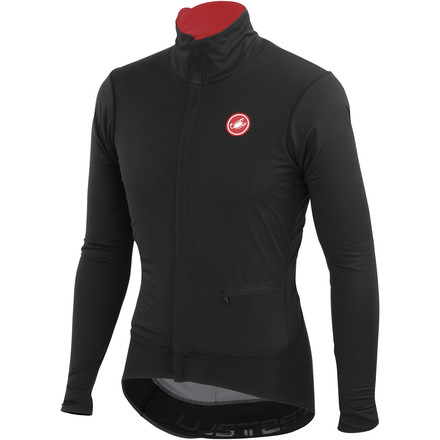 Colors

Detail Images
Jacket protection, jersey fit.
As we prepare for another season of cold-weather cycling, it behooves us to pause for a consideration of winter climbing. Climbing makes you hot, so your body produces sweat. But then you hit the top, and the fast descent through cold air cools everything off — including the sweat. Since this chain of events usually means finishing a ride in clammy frigidity, confronting one or a series of taxing climbs during a winter ride is a daunting prospect. In yet another first, Castelli produced the genre-defying Alpha Jacket for just such an occasion. Your need to climb may be due to the restrictions of local topography, the desire to interrupt the monotony of winter base miles, or your own inability to just take it easy on a training ride. Whatever the case, the most immediately obvious feature that sets the Alpha Jacket apart from its competitors is also the one that addresses this, the ultimate problem of winter cycling: how to eliminate sweat on the climb without freezing.
The Alpha Jacket's thermal layer is detached from the Windstopper layer in the front, so — unlike with other winter jackets — when you unzip the shell to let in the wind, you're only exposing the thermal layer, not your bare chest or base layer. Since the thermal layer is protective but permeable, it lets the cool in evenly, all over, not just through one frigid blast at your sternum. The thermal layer is also more breathable than the outer Windstopper fabric, which means that it evacuates moisture from your microclimate even as your body creates it on the climb. At the top, you're as dry as possible, so you can zip up and descend without worrying about cold sweat on the rest of the ride. And if the climb is too hot even for the thermal layer, you can unzip it, too, allowing for even more microclimate control.
As alluded to above, that microclimate is protected by Gore's Windstopper 150 fabric, a lightweight, four-way stretch version of the venerable cold-weather armor. The Windstopper 150 — like all fabrics that bear the brand name — is quantifiable as literally windproof, a status awarded according to air permeability testing. While the DWR (Durable Water Repellent) treated Windstopper keeps the elements out, the thermal layer beneath relegates moisture and internal temperature. Unlike typical winter jackets, it adapts to the needs of base-mile grinders and out-of-the-saddle climbers mid-ride. Castelli bills the Alpha as a three-layer piece, but it's much more lightweight, flexible, and non-bulky than a traditional three-layer jacket.
The Alpha features a raw edge at waist and wrist, an innovation that has been showing up on top-end gear in the cycling industry lately. Raw edges mean that hem and cuffs don't have elastic inserts, so they won't restrict movement or bunch uncomfortably while you move in the saddle. No more tugging at the rear flap of your jacket; it slides up and down your body as you sit up to noodle or tuck into the drops, maintaining coverage. Since the cuffs lay flat, they fit under gloves without having to stuff a bunched-up elastic into the wrist of the gloves. The lack of elastic also means that there's no compression point caused by an additional hem; the fabric itself is what keeps the jacket in place, and it keeps it in place relative to the position of your body, not just the highest point the hem has worked its way up to.
We've covered the functional aspects of the jacket, but we've been referring to it as a "jacket" this whole time, which is a bit misleading. Since the Alpha Jacket actually fits and feels more like a jersey, we'll chalk this inability to accurately classify it up to an insufficient and artificially categorizing language for describing cycling clothing. We can only assume that Castelli opted for the word "jacket" to stress the protective, layered elements of the Alpha, which are indeed on par with Castelli's jacket-iest jacket, the Elemento 7x(Air). Like the Elemento, Castelli rates the Alpha to stay comfortable from 53 degrees Fahrenheit down to freezing. We're confident, though, that five minutes in it will disabuse any cyclist of the assumption that this is purely classifiable as a jacket.
The aggressive cut of the Alpha Jacket fits jersey-close to your body, from the hem to the collar and everything in between. In previous generations of winter wear, this has been a significant put-off for us, as we're wary of sacrificing comfort for a streamlined fit when winter cycling means that comfort is already at a premium. But with the cut of the Alpha, the only spot you'll notice some uncomfortable restriction is across the chest, and only while you're on foot. Once you get on the bike, the Alpha is designed to accommodate your arms, shoulders, and back as you reach for the handlebars, courtesy of the unsurpassed four-way stretch Windstopper fabric, but there's no bulge of excess jacket hanging off your front while riding. The collar is cut so that it doesn't create a wind chute behind your neck while you're in the saddle, and the shell and thermal layers' respective zippers are offset to eliminate any additional bulk that the Alpha's functional flexibility may entail. It has three rear pockets and a zippered pocket in the rear and the front.
The Castelli Alpha Jacket is available in six sizes ranging from Small to XXX-Large in the colors Black, Laurel/black, Lime/black, and Red/black.
A cycling jacket for cold, rainy weather
Windstopper 150 membrane blocks wind and water
Incorporates insulating thermal midlayer
Race fit eliminates flapping material
Offset zippers allow for micro-managed protection
Maintains breathability during hard efforts
Raw-cut hem and cuffs create a flat seal
The most protective of Castelli's revolutionary all-weather race kit
The King
Fit:

True to size

Size Bought:

Large
This jacket is the legit. I expected nothing less from Castelli with this top of the line piece. So many nice features and qualities that make this jacket a cold weather beast. Multiple layers that each have a specific purpose make this one of the best options for sub freezing rides. The inside thermal layer adds warmth while the outer shell provides full windproofness and near waterproofness with DWR treatment. The double zipper may seem like too much, but you hardly both and have the benefit of adjusting either as your body heats and cools. The vents on the upper back are a nice touch giving more breathability. Conveniently located is a 4th pocket in the front that is user-freindly and easier to get at than the three in the back. The thin cuffs will make it easy to put a heavy pair of gloves over your sleeves. This jacket is shaped for the slim racer and form fitted snug against your arms and core. A Large for me fit with room to throw one base piece easily with room to squeeze two thin layers. The collar zips up cleanly with the flip up collar. The jacket is sharp and dapper, and is meticulously constructed for the die hard needing the best Castelli has to offer.

Feel free to contact with any questions!
Michael Walker - Customer Account Manager
801-204-4687.
mwalker@backcountry.com
Michael Walker
Height:
5'10"
Weight:
160lbs
Both Medium and Large did not fit
Familiarity:

I returned this product before using it

Fit:

Runs small

Size Bought:

Medium AND Large
Technically, this is a great jacket. Unfortunately neither the M nor the L was a good fit. I measure _almost_exactly_ the Castelli size Medium. Castelli M from the chart: Chest 37.8 / Waist 33.1 / Hip 38.6. Now me according to the tape measure: Chest 37 in / Waist 32 / Hip 37. I'm 5'10" and 155 lbs. So I ordered both sizes figuring one has to work. First the Medium. I knew it would be tight when I put my arms into the sleeves. I stretched the elastic to the MAX around my hips and the zipper was still like 1+ inches from meeting to zip up. What!? Castelli Hip: 38.6. Me Hip: 37. Next I tried the Large. According to the "rule of thumb" this size should work. The fit at the shoulder/chest felt better. Now to zip up. At least I could get the two sides of the jacket to meet and zip up but the elastic was so tight around my hips that I knew it was not going to work. I honestly do not understand Castelli sizing. Great looking clothing and easy returns to CC, sizing not so much.


Phil
Height:
5'10"
Weight:
155lbs
Excellent All-Arounder for Winter
Familiarity:

I've used it several times

Fit:

Runs small

Size Bought:

Large
First off, the jacket temp ratings are totally relative to each individual. Some people will find this jacket runs too hot for their intended purposes and others will find its not as warm as claimed - I fall into the latter category as I tend to run very cold. This jacket works well for me down to about 40 degrees and as high as about 60 degrees. Below 40 I usually wear one of my hiking shells with a warmer jacket underneath since this jacket doesn't have much room for layering. The dual zipper design is perfect as it allows for adaptability, especially on those days where you start early and end late and the temperature warms up quite a bit. Gore Windstopper isn't as breathable as other softshell fabrics but I don't tend to sweat a ton so this is a minor issue for me. Overall, the jacket fits nice and trim, blocks the wind and some rain, and provides enough warmth for average winter weather in Seattle.

I am 6' and 135 lbs and bought a large (I do have a small torso though with longer limbs). With Castelli, size up as a general rule.
Sam
Height:
6'0"
Weight:
135lbs
i wouldnt ask for anything better. this is my go to winter jacket. i've been searching for 45F- 30F with just little touch of good base layer n say woohooo bring it on winter. i found my love.
kirk ekak
Height:
5'4"
Weight:
165lbs
Very happy with this jacket
Fit:

Runs small

Size Bought:

XXL
I just received the jacket and having ordered one size up from my usual, the fit was just right. I went for a 70 mile ride where the temp started out at 40 and went up to 57. had a sleeveless base layer and a polypro lightweight long-sleeved base layer on top of that. I never had to unzip the jacket, and it managed temperature throughout the ride. It did a great job of blocking the wind.

The only nit I would have is that the zipper on the low front pocket poked into my thigh while I was pedaling - it would be nice to have a small garage to put the zipper handle into when it is closed.
Gero V.
Height:
6'3"
Weight:
195lbs
Great winter climbing jacket
Familiarity:

I've put it through the wringer

Fit:

Runs small

Size Bought:

Medium
One of my favorite winter jackets. Not a "boil 'n bag." Innovative thermal layer configuration allows easy venting. Great for climbing. Fits well, don't have to wear a million layers.

Standard Castelli sizing, runs Euro small -- either Castelli fits you or it doesn't. So far, no seam blow outs or quality issues.
Brett F.
Height:
5'7"
Weight:
142lbs
Too warm for anything over 32 degrees
Familiarity:

I've put it through the wringer

Fit:

Runs small

Size Bought:

XL
Bought a Castelli Gabba II last year and loved it - amazing fit and I used it for everything from 25-50 degrees weather. (I ride hard all the time) At some point I thought I'd like a warmer jacket for colder weather and days I go easy. Here are the pros and cons of Alpha jacket: overall, it's not as versatile and as great as the Gabba II.

Pros:
-extremely warm, on days at 25 degrees (15 with wind chill), I still felt almost too warm with a Patagonia long base layer. For anything above 32 degrees, all you needed is a thin short base layer.

Cons:
- fit not as good as Gabba II, it's a little baggy. I wear XL in Gabba II and bought both L and XL of Alpha, kept XL because L is too short (although fit was better) at stomach.
- not ventilate as well as Gabba, so I tend to overheat, even after unzipping the outer layer.
- very heavy, you can feel it.

Overall I think it's probably the warmest winter jacket, but if you are like me like to ride hard, this is almost too warm for anything over 32 degrees, which you can layer with the super awesome Gabba II jacket, which I gave a 5-star reivew.

I am keeping my Alpha jacket, despite it didn't reach the same level of versatility and awesomeness as the Gabba II jacket.
Meng Sun
Height:
6'1"
Weight:
175lbs
Excellent--concerned about durability
Familiarity:

I've used it several times

Fit:

Runs small

Size Bought:

LARGE
I second the positives given throughout these reviews, with one concern--durability. This is my third winter with the jacket--living in California's Central Valley, cold is upper 30's--and that's only on a few occasions over the course of a winter. So I wear the jacket maybe 6-7 times per season. That's a total of about 15-20 times in the last 2 1/2 winters. In a consistently colder climate, I can see this jacket being in some trouble by the end of one season. The back pockets, at the point where they meet the back of the jacket, are not holding up well. It appears as though the stitching is tearing the back fabric. I have attached only one photo, but all four of the points where the pockets are attached to the back of the jacket show the same wear. It would probably be pretty simple to address with some additional reinforcement at those key spots. I haven't seen a more recent edition of this jacket, maybe Castelli has already addressed it. Otherwise, warm, excellent fit, nice looking.
Arthur F O.
Height:
6'2"
Weight:
160lbs
Great Jacket, Very Warm
Familiarity:

I've used it several times

Fit:

True to size

Size Bought:

Small
Awesome jacket I purchased after reading and looking at reviews online. Fits very close, like a jersey. For me, 50F outside temp is probably too warm to wear this jacket. I usually put it on at 48F and lower. At between 45F and 50F, I wear only a sleeveless base later underneath it (summer weight). At 45F and below, I use a very thin long sleeve base layer. When I first got this, I went out on a morning ride at ~52F, and was way too warm! So I learned over time to use this when it's less than 50F.

It works great with the inner built-in wind vest. Unzip the outer layer when climbing, leaving the inner wind blocking part zipped (or vent if needed), then zip up the outside later again when descending.

Water repellent. Actually, highly water repellent. Gloves easily fit over the cuff.

I agree with other reviewers, zipped up zipper can be a little bothersome at neck. No zipper garage. Reviewer stated zippers are offset to avoid overlap, but I can't really detect that.

Anyway, this jacket is a no brainer for temps between 40 and 50. Where I live (SF Bay Area), we don't get too many mornings below 40, so I can't really speak to that.
Jonathan L. H.
Height:
5'7"
Weight:
145lbs
One Jacket, November-April
Fit:

True to size

Size Bought:

XL
The Castelli Alpha Jacket is my favorite piece of clothing for Winter and Spring cycling. On the coldest winter days, I'll pair it with a Castelli Flanders Base layer, heavy gloves and a neck gaiter. On wet days, with a mesh base layer, neoprene gloves and Nanoflex knickers. And on a sunny-but cold spring day, I can even wear it next to the skin with no base layer. When I wear the Alpha, I appreciate the flat cuffs, jersey-like fit, and the secure zippered pockets. Castelli made this jacket extremely useable for riding year-round.

I would note that the jacket can feel small when you put it on. I'm 5'10", 200 pounds, with a 43 inch chest and a 36" waist. I wear the Alpha in XL, and when I put it on I pull the two sides together to zip it up. The fit is not relaxed, but once I'm on the bike with my hands on the handlebars, the arms are the right length and the fit across the chest is more relaxed. The trim fit means that the wind is sealed out and the jacket does not flap or make noise at speed. I encourage people to order according to Castelli's size chart and wear the clothing tight.


Mike Nelson
Height:
5'10"
Weight:
200lbs
Great shoulder season jacket
Familiarity:

I've put it through the wringer

Fit:

True to size

Size Bought:

Medium
I have owned the Alpha for a couple seasons now. With a thin base layer of capilene, the jacket is perfect for 35-45 degree days in rolling hills outside Boston where you are always fluctuating between climbs long enough to cause a sweat and descents steep enough to give a chill, especially on raw blustery days. I agree with Castelli that it can be worn up to 53 degree days but in the 45-55 degree range, I would rather wear something lighter. Durability has not been an issue so far.

I like the fit; it is snug but comfortable. I suspect recreational folks who have never raced might say its too tight. But for those of us in the great middle, I think it works well.
Chauncey W.
Height:
5'8"
Weight:
156lbs
Great Jacket
Fit:

True to size

Size Bought:

Extra Large
I love my new Alpha for reasons which are cosmetic as well as functional. The jacket fits true to size with a little room for my base layer and jersey. It is a great winter addition. The look is great and the red stands out during the times I'm in traffic.
MM
Michael M.
Height:
5'11"
Weight:
162lbs
Elaina R.
Unanswered Question
none of the example colours show the back of the jacket. Is the lime/black Alpha lime on the back????
Robert Allen
I reordered the xxl I always have worn xl in Castelli and Assos but this fit just a little more snugly than I like. I still liked the way it formed to my shoulders and stomach. 6ft 170lb
robert V.
The Alpha construction and resulting insulation sounds similar to wearing a Gabba 2 long sleeve over a thermoflex, or similar, ls jersey. Am I wrong?
Ken
Interesting question. Castelli is based in the Italian Alps (Dolomites). They are experts at cold weather cycling. And they make a wide selection of jackets (almost confusing) to cover every temp range and weather condition one might reasonably encounter on a road bike.

So, you are correct, the Alpha jacket and the Gabba 2 long-sleeve are somewhat similar garments. They both use DWR treated Gore Windstoper textile in the body, back, and arms -which is windproof and highly water resistant, yet breathable and aero fitting. The main difference between the two jackets is that: (a) the Alpha has an "internal vest" -useful when climbing in cold weather; (b) the textile in the Alpha is slightly thicker (Gore 150 vs Gore X-Lite); and (c) the Gabba has a very breathable textile under the arms (nano flex) to vent sweat while riding at tempo in the 45-55° range. Thus... Castelli officially rates the Alpha for use between 32-53° F; while they officially rate the Gabba 2 for use at slightly warmer: 43-59°. (Btw, I would use a quality, light wicking baselayer underneath when using either -like by Craft or Castelli). Hope this info helps.
Jonny Heinken
I'm going answer my own question. 34 F this morning, decided to see if LS Gabba2 could handle it. Underneath I had a Castelli SS mesh (which I wear 95% of the time summer or winter), Gore thin turtleneck BL, Nike mid weight BL. Perfect. So given the brilliance of the Gabba and various layering options I don't see a need for a separate aero jacket (Alpha) until it gets to freezing or below, at least on rides with some energy expenditure. And I can't keep the feet or face warm in those conditions anyway so stay on the trainer when it's below freezing. So I'd say if you have a LS Gabba you have all you need down to 32F or so.
Ken
What is "cold"?
Familiarity:

I've used it several times

Fit:

True to size

Size Bought:

Small
Best jacket ever worn. Ridden @ and below freezing temps and ended up breaking a sweat.
Nashty
Height:
5'8"
Weight:
145lbs
Very good but not the best
Fit:

Runs small

Size Bought:

Small
Runs a little colder (and smaller) than the Assos Bonka Cento. I wear this jacket into the 40s, but reach for something warmer for the 30s. The neck pinches a bit in a size Small, whereas the Assos doesn't in the same size.
richman.adam
Height:
5'8"
Weight:
145lbs
Keep warm
Familiarity:

I've used it several times

Fit:

Runs small

Size Bought:

xxl
If you think you are an XL then purchase a XXL. The jacket runs tight like all Castelli products. Cant say enough good things about the jacket. I wear a base layer and a Jersey with the jacket in below 32 degree weather and stay nice a warm the entire ride. If you are riding with high intensity you may get a bit warm and sweat. For those long endurance rides in winter this jacket is well worth the money.
Nicholas P.
Best Winter Jacket
Familiarity:

I've put it through the wringer

Fit:

True to size

Size Bought:

large
The fit is perfect and construction is good. I've ridden in 30 degree weather with no problems at all. Warmest jacket I have ever owned! Some reviewers mentioned wet cellphones in their back pockets. I too have experienced this, but if you unzip the upper portion of the jacket to allow air to flow through ... problem solved. Happy winter riding.. :-)
Gary
Height:
5'11"
Weight:
152lbs